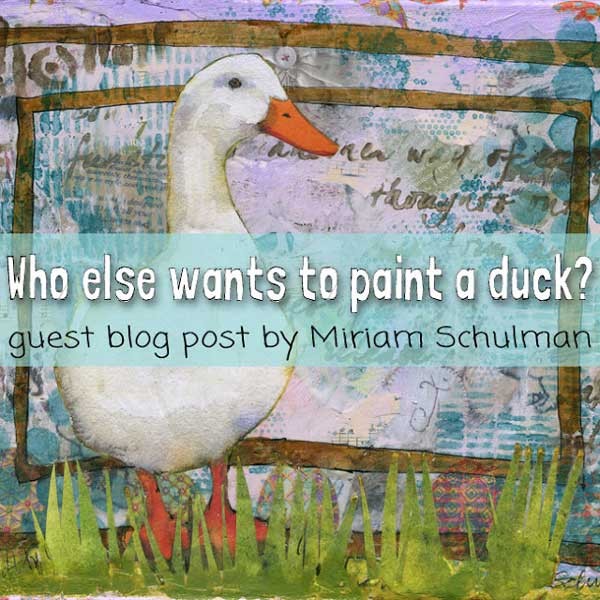 guest blog by Miriam Schulman @SchulmanArt
Thanks Carolyn for inviting me to share my art and techniques with your readers!
Today, I am going to share with you all the secrets on how I painted this mixed media duck. The video is super short yet action packed so whether you are sipping your morning coffee or sneaking this in later in your busy day you do have time to watch it all.
The Supply List
Now, since I know you have an action packed life, I figured life is too short to take notes. So what I did was put together a supply list for you of everything I used in this video. All you have to do in enter your name and email and I will send the supply list your way.
Share your art
If you get inspired to paint something after watching this, I would love to see it! Just tag me on twitter, instagram or facebook. My handle is @schulmanArt in all of those places. Or simply leave a comment here on Carolyn's blog to let me know what inspired you.

watch mixed media tutorial on YouTube
Download your FREE supply list


In Case We Haven't Met Yet..
.
Hello! I'm Miriam Schulman and I create mixed media art to tell stories. I also teach other people how to craft their stories with art. I give them the techniques they need to get the results they desire which brings more joy to their lives.

My art has been published by Somerset Studio, Art of Man and the New York Times among others and collected by an international audience. When I'm not working on art in my studio, you'll find me in a museum spending time with friends or family. Explore my art at SchulmanArt.com or join the fun at TheInspirationPlace.net
Now I would love to hear from you! What technique are you eager to try?