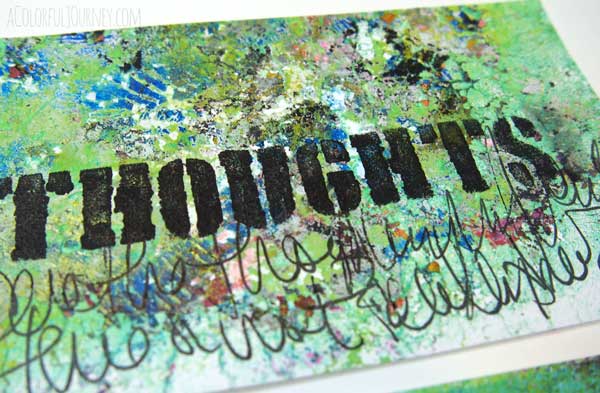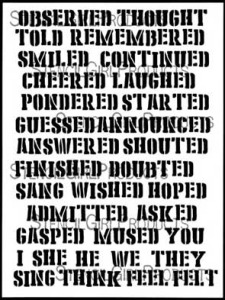 I use art to process emotions and feelings but sometimes I get stuck.  That's when having a prompt helps me get moving again.  Gelli prints and my new Verbage stencil to the rescue!
This stencil, packed with words of action  to celebrate the emotions and excitement of life, is a great way to create prompt cards.  And I'm giving one away to celebrate my latest release at StencilGirl!
Watch  Using a Stencil to Create Journal Prompts on YouTube.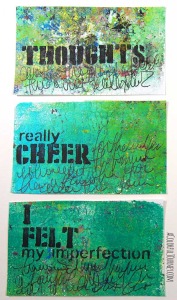 *Just to clarify, Verbage is not to be confused with verbiage.  Verbiage is a real word.  Verbage is a slang term that refers to a big list of verbs like on this stencil.
Win This Stencil!
To celebrate the launch of my stencils, I'm sharing a new video every day this week and a stencil giveaway each day!  Today you can win a Verbage stencil and no matter which side of the pond  you are on you are eligible to win!   Leave a comment and you'll be entered!
Want more chances?  Share this on Facebook. Come back and leave a comment telling me where you shared for another chance.  Share on Pinterest then come back…Share on Twitter….then come back. You get the idea!  Giveaway closes on Wednesday, November 26th  and I'll announce the winners here on the blog on Friday, November 28th.
Be sure to check out the giveaways from earlier this week too!
Monday: Picasso's Words
Tuesday: Kindergarten Writing
Wednesday: Blueprint of Archeological Treasures 6×6
Thursday: Fridge Poetry