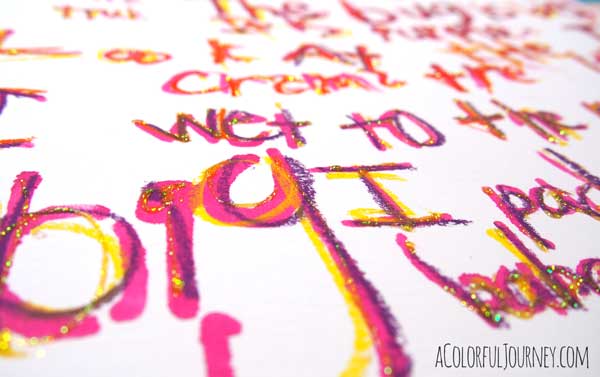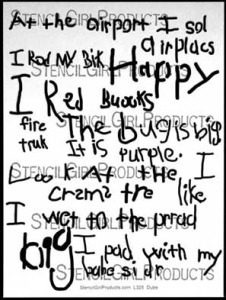 Kindergartner's know how to play, to let go, and be in the moment.  In order to capture some of that spirit, I turned to my own children's school papers from when they were little to create this stencil.  This is actual kid writing with invented kid spelling.
When I showed this stencil my girls, they couldn't read all of it.  I, as the mom, could read it.  Their theory was I could read it because that is about how I still spell. I am the worst speller in my house and they are always willing to remind me of that.  You can see the translation over at StencilGirl!
Watch Kindergarten Writing with a Stencil on YouTube.
These are the types of watercolor crayons I used in the video.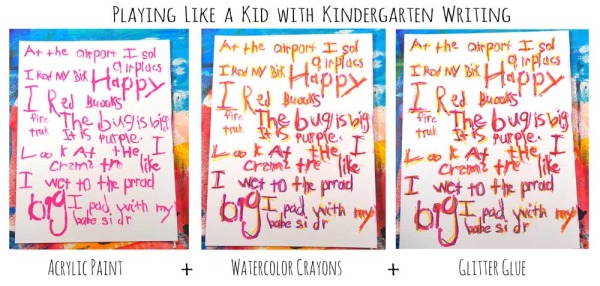 Win This Stencil!
To celebrate the launch of my stencils, I'm sharing a new video every day this week and a stencil giveaway each day!  Today you can win a Kindergarten Writing stencil and no matter which side of the pond  you are on you are eligible to win!   Leave a comment and you'll be entered!
Want more chances?  Share this on Facebook. Come back and leave a comment telling me where you shared for another chance.  Share on Pinterest then come back…Share on Twitter….then come back. You get the idea!  Giveaway closes on Wednesday, November 26th  and I'll announce the winners here on the blog on Friday, November 28th.