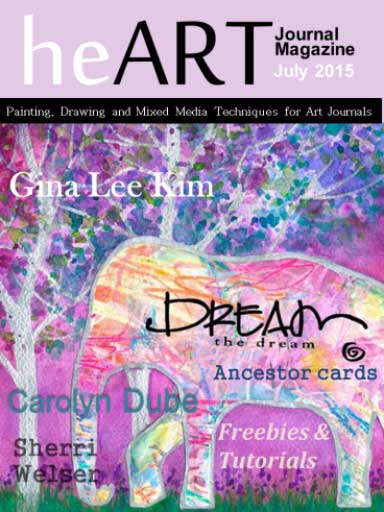 I'm very excited about the latest issue of heART Journal Magazine for 3 reasons.  First reason: White space.  I made something with lots of white space!  So much white space I think I used my entire quota of it for the next six months.  Video of the whole page and an interview too.
Second reason:  it's a free issue of heART Journal Magazine!  Carla Devine was so kind to offer a free issue to all of you, my blog friends! Which issue?  This one!   There are directions how to redeem this at the bottom of this post – for a tablet or a pdf version!  But Carla didn't stop there!
Third reason: she also gave me a 1 year subscription to give away to one lucky commenter!  So, leave a comment telling me what you like to read about in art magazines to be entered!  Random.org will pick the winner at midnight EST on July 21st.  Thanks to all who entered! The giveaway is now closed. Winner announced here.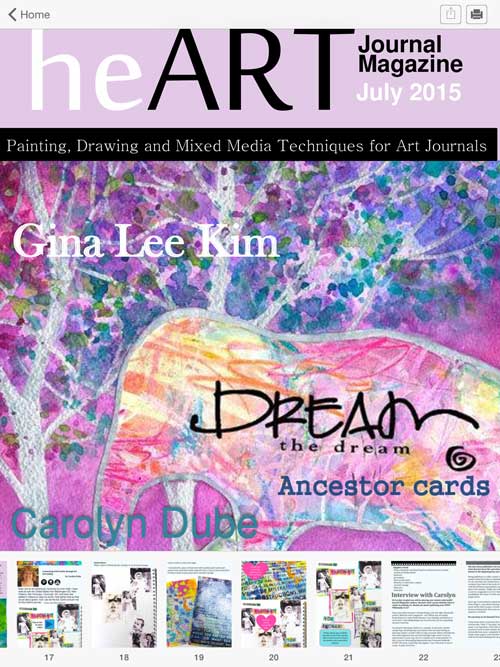 Once you've gotten your free issue, navigating around is just a touch away!  Touch the cover anywhere and thumbnails of the pages shows up at the bottom of the screen.  I've taken a screen shot of my iPad for you.  Scroll to the page you want, and then tap on it to see it full size.
Another cool feature, you can print things from the magazine.  You can see the printer icon that appears on the top right whenever I tap anywhere on the screen!
Get your free issue of heART Journal Magazine today!
Directions from Carla and heARt Journal magazine:
Simply download the app on iTunes https://bit.ly/heARTMag or Google Play http://bit.ly/Heartjournal Then on your device follow these directions using subscriber code : heART77 (case sensitive)
• Install the App on your device
• Launch the Magazine
• On the Home Page, Tap on the Yellow subscribe button
• Tap on the Current Subscribers button
• Enter this: heART77 (case sensitive)
or go to our cart for a pdf version choose Issue11 and use coupon code heART77 in the check out process.
You will now be able to access your free issue. Remember, the code is case sensitive. For help with the coupon code, email heartjournalmag@gmail.com This code is good until Aug 15th.