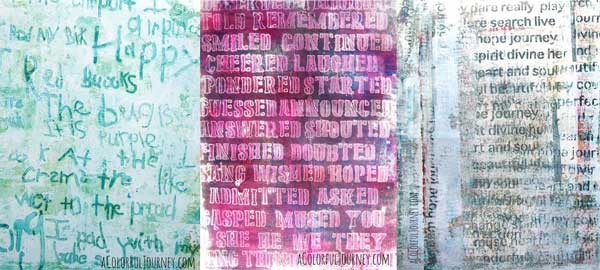 There is one important thing to remember when Gelli printing with words.  It's a biggie.  And I forget it all the time.  How could I forget something so important?  I get into a Gelli printing zone and my brain turns off and lets me create from the heart.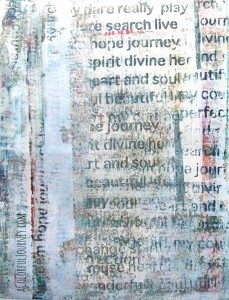 What's the important thing I forget?  When using words on the Gelli Plate, they need to look backwards or the wrong way when I put them on the plate so that when I pull the print they are legible.
Happily, on this print, I remembered.  That means when the stencil was put on the Gelli Plate, it looked backwards to me.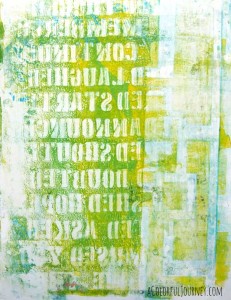 OOPS!  This print is backwards because the stencil was readable when I put it on the Gelli Plate which meant the print was going to be backwards.  A horrible thing? No.  It's still a great print that has a pattern now more than words to be read.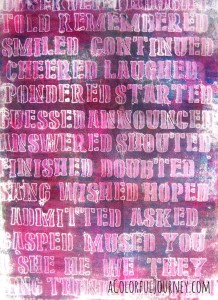 If you are like me, and forget the wrong-way-is-the-right-way-to-stencil-words at times there is a way to "protect" yourself.  Use deli paper.  It's fairly translucent so you can just flip the finished deli paper over and magically the wrong way just became the right way.  My this is getting confusing!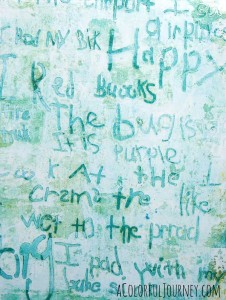 Next time you are Gelli printing with words, just remember the wrong way is the right way!
Want to know more about Gelli Printing?  I've got a free monthly Colorful Gelli Print Party that is loaded with tutorials.  For even more Gelli fun  take an indepth Gelli Printing Workshop with me.
Supplies Used