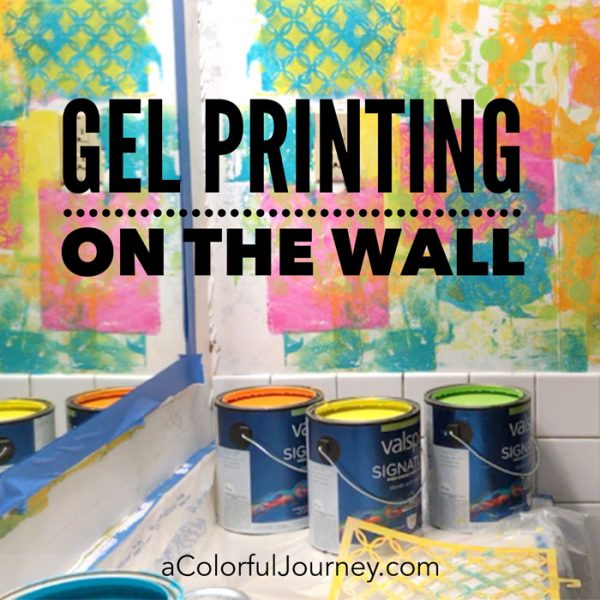 Time for a little home renovation, mixed media style.  I bought 5 gallons of house paint in the colors of the rainbow, grabbed a Gel Press monoprinting plate and started printing right on the walls.  Yes, I did it directly on the wall.  Slapping it right against the wall makes the most wonderful thwap sound!
Shockingly, there is an OOPS when I am printing at 2:12 minutes into this.  And I love that OOPS!
Watch How I gel printed on the wall on YouTube.
If you're new to gel printing, I created a getting started video here and downloadable guide so you can have it right next to you as you're printing.
Under that white paint, is the ivy lattice wallpaper from 20 years ago that has been starting to peel off at the edges in this guest bathroom.  But I never wanted to deal with it until I began to wonder if I could gel print directly on a wall.  Suddenly, I this bathroom redo I had been putting off became top priority.
So why didn't I peel it all off before doing this?  That pesky prep work isn't nearly as much fun as slapping a gel plate right on the wall so I just left the old wall paper up there and painted right over it. I have an idea for how I am going to deal with the peeling edges mixed media style in upcoming layers.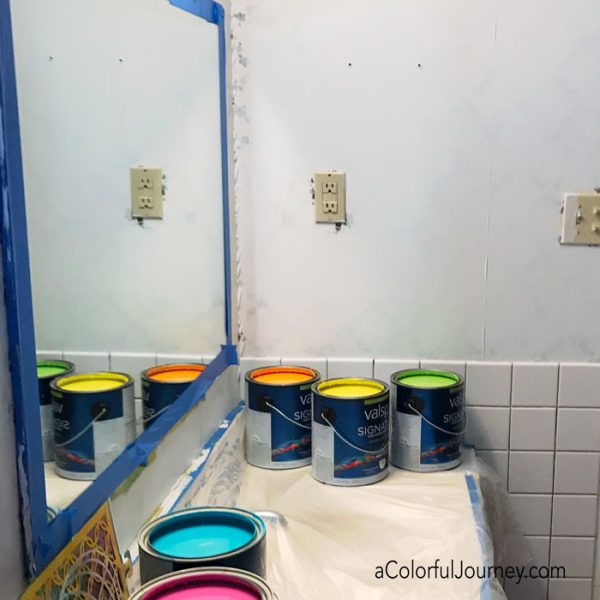 With gallon paint cans, it was easy to dip the brayer right in the color and get it on to the gel plate!  When I bought the paint, the woman next to me asked how many rooms I was painting with all these bright colors of Valspar paint.  The look on her face when I said all 5 were for the same room was priceless!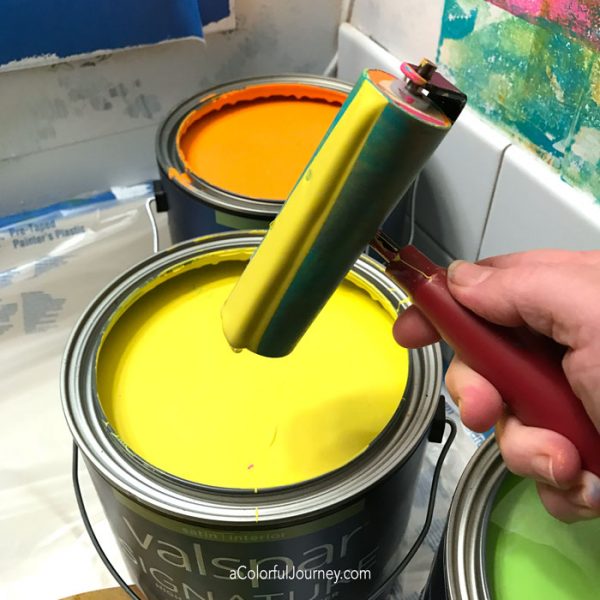 Here's the wall with layer #1 on it.  Completely imperfect, just like one of my art journal pages.  This is an ongoing project that will have layer after layer added to it, just like an art journal page.
***Update- what became of the bathroom? Click here for the video and update***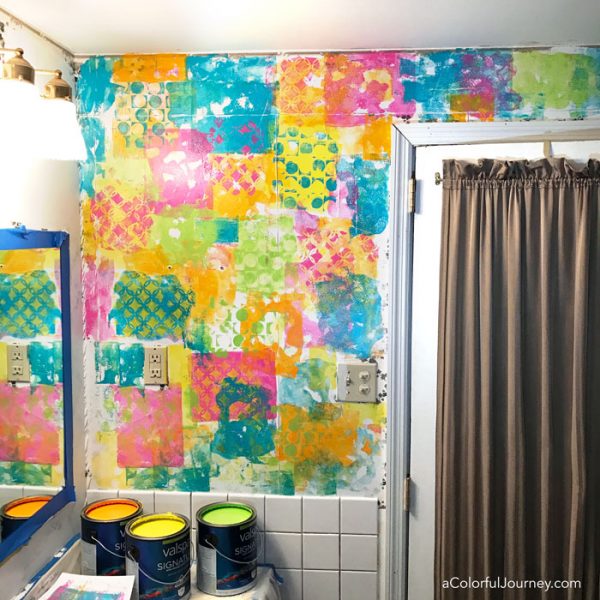 Here are the supplies I used. Some of these links are affiliate links which means I get a small percentage. It doesn't cost you anything extra and you are helping me keep this blog and my videos ad free! Thank you- I don't like ads any more than you do!  The house paint is Valspar from the hardware store.