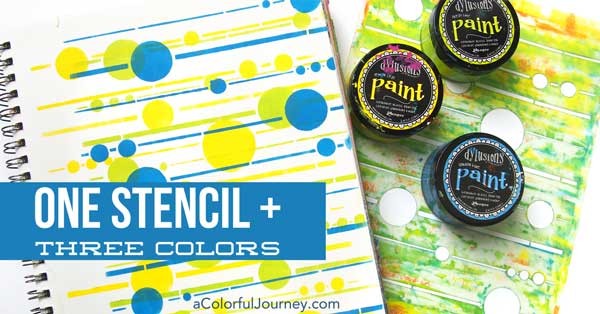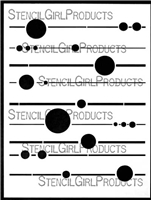 Layering stencils have been on my mind and what's on my mind ends up in my journals.  You might have seen my latest layering stencils that have 2 patterns on each stencil.  Solar System is not one of those…but I ended up layering it anyway. (Be sure to check out the giveaway here!)
If you've been here before you might know how I am NOT about precision.  Or measuring.  Or perfection.  So not lining up patterns is my happy place.  And when I do actually line up patterns it had better be easy.  In the video, I show you how I did that with the last layer of blue.


After looking at layer number two, I almost stopped.  I still can't decide which look I like better, before the blue or after the blue.  Thankfully, this is paper and paint so I can make as many of these as I want and I don't have to choose!  I'm also sharing tips about using Dylusions Paints with stencil in the video.
Watch 1 Stencil and 3 Colors Build a Pattern on YouTube.
 Here are the supplies I used. Some of these links are affiliate links which means I get a small percentage. It doesn't cost you anything extra and you are helping me keep this blog and my videos ad free! Thank you- I don't like ads any more than you do!