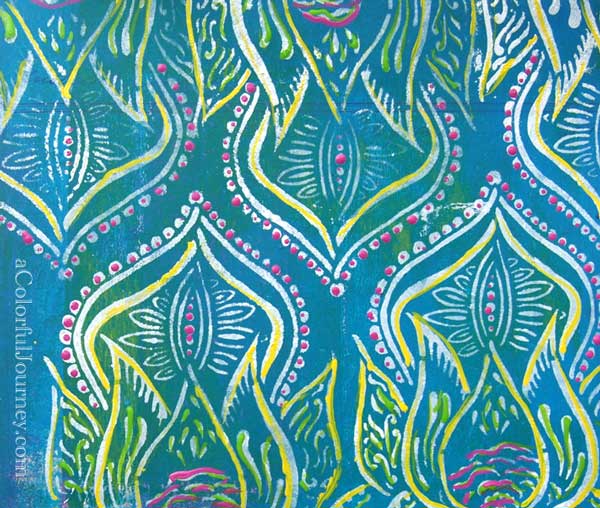 In the process of making a pattern with  Thanks A Lotus  I backed myself into a corner. But you'll see that if I back myself into a corner, I can get myself back out.  The tragedy was averted (pretty easily too…) as I played with Andrea Matus DeMeng's incredible stencil for this jumbo blog hop celebrating her designs at StencilGirl!
Watch  Backed into a corner in my art journal on YouTube.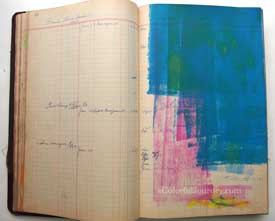 The color on this page came from cleaning my brayer while Gelli printing.  I love to use every drop of paint so my journals are loaded with pages like this.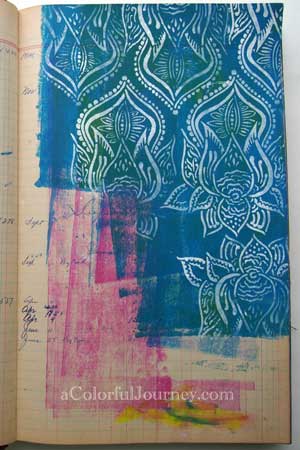 I stenciled Andrea Matus DeMeng's Thanks a Lotus stencil randomly.
I didn't plan how I was going to build this pattern.  In the video, you'll see that got me into a bit of a corner, but if I can get myself into a corner I can get myself out of a corner…once you see the video you can probably spot it here very quickly…
More color. That is all I kept hearing in my head as I played.  More color. I hear that a lot but if you probably could have guessed that!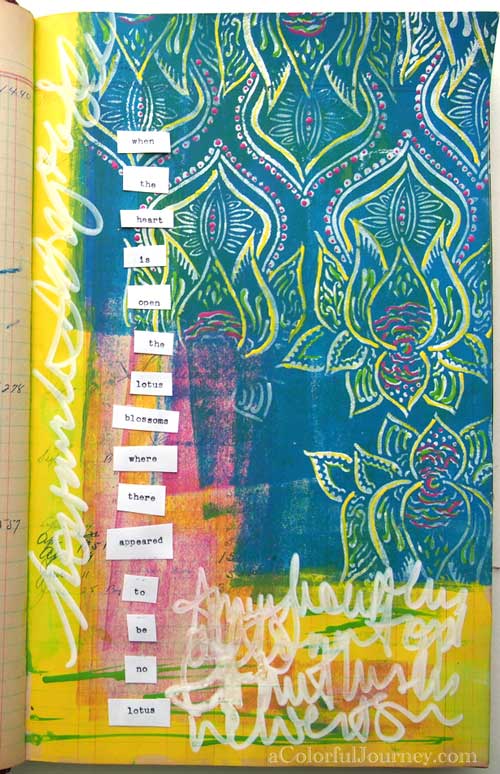 One winner will receive a set of all 6 of Andrea's new 6×6 stencils and another winner will receive a set of all 6 of Andrea's new 9×12 stencils! Wow! The giveaway will close on Sunday, April 6th at 11:59PM Central Time so get busy and leave a comment to enter!  Want more chances to win?  Every blog in the hop you leave a comment on will be entered to win so that is 15 chances!
Carolyn Dube – You are here
Maria McGuire