What happened at the art retreat, Dancing with Your Muse? A whole lot of play and laughter!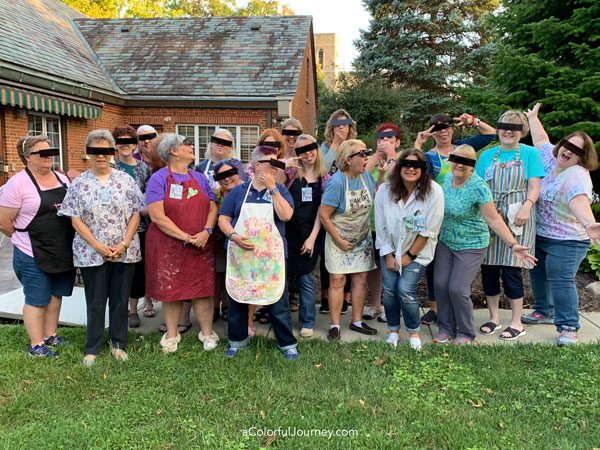 Along with the art, there was something else that happened – connection. Spending an entire weekend together, with the building entirely to ourselves, we got to know each other in a way that just isn't possible in a one day workshop.
Conversations over the weekend went to unexpected places, both heart warming and boisterous! Bet you can guess which kind this was between Gwen and Julie!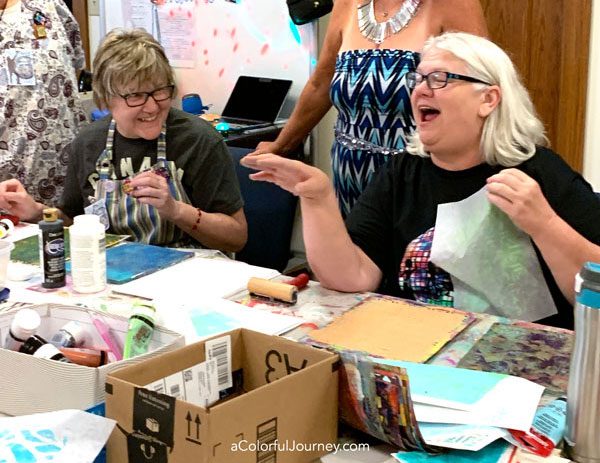 In order to make something like this happen, it takes a team. Collaborating with the extraordinary Glenda Miles brings a heart and organization to the event like no other!
There were also generous sponsors, Marabu and StencilGirl, who made it possible for there to be a smorgasbord of color and supplies for the weekend.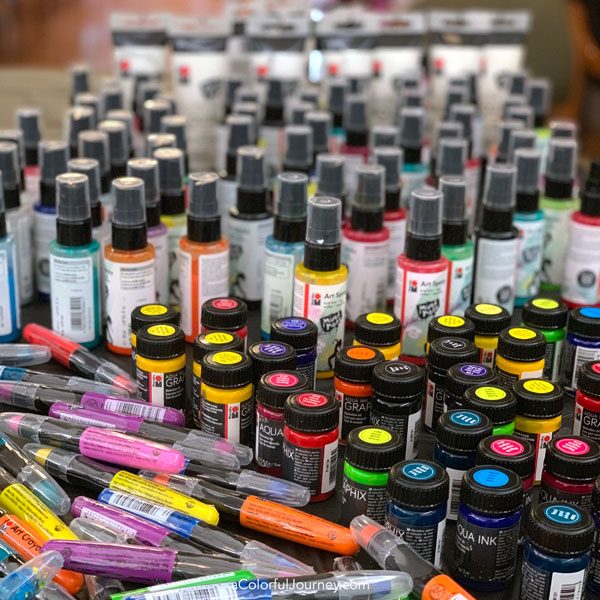 One thing I love about putting on an art retreat is that participants get to try supplies they've never used before. Here Chris is using Marabu's Mousse with stencils.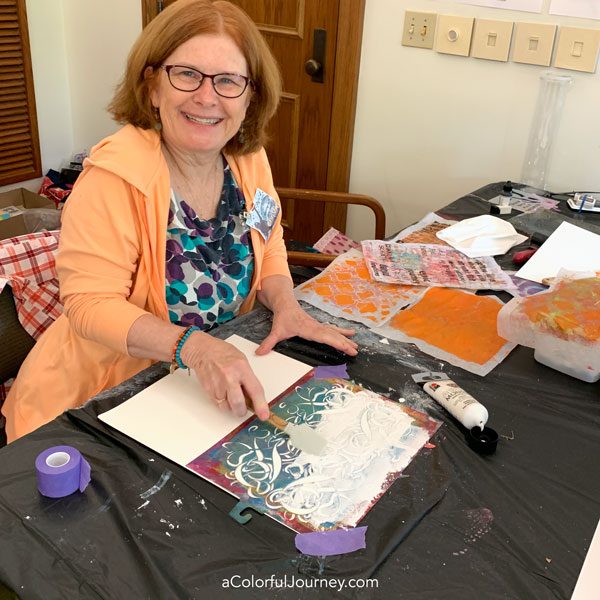 Along with trying new art supplies, there is a creative energy that fills the room that emboldens you to let loose with art supplies, like here with the Art Spray and StencilGirl stencils.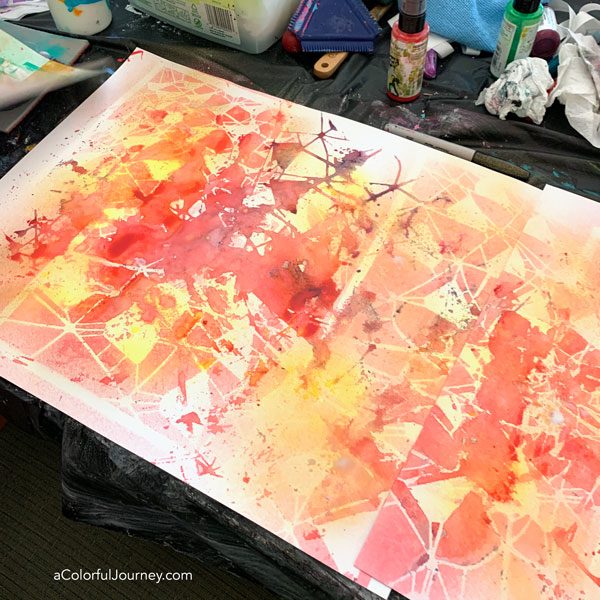 There's always a new technique revealed at these events, and they're usually an OOPS! Here you can see the scissors becoming a paint applicator. Don't think this one will catch on but it sure did lead to a lot of laughter in the moment!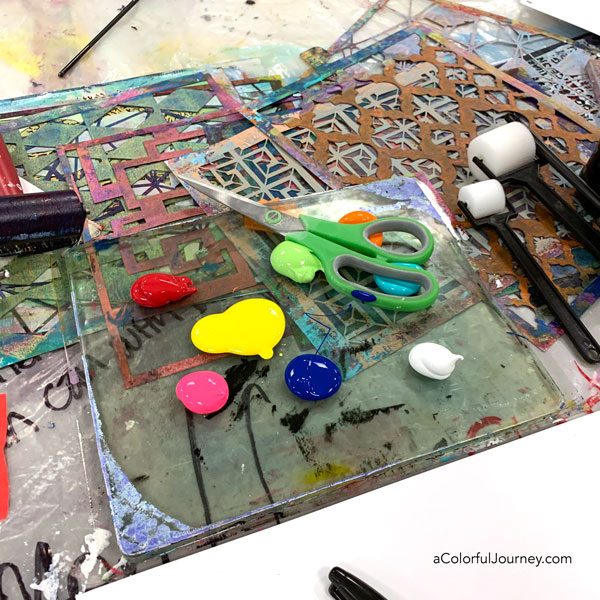 With loving care, each Muse came to life. Even though every woman here had the same materials, every sculpture was dramatically different. Sue was so Zen as she worked on her Muse.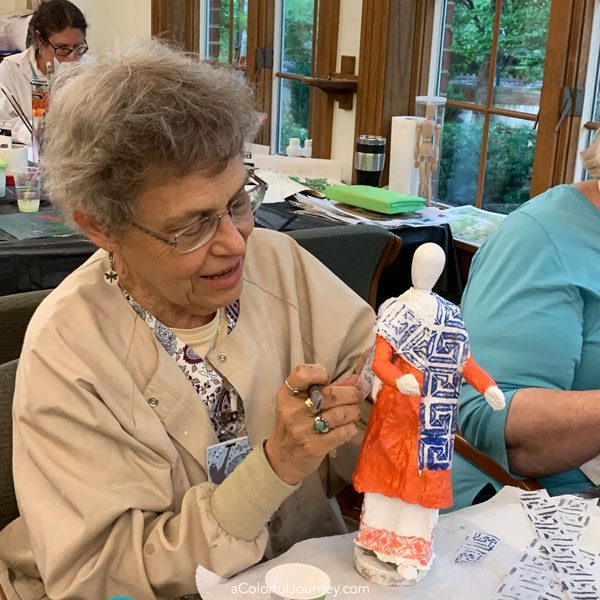 Some were serene and peaceful.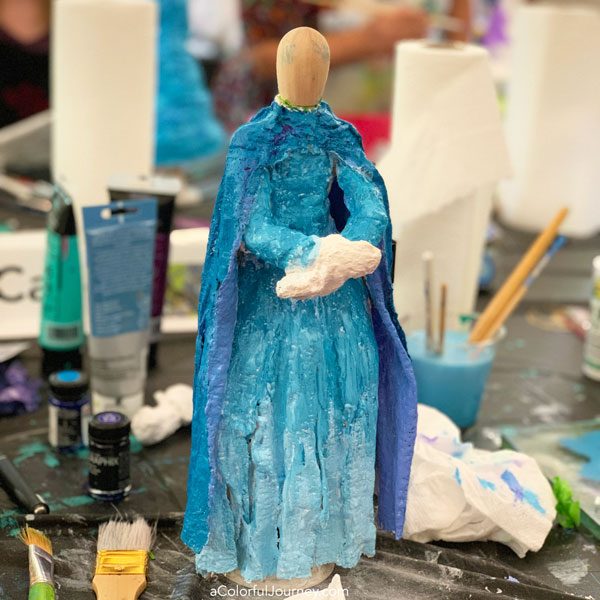 Some were wild and free.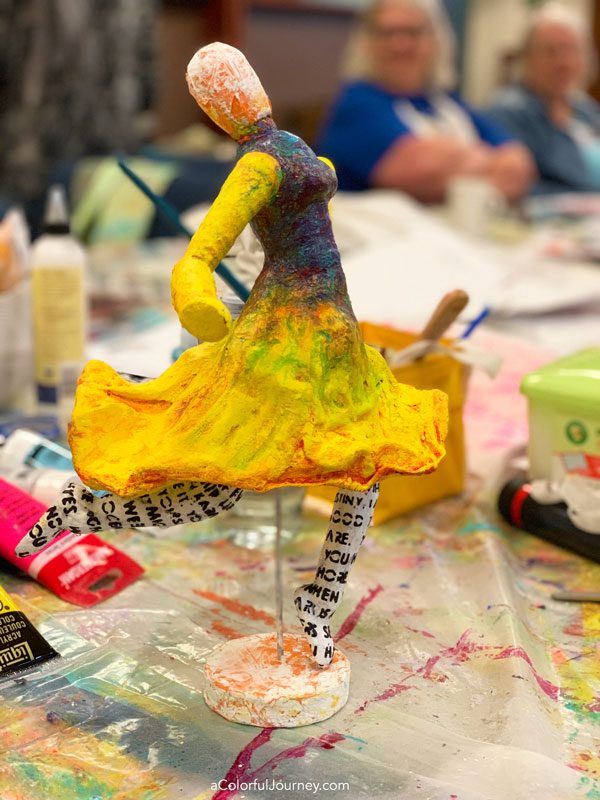 Some were playful.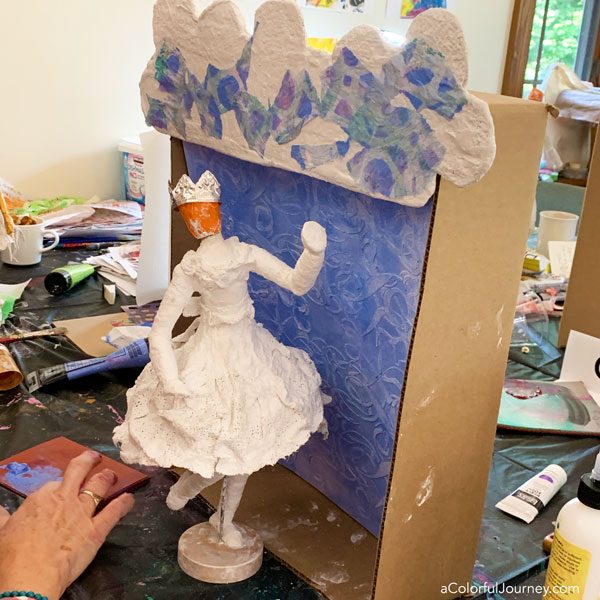 Some had wings.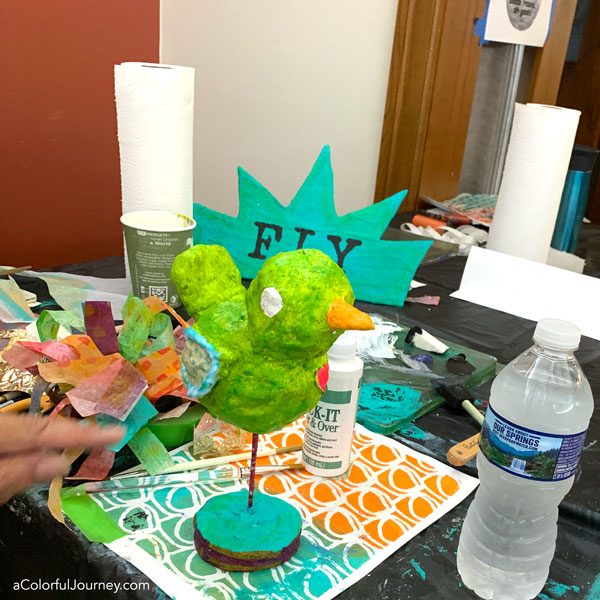 Naomi even tested out what she made for her Muse and thinking that there just might be a new fashion trend happening!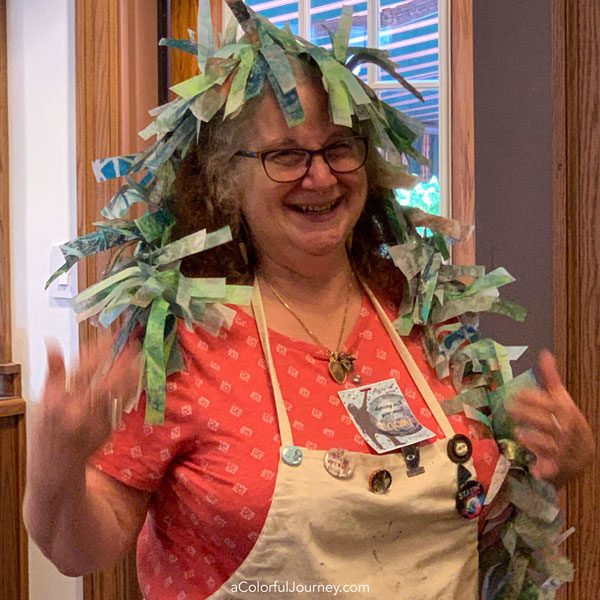 Here's our group with our muses!
In between making our muses, we were gel printing away!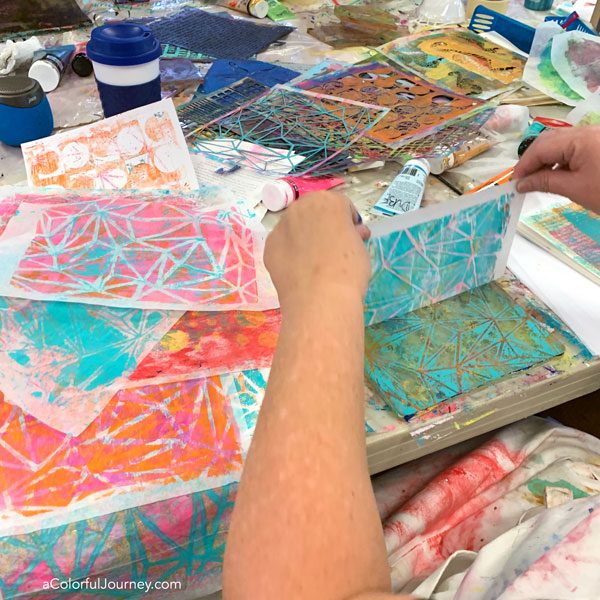 With a huge selection of StencilGirl stencils to choose from, there was no limit to what could happen on the Gel Press plates.
Metallic paints were a favorite as the layers built up.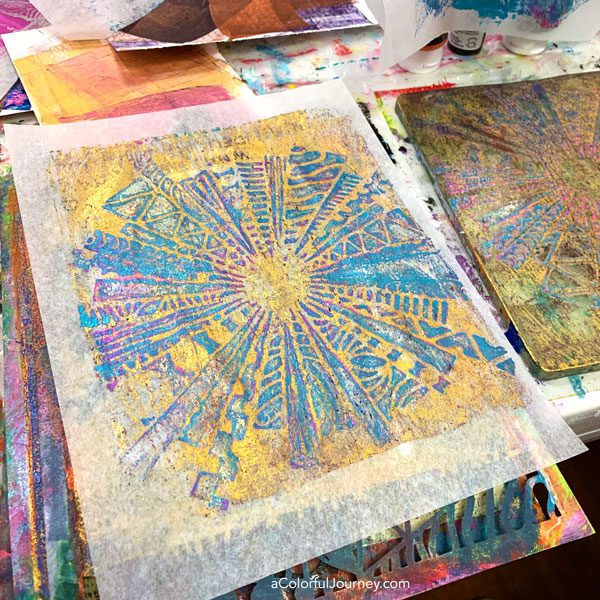 The were squeals of happiness as buried patterns revealed themselves.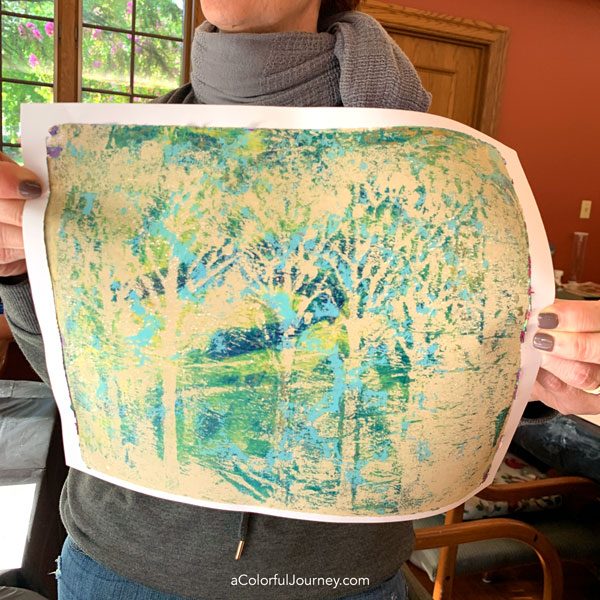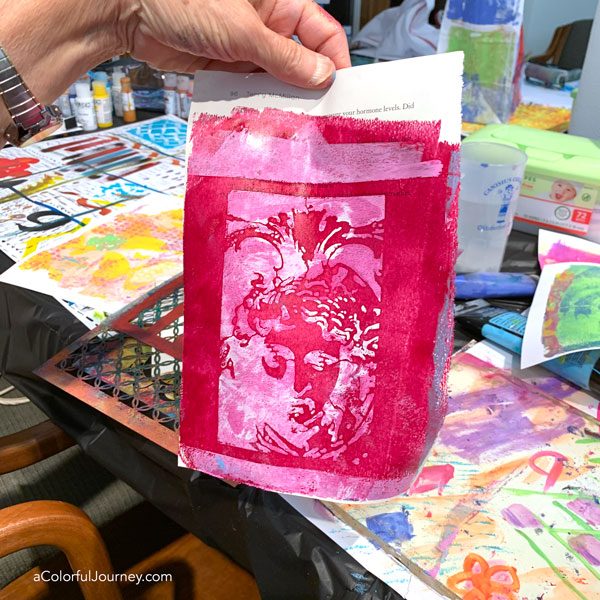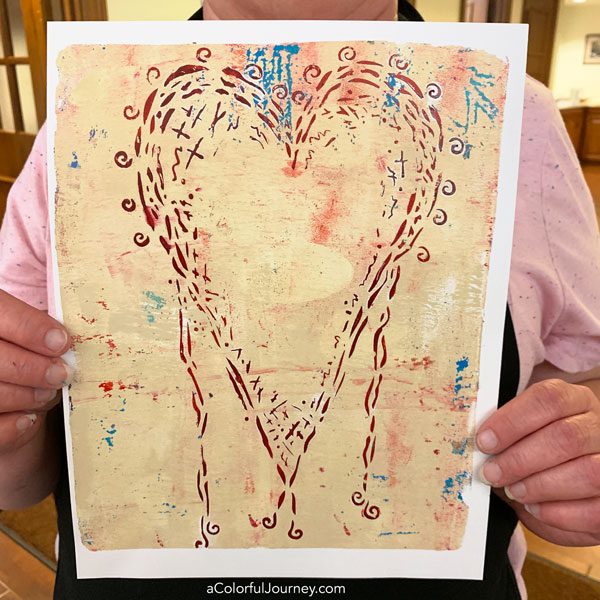 In fact, there was so much printing going, the floors in our bedrooms were filling up with drying prints.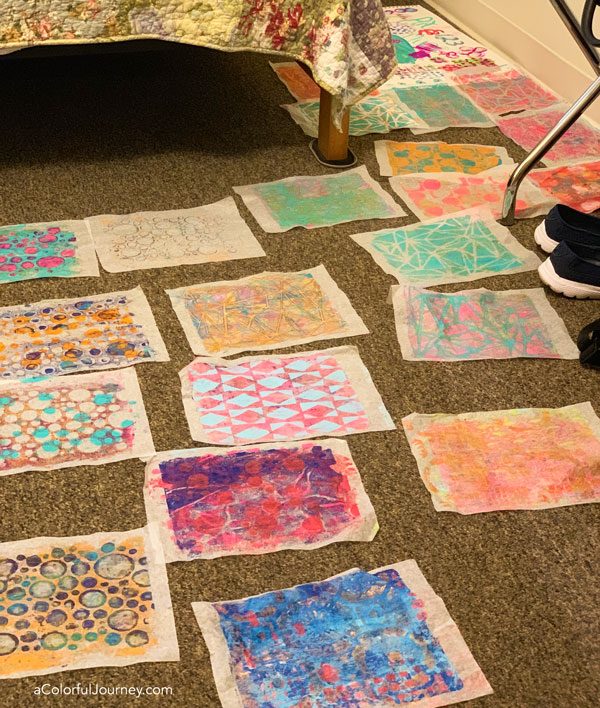 Michelle squeezed every moment of play that she could! Here she is all ready for our Saturday night dance party and she's grabbing one last print before the music begins!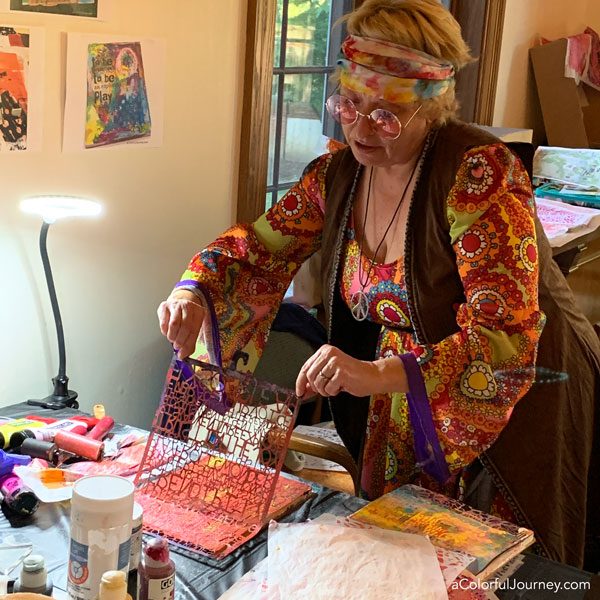 Julie and I aren't praying, we're watching our feet trying to master the steps of the Hustle. We may not have been the most coordinated of groups, it's hard to know which is your right or your left, but our laughter filled the building and even spilled onto the grounds!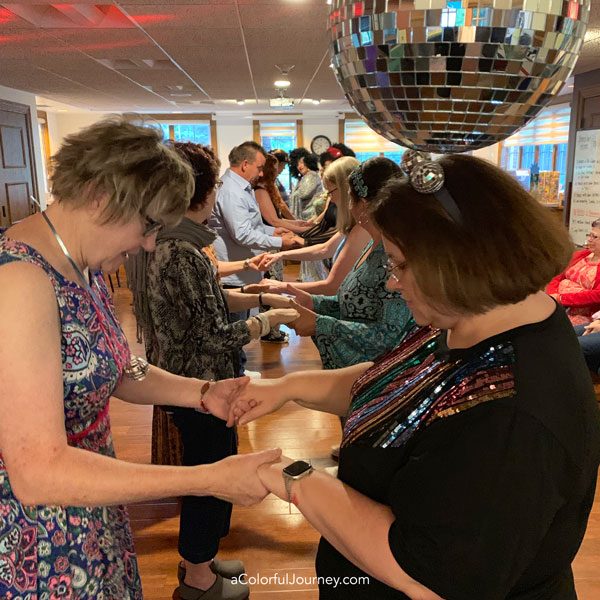 Thank you to every one of these wonderful women for spending the weekend playing – I will never forget our adventures!
Next year's retreat will be announced in the next month or so, so if you'd like to be a part of the all inclusive play* get signed up for my newsletter to know as soon as details are released.
*All inclusive play includes your single or double room with ensuite bathroom, all meals, snacks, and more so all you need to bring is yourself and an itty bitty supply list!