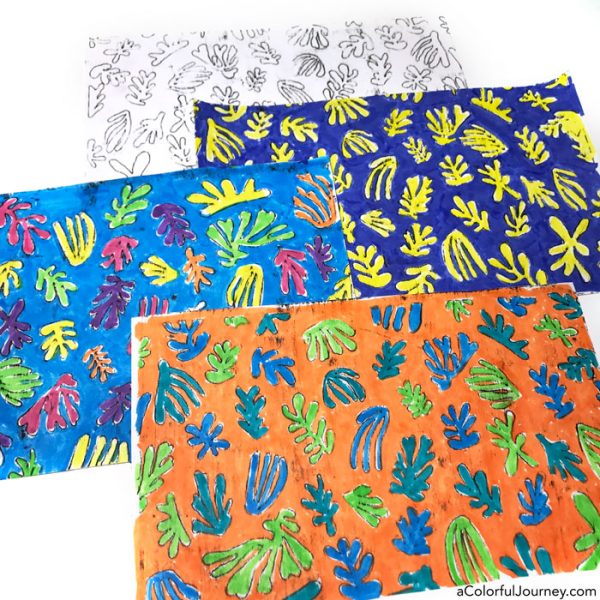 Patience is a virtue that I have not mastered, especially when coloring and pattern making. However, I really enjoy exploring colors and patterns. The solution  for me is to use a crayon rubbing and an extremely juicy "pen" that can cover a lot of area quickly hence minimal patience is required.
What are stencil crayon rubbings?  You might have done leaf rubbings in elementary school and this is the same idea only using a stencil instead of the leaf.  Cut Outs Inspired by Matisse stencil was the stencil used to make these pages.
Watch Coloring with Fantastix on YouTube.
New to stencil crayon rubbings?  You can see how I made a crayon rubbing with a different stencil directly on book text here.
What was the juicy "pen" used for coloring?  Fantastix dipped in the colorful inks.  The juicy tips allow me to cover a lot of area quickly since I am an impatient colorist.  Okay, I'm impatient with almost everything.  Just ask my kids.
The plan was to to color with only blues.  It didn't take me long to abandon that plan and bring in the green.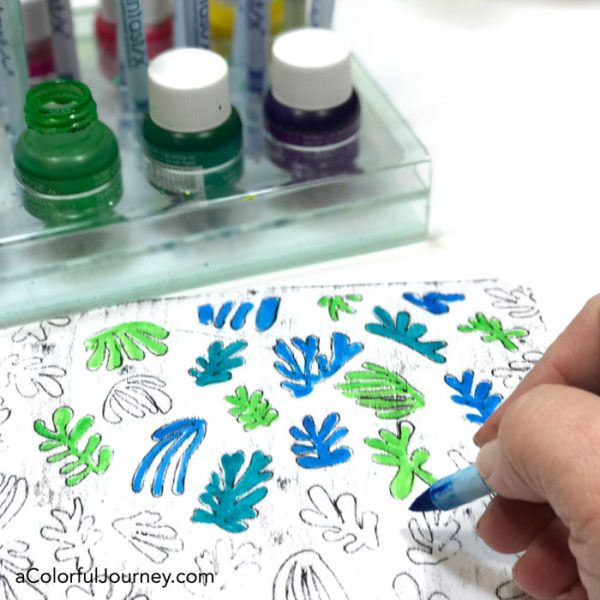 After all the blues and greens were filled in, I decided the background should pop so out came the orange. As large a space as it was to color, it went quickly thanks to being able to dip the Fantastix in the ink to keep is juicy.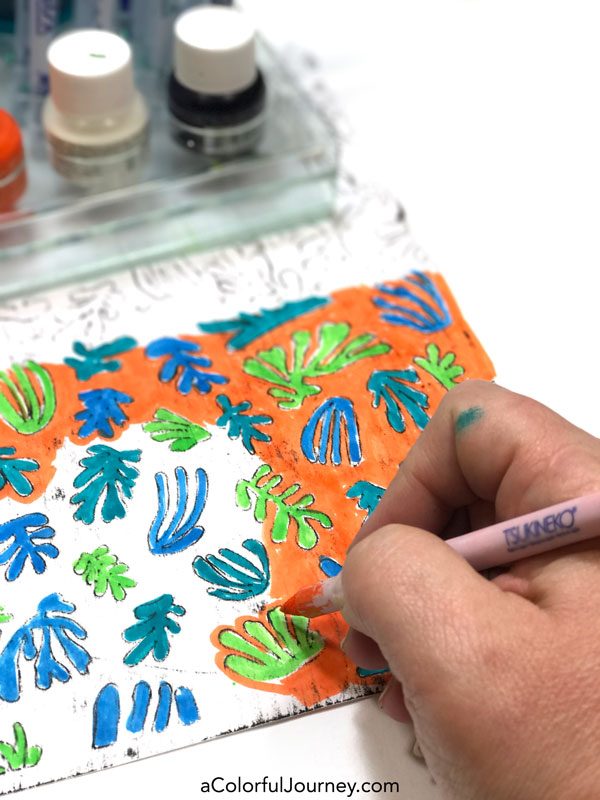 Now I have colorful patterned papers to use next time I am art journaling, collaging, and making a card.  If you had an eagle eye, near the beginning of the video when I show a couple of papers already colored in, you might have noticed the O.O.P.S., there is one shape on the colorful one that was left blank.  I'd like to tell you that was an artistic statement, but it wasn't.  I just missed that one!
Here are the supplies I used. Some of these links are affiliate links which means I get a small percentage. It doesn't cost you anything extra and it helps keep the free tutorials coming!