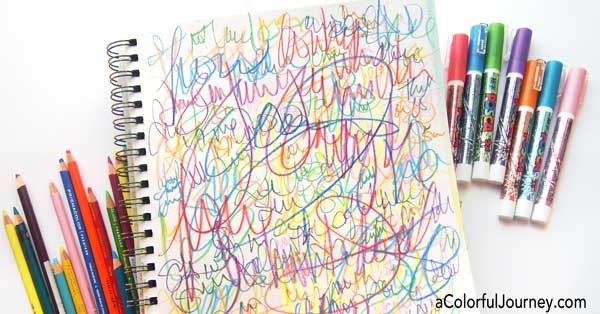 What inspired my art play today?  Aggravation…not the game…the emotion.  Thank goodness for Julia Cameron and her morning pages from The Artist's Way so I could get it all out of my system!
I have used Morning Pages to write, on paper with lines and an ink pen, what I'm feeling, thinking, etc. without worrying about grammar, punctuation, spelling, etc.  And it is powerful.
But I also do it with art supplies and for me, it is even more powerful when I add color and big big scribble writing.  Letting it all out on the page allowed me to get it out of my system and to transform it into much more gentle feelings.
Once I had all that colorful scribbling, I wanted to capture the transformation in the art journal page so I used my Butterfly Journeys stencil and masks.  Butterflies symbolize transformation so they were just what I needed.  You can see the whole process and how to use a mask in the video!
Watch A scribbly start to an art journal page inspired by morning pages on YouTube.
After I finished 3 of the butterflies, for a split second I almost didn't cover it all over with black paint.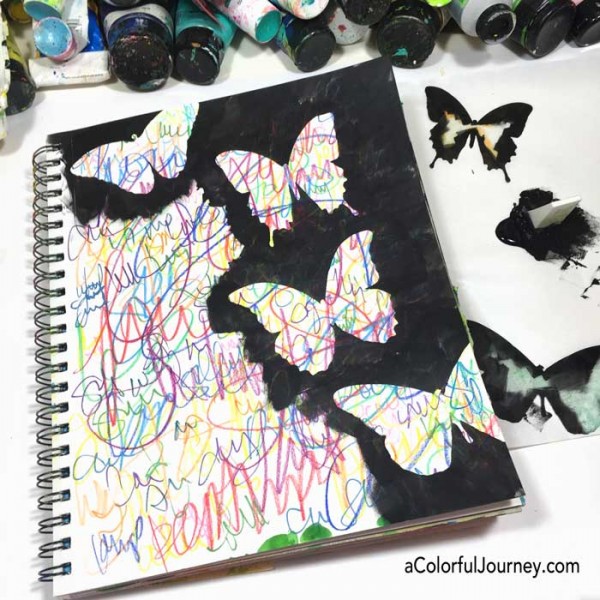 To create a title for the page, I combined words from 2 stencils, Mixed Media Mail and Transform by Seth Apter.  The last touch was a bit more of the scribble journaling but this time it was more peaceful writing thanks to being able to transform that aggravation through art play!
Want to know more about how to let yourself play?  I've got a free workshop called Permission to Play to get you started no matter where you are on your creative journey!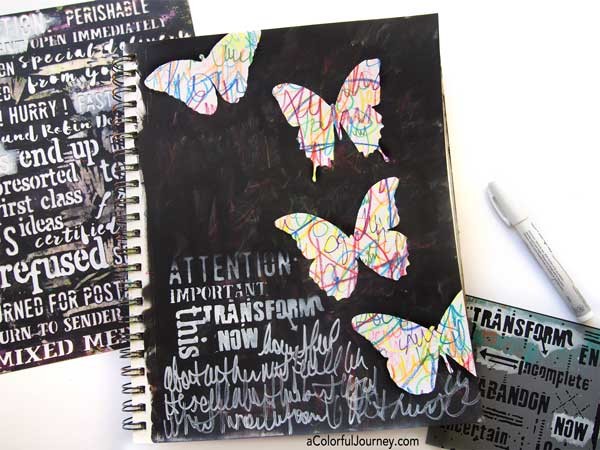 Here are the supplies I used. Some of these links are affiliate links which means I get a small percentage. It doesn't cost you anything extra and you are helping me keep this blog and my videos ad free! Thank you- I don't like ads any more than you do!