Art studios are something that are always evolving and changing. Here I've got my latest iteration of my art studio now that I'm settled in after the move to Louisville, Kentucky. This studio is 25+ years in the making and I've found there are 2 things that are critical for me when putting together a creative space.
Come take a walk up the rainbow stairs to the studio.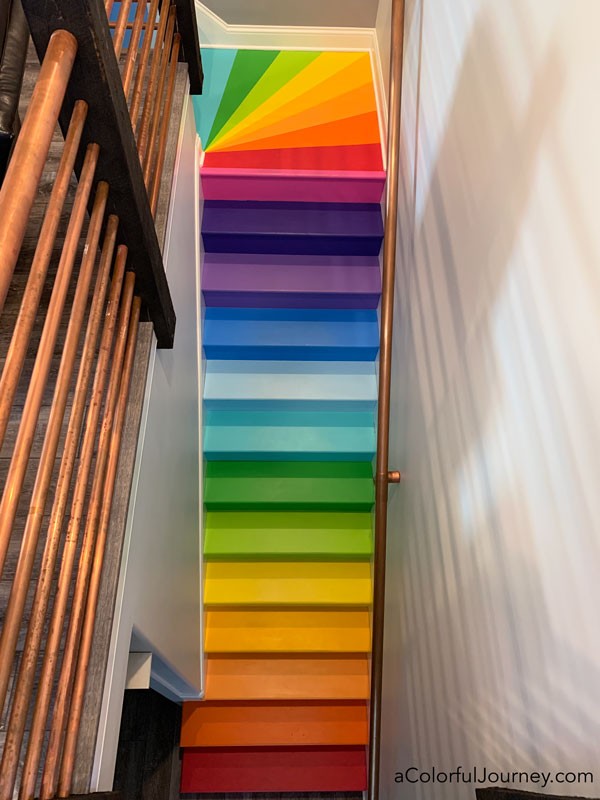 Here's the view when you enter the studio. It's extremely tidy right here. Full disclosure, it is almost never this clean and it may never be this clean again. In the video, you'll see what it usually looks like.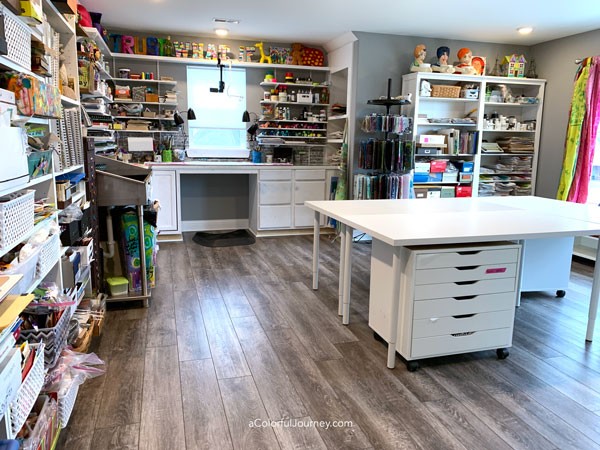 One of the two critical factors for me is flexibility. My needs have shifted over the years and I change my mind a lot. So whenever I can, I opt to have something on wheels or easily rearrangeable. All the tables are light weight IKEA tables that I can reconfigure by myself. The storage carts, also from IKEA are on wheels and become instant extra table space when pulled out.
Below are two big baker's racks. These are from a used restaurant supply store and they hold a ton of stuff. This is the ultimate in flexibility. Not only can I wheel it around, I can adjust the height of each tray. It's especially noticeable at the bottom of each rack.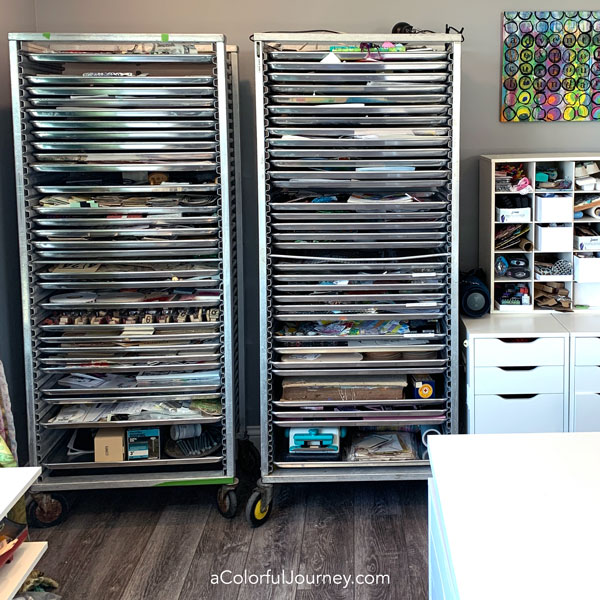 This started out as a way to store some of my ephemera and has evolved to store just about anything now. The trays are basically shallow drawers.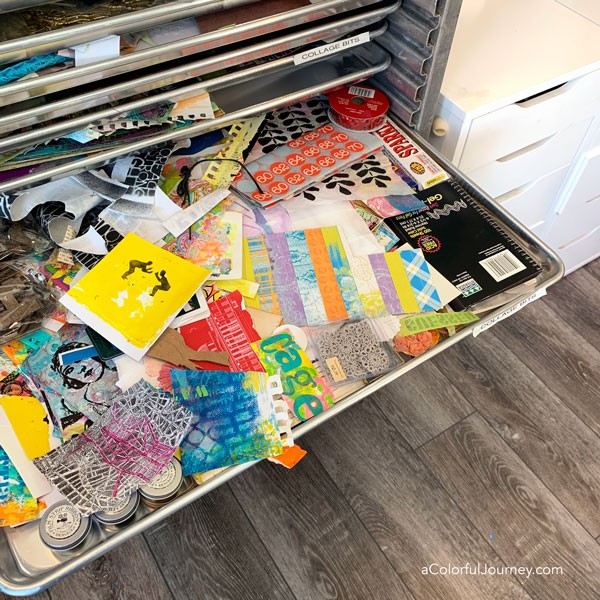 The second critical factor for me is visibility. If I can see it easily and get to it easily, it is exponentially more likely that I will use it. I started out storing my gel printing pattern makers in boxes but the stuff on the bottom was always forgotten about. When I shifted to storing them all in this repurposed shoe holder, suddenly, I could see the items and they got used a whole lot more.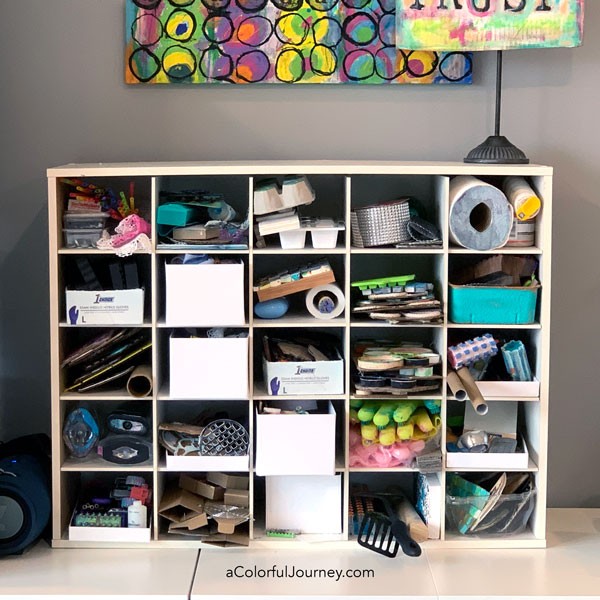 The sink was a big decision because once it was installed, it wasn't ever going to move again. That meant I couldn't change my mind. So I did a lot of research and looked high and low for the sink that met as many needs as possible. In order to find a shallow and wide sink, I ended up going with a dog grooming sink.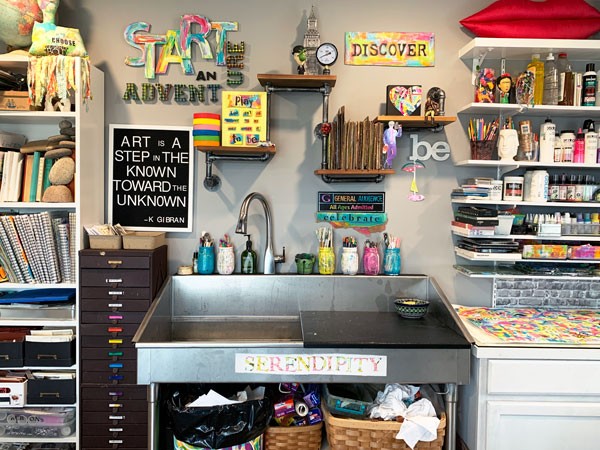 The most important space whenever you're creating is the space within arm's reach. Since that's the most valuable real estate in the entire studio, I will pack in as much as I can in there. Command Adhesive hooks make my frequently used tools, like brayers, so easy to grab and keep them from using any drawer space.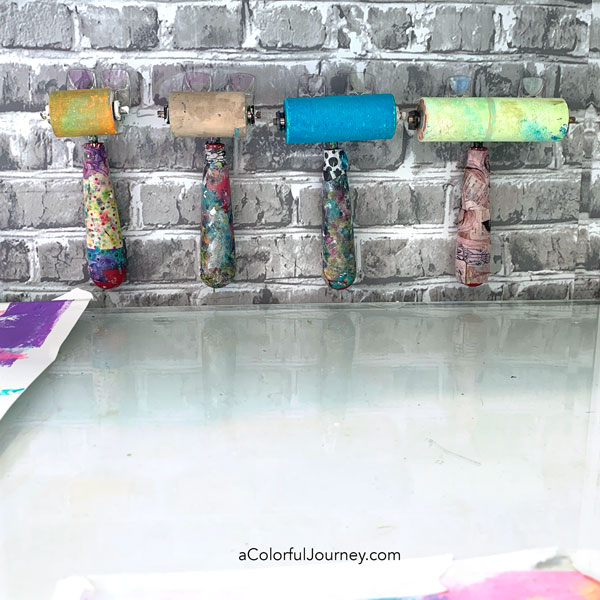 Here's one side of my main work area. The shelves are adjustable and that has enabled me to get do much more into this space. On the bottom shelf, it's very low because it's flat things, like my Gel Press plates and PanPastels that I store there.
There are little baskets, recycled boxes, and any container I find (the clear ones are refrigerator storage bins) to hold the easily knocked over things. That means no more reaching around and behind, which agitated me no end when I knocked things over.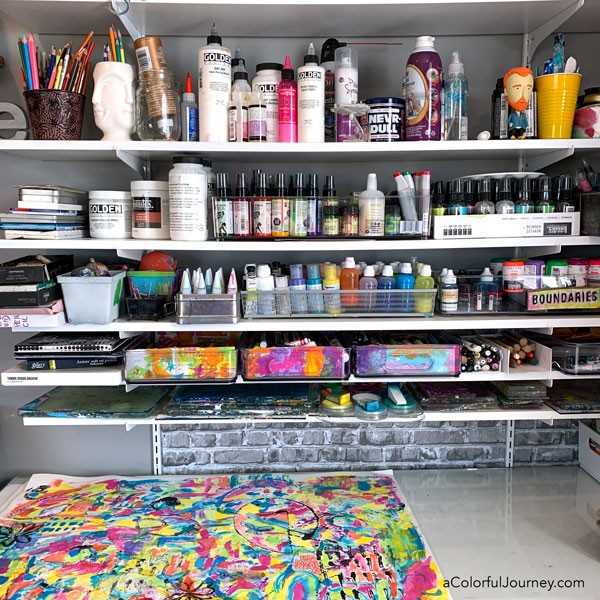 On the other side of my counter, are the paints I use most often. I've got them grouped by color with a dab of it on the lids to make it easy to see which paint I'm grabbing.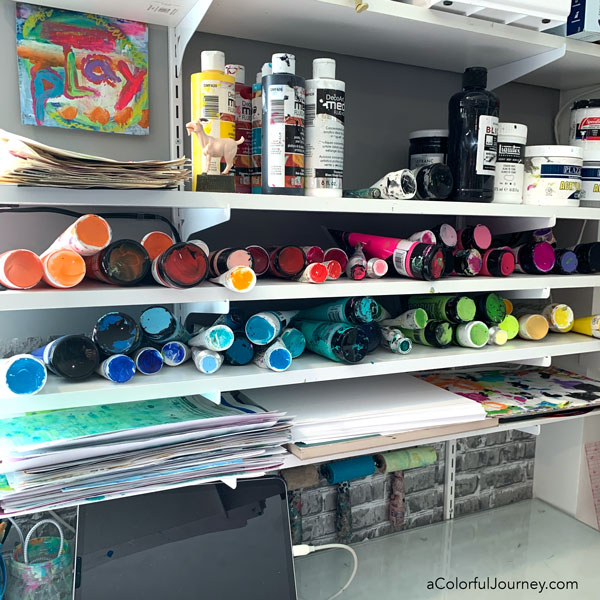 I've stored stencils in binders. In boxes. In folios. And what I didn't like about any of those was the clean up. Sliding damp stencils into page protectors was more than I was up to at the end of a play session. Then I found J hooks. These made it fast to hang up a stencil when I was done!
For those friendly stencils, the ones who seem to catch on any stencil next to it, I put a transparency sheet on a J hook to keep that from happening. You also hang a piece of cardstock in between but I chose the transparency because it keeps things more visible and by this point, you know that's a big deal to me.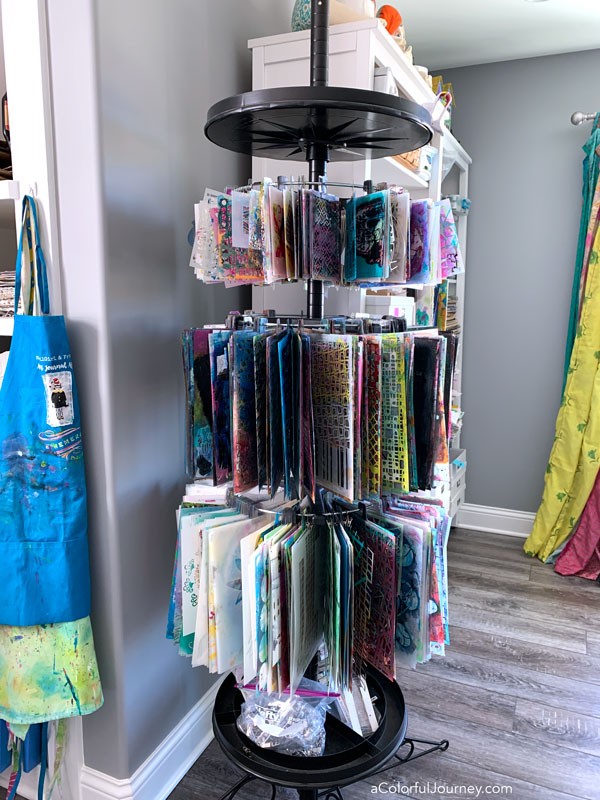 This spinner rack is unfortunately not available any longer. This company sadly went out of business but you can create a spinner rack of your own using an old lamp. This is what I bring with me when I travel and teach in person workshops to keep the stencil easily visible to students.
Get a shade with a wire frame and then simply remove the fabric share. Rummage sales have been a favorite of mine for finding these in past years.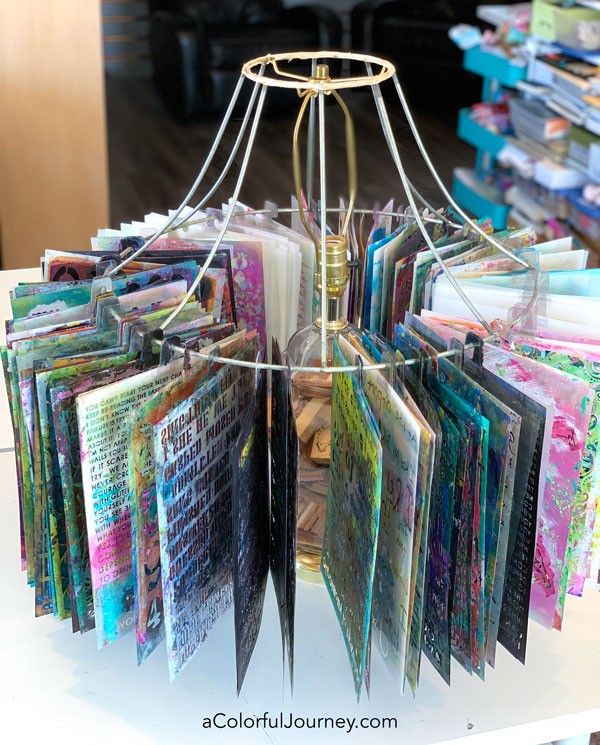 A magnet board is the ultimate in flexibility and visibility. Right now it has all sorts of bits and pieces I've been making or found in the move that I have ideas for how to use. In the near future this will all come down and this space will be where I plan and map out my next online workshop.
If you'd like to be in the know about it, and get the best price, get signed up for my newsletter. My readers know that they get discounts I only offer there.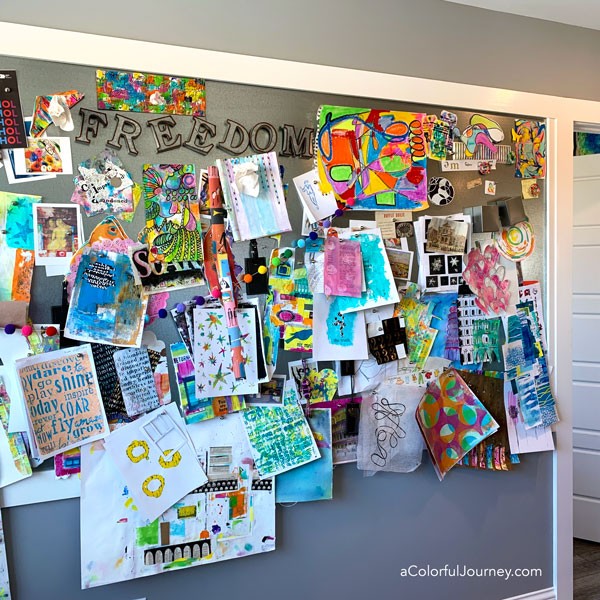 Creative spaces shift and evolve. If you're curious what my last studio looked like I've got videos from a 2019 Studio Tour & a 2015 Studio Tour. The studios then and now are about the same square footage but configured very differently.
Thanks for stopping by – I hope this has given you some ideas for how to organize your creative space!
******************
I've linked up as many things as I could find that I talked about in the video. Some of these links are affiliate links which means I get a small percentage. It doesn't cost you anything extra and you get a really good feeling knowing that you are helping keep the free tutorials coming!
From Ikea:
Tables- available in all sorts of sizes
For a baker's rack, check for restaurant supply places in your area that sell used equipment.