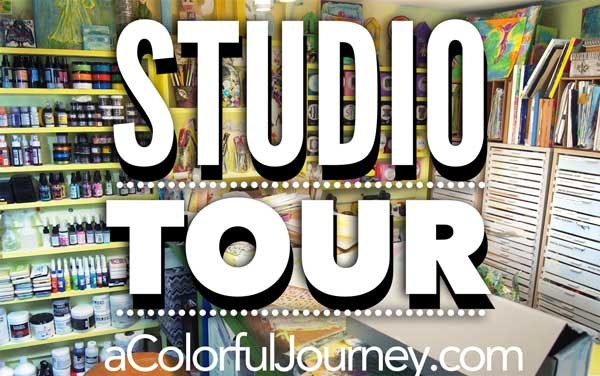 Welcome to my studio!  It's where I make my messes while having fun playing.  What's most important to me in my studio? Being able to spend more time playing and less time finding or cleaning.
What you see is my attempt to keep supplies within easy reach and limit the effort needed to clean it up. I hate cleaning….but I love having an organized studio.  So the shelves and drawers are usually organized but the counters are full of stuff.  But I cleaned it up since I was having a guest – YOU!
Watch Mixed Media Art Studio Tour on YouTube.
Here's more of what it looks like a typical day…journals stacked on journals and then covered with Gelli® prints.  No matter how much space I have, there is NEVER enough counter space!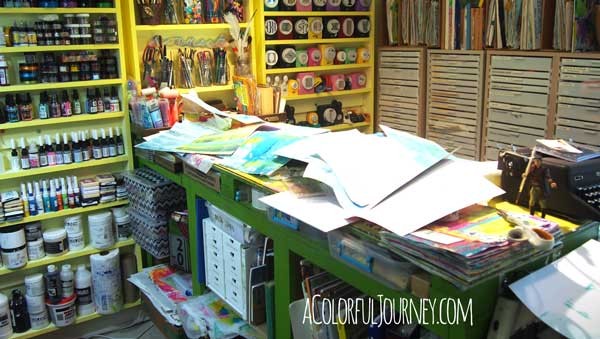 The Details
The cardboard sections that hold my journals are repurposed scrapbooking paper shelves turned on their side.  This makes it super easy for me to grab any journal without all the others falling and it creates a storage area right on top.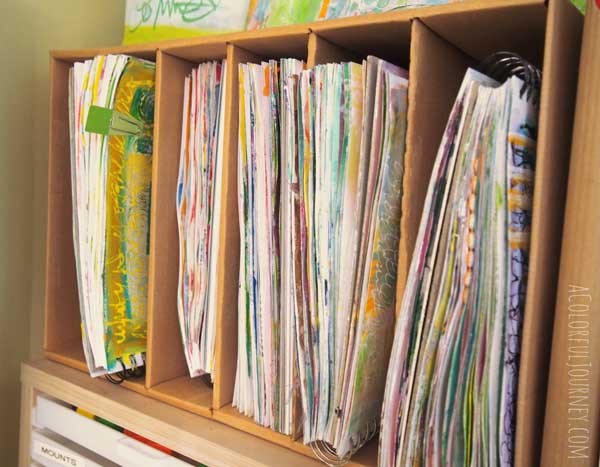 Every inch of space is important to me, so when I can make my storage go to the floor, I do!  The narrow shelves I have around my primary work area hold all sorts of supplies in a way that I can see exactly what I have and it's easy to grab.  Master carpenters we're not…but the basic shelves we built are the exact dimensions I wanted.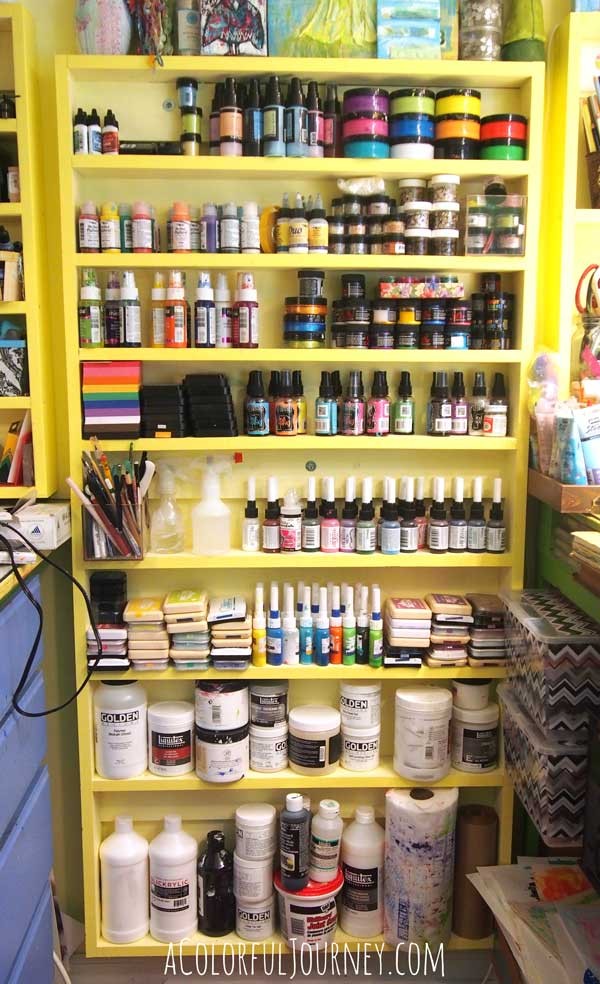 Thanks to plastic Command Adhesive hooks even the sides of my cabinets become storage.  Bonus is they aren't permanent so as I reorganize in the future, there are no nail holes or marks.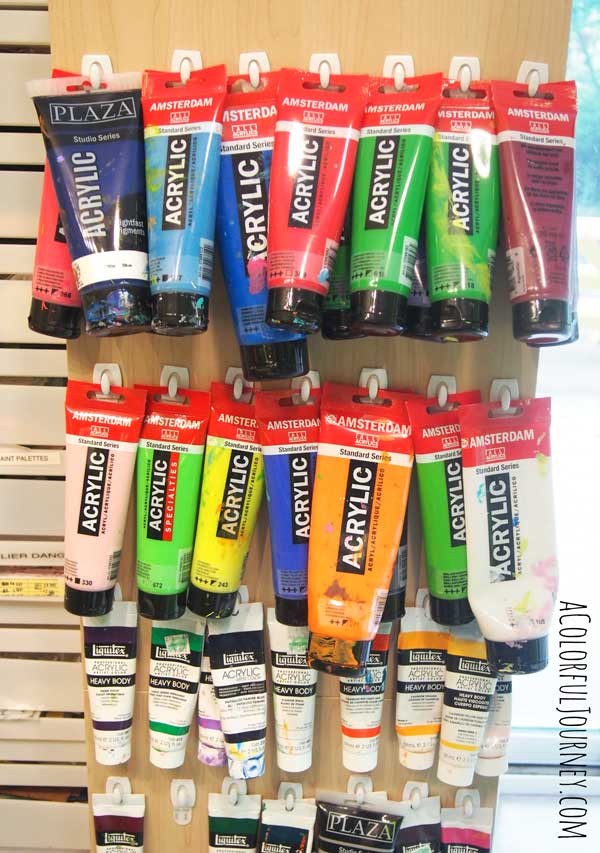 In the center of my studio is a custom made counter.  Nobody in my home is a carpenter so we take some short cuts.  The base is extremely cheap kitchen cabinets.  Wall cabinets because they were the cheapest and I didn't want to mess with doors due to space limitations.
Since they were designed to be wall cabinets the counter would be too low, so we had to adapt.  Using 2 x 4's, we created the extra height to get the counter just where I wanted it.  As an unintended bonus, that because another shelf thanks to the plywood top.
On that plywood is glass so the surface is extremely durable and easy to clean.  No cutting mat needed for Exacto knives.  Paint comes off.  Spray ink doesn't stain.  Super low maintenance!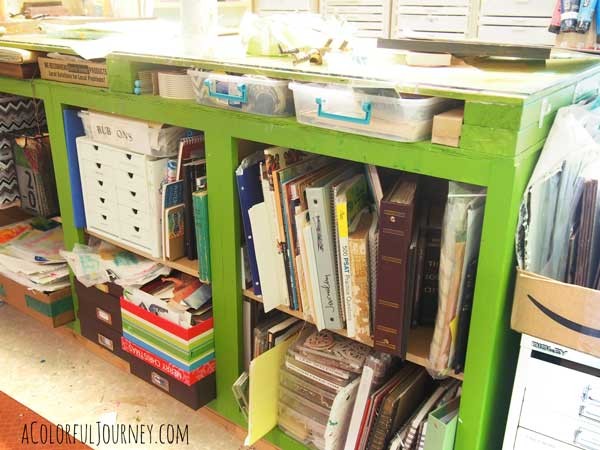 My stencil storage…which is a spinning rack by Simply Renee, but sadly they are now out of business.  I have seen table top spinners at Hobby Lobby.  You can also repurpose an old wire lampshade to do something similar.  The plastic tags that I use to hang most of my stencils are from Uline or in smaller quantities here.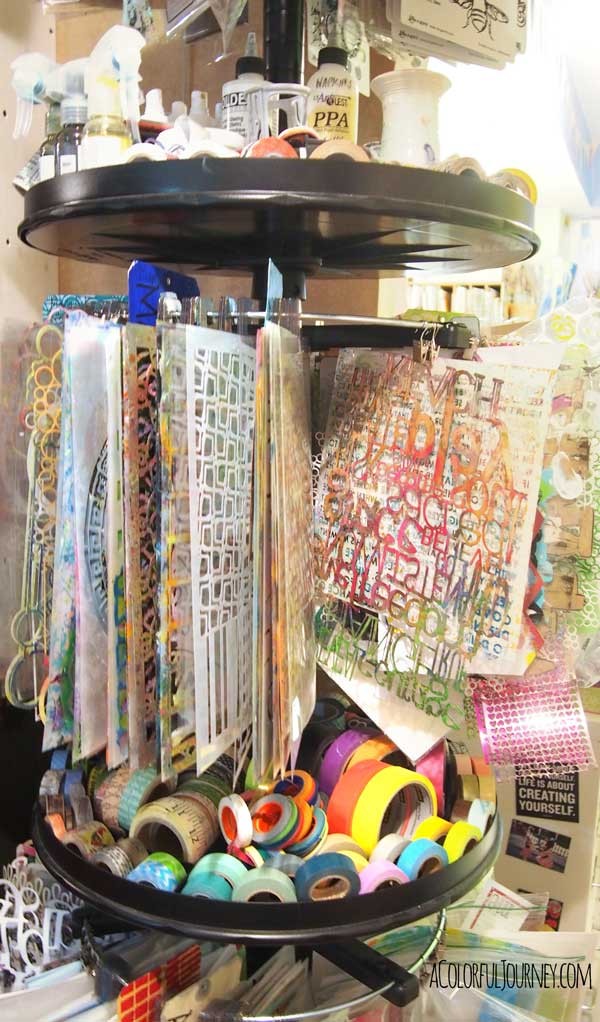 All those shallow shelves with white drawers that you saw in the video, well, I can't remember who made those! Memory is going it seems.  But, those drawers hold a plethora of stuff and it is all easily accessible.
You've probably noticed that theme in my studio…easily accessible which is code for I can grab it and put it back quickly.  I'd rather spend more time arting than cleaning!
Thanks for stopping by my studio for a tour and thank you for being a part of this colorful journey!