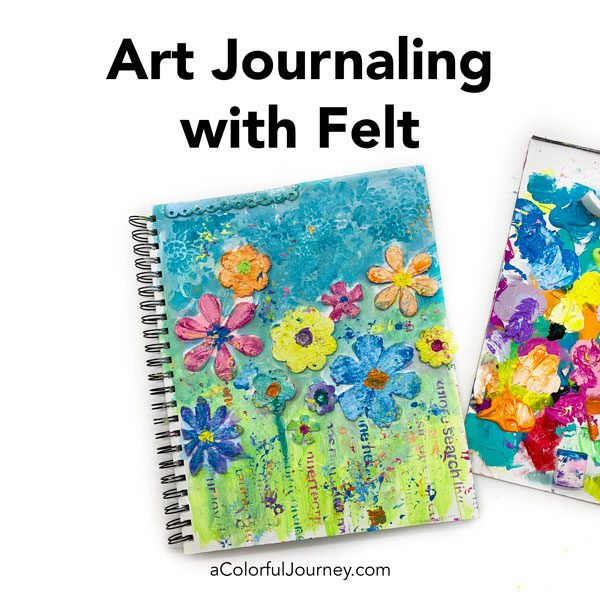 What do I do when my muse keeps saying "You bought it, you might as well use it"? I use it! Today's play involves 2 things I've bought and not used plus a bunch of O.O.P.S.ies!
It's almost embarrassing how long I've had the felt shapes. How long? Could be at least 5 years probably more. But the good news is felt isn't like milk, so there's no expiration date!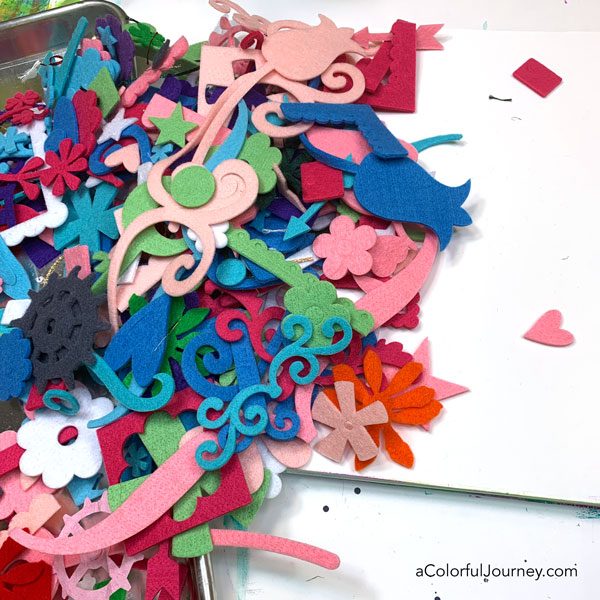 It doesn't look like much right now. But that's how early layers can be.
The plan was to attach these with gel medium, except I can't find my gel medium anywhere. Now it's in a big jar. I don't know how I managed to hide it someplace where I can't find it, but I did.
When things like this happen, the best thing to do is grab whatever you've got within arm's reach and make do with it. So, tacky glue to the rescue!
This was a much better choice it turns out than gel medium because being able to squeeze the glue out of the bottle made it really easy to put these flowers down.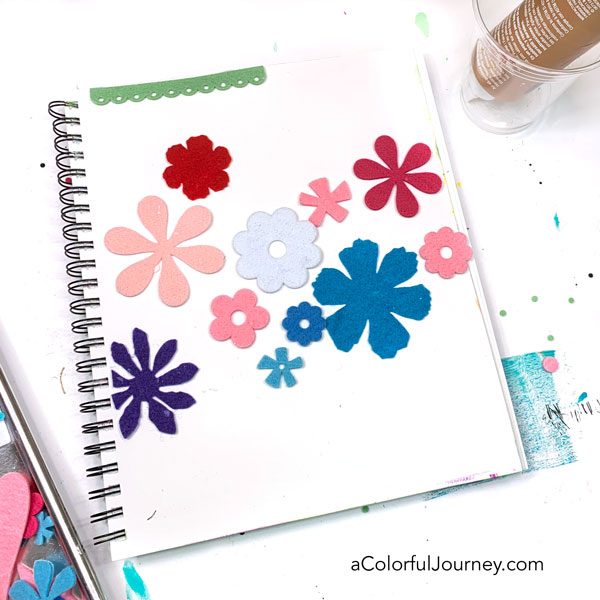 Felt is an absorbent material. That means it can absorb a lot of paint. To reduce the amount of paint it would absorb, I added a layer of gesso.
In a perfect world, I'd wait for the gesso to dry. I don't live in a perfect world, so I didn't wait. I just added the paint right on top. Spoiler alert- this was a great thing later on the page creating the most wonderful O.O.P.S.!
The next supply, I'd had for a while. Not as long as I had the felt flowers, but quite a few months. Golden Paints in pastel colors.
These paints aren't my normal color choices but they were new colors just released by Golden when I bought them. So why did I buy them if they're not really colors I wanted to use? Late night internet shopping. Need I say more?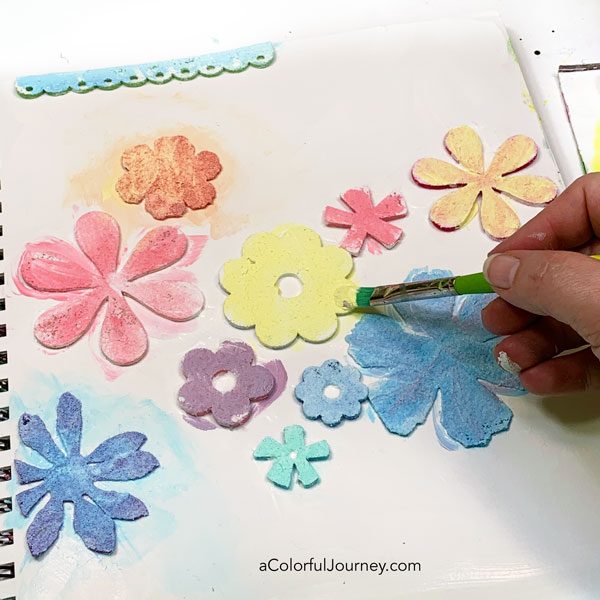 I tried just using the pastels, but I couldn't do it. I wasn't feeling it so I broke down and got out the bright colors. Suddenly I began to really like the pastel colors once I started combining them with the bright colors.
The painted flowers I was loving – the background not so much. It was just yuck to me. But my impatience was about to be rewarded in the most colorful way!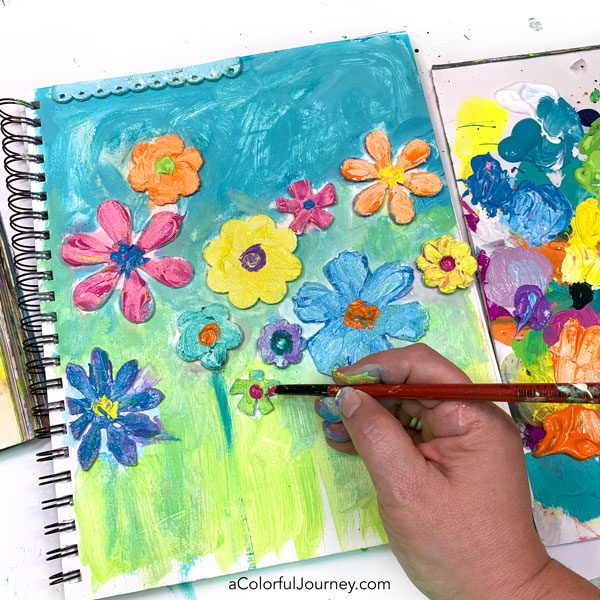 The sky was one O.O.P.S. after another and it seemed like it was going nowhere until I brought in Jill McDowell's Chinoiserie Bouquet stencil. This was messy mixed media style stenciling and just what it needed.
Remember all that gesso I put on the flowers and then all that paint? Those felt flowers are juicy wet with paint so when the stencil touched them, bits of paint began to unintentionally transfer here and there.
O.O.P.S.!These little bits of color weren't planned, they were an Outstanding Opportunity Presenting Suddenly! A reward for being impatient and not letting things dry.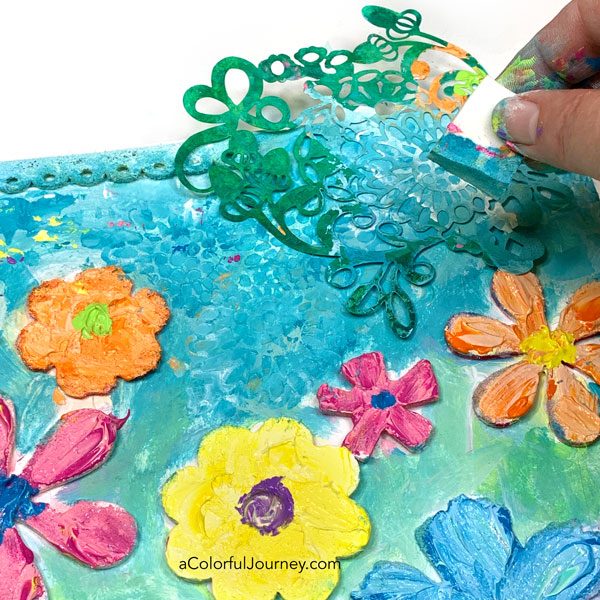 The stems of the flowers were courtesy of more mixed media style stenciling using the Fridge Poetry stencil I designed. By using a narrow cosmetic sponge, only parts of the letters were stenciled.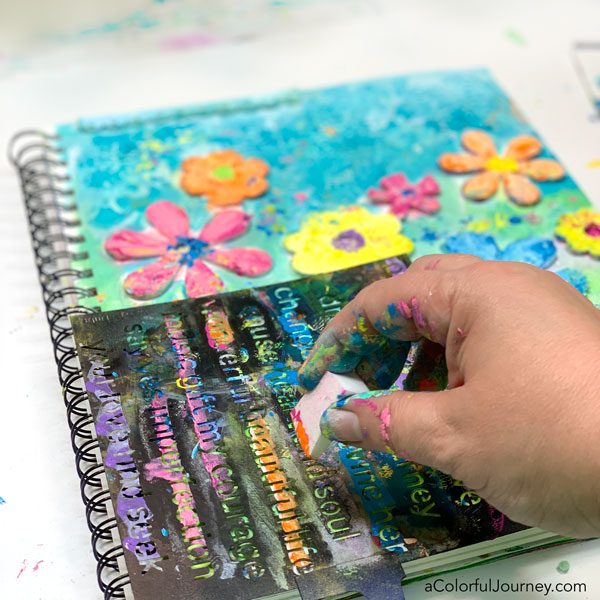 I clean when there's a good reason or a benefit to it. And there was today! That's what created this background in an altered book journal. The paint on my fingers and the stencils were cleaned off on there. Now I have a head start on another art journal page.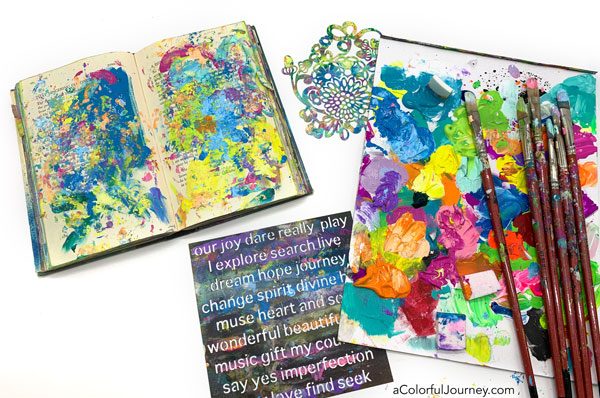 This art journal page had its ups and downs. Some layers I loved instantly, some not so much. So next time you're playing, if a layer doesn't go perfectly just put another layer on top of it.
Want more play? Check out my free workshop, Permission to Play, where we make mixed media art journal out of recycled cardboard!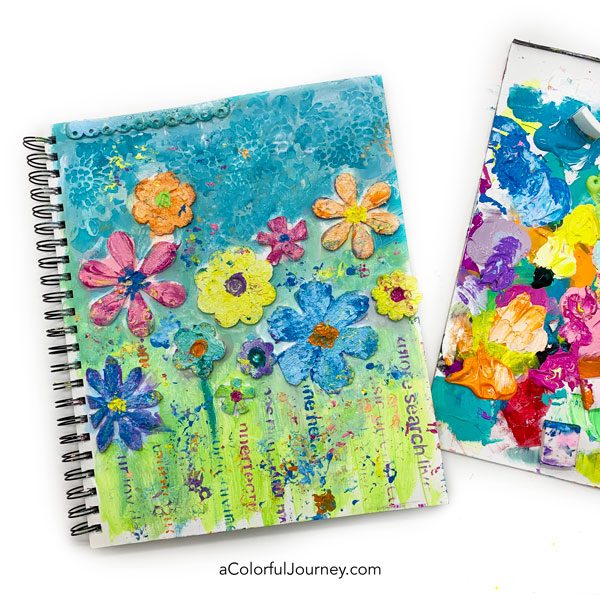 Here are the supplies used. Some of these links are affiliate links which means I get a small percentage. It doesn't cost you anything extra and it helps keep the free tutorials coming!
The felt flowers are no longer manufactured- which isn't surprising considering how long they've been in the stash waiting to be used .