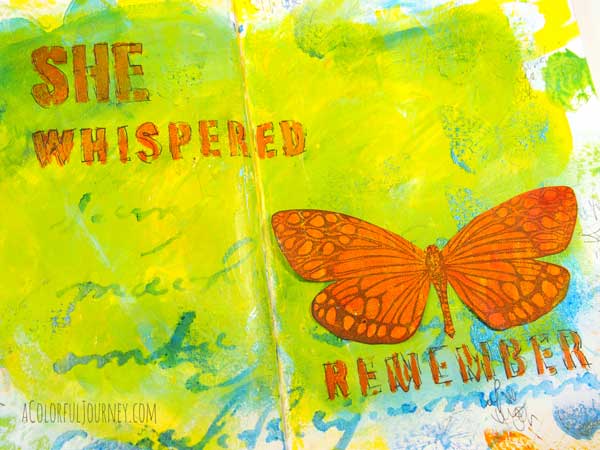 Today, I share with you a very personal art journal page that came about because of the loss of my oldest and dearest friend recently.  I share this with the hope that others will be able to use art to heal their wounds.  The only way my soul can begin to process this is through art.
My art journal gave me a magical gift today – a way to talk to my friend, a person who had accepted me so completely for who I am, warts and all.  I have no idea if it was really her, my subconscious, or something else, but what I do know is, it helped me move one step forward in the healing.  Here's how it went…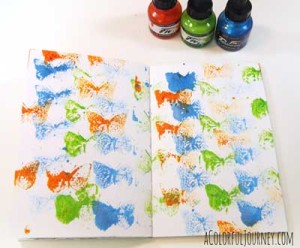 Letting go of control and letting the art guide me.
No asking why because there is no reason that makes sense as to why it was her time to leave.  Following the impulses with messy, sloppy stamping with acrylic ink.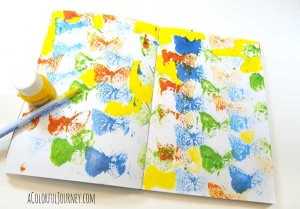 Pops of color added here and there as I remembered our exploits together.
Slowly adding the yellow color while letting the good memories of our adventures as roommates in college come through like sunshine.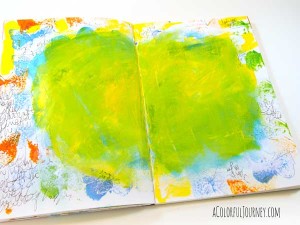 Hurt. Loss. Anger. Grief.  All captured with layer after layer of color.  
Feeling the pain, getting angry, and letting it all out in finger painting.  I kept adding layers and colors until I began to hear her trying to tell me something.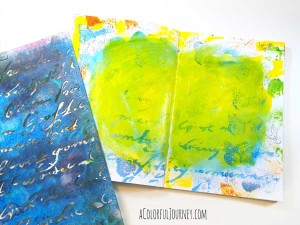 But I couldn't make out what she was saying.   It wasn't clear what message she had for me yet, so a hazy touch of script stenciling.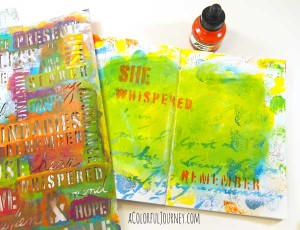 Her message appeared softly to me.  I could hear her in my head as she gently spoke to me, helping me find just a drop of peace.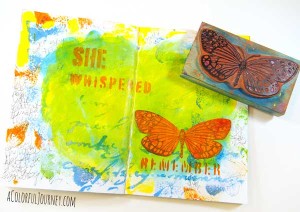 I will remember.  In fact, I will never forget the grace she brought to this world, the power of her determination, and how she generously shared her smile with everyone she met.
But it wasn't her she wanted me to remember.  She didn't want a fuss made about her.  She was telling me to not be afraid.  To not be angry. Once again, she was trying to give to others.
As my way of honoring her, I share this very private art journal page with the hope that this process offers others a way to begin to find peace.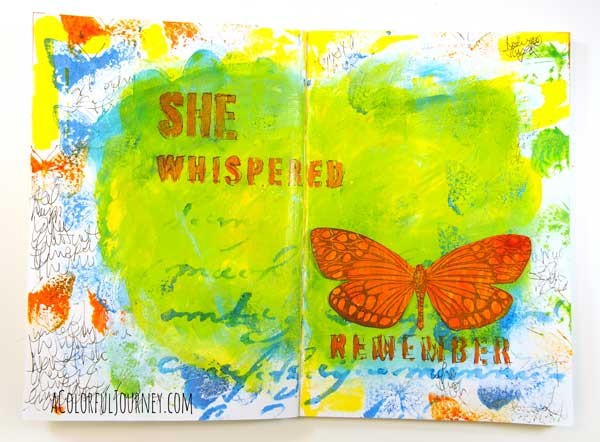 Supplies Used
A Colorful Gelli Print Party will return next month.