What's the play for today? It's Art Houses! This is how I'd love to paint an actual neighborhood, but there are practical issues, so I'll have to stick with mixed media ones for now! In this video you'll see how I cheat on creating a random or serendipitous look, why I am grateful to all that time playing Tetris, and some commitment issues. Spoiler alert, it turned out to be a good thing.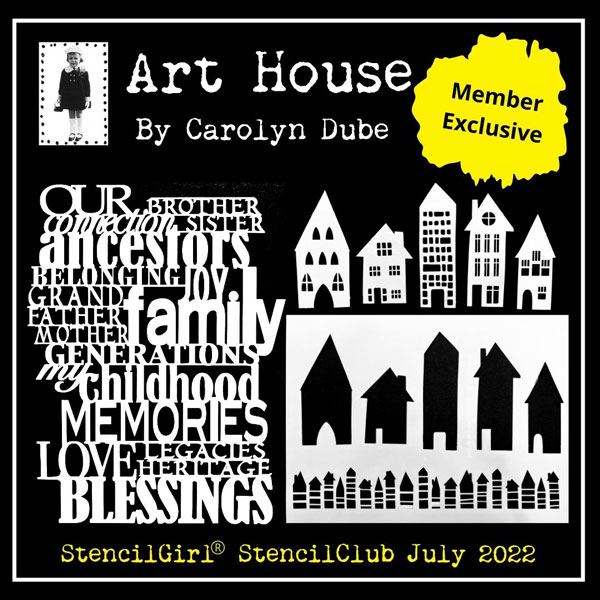 I'm playing with this month's StencilClub set that I'm honored to have designed for StencilGirlProducts! The Art House collection I designed is two 9×12 stencils and it includes the 5 house masks. You can see all the details about what's included in StencilClub here (and there's a members only video each month too!)
Start with a background. You can use paper you've painted, like I did, or anything else you've got! A gel print, book text, scrapbook paper, decorative paper, anything at all!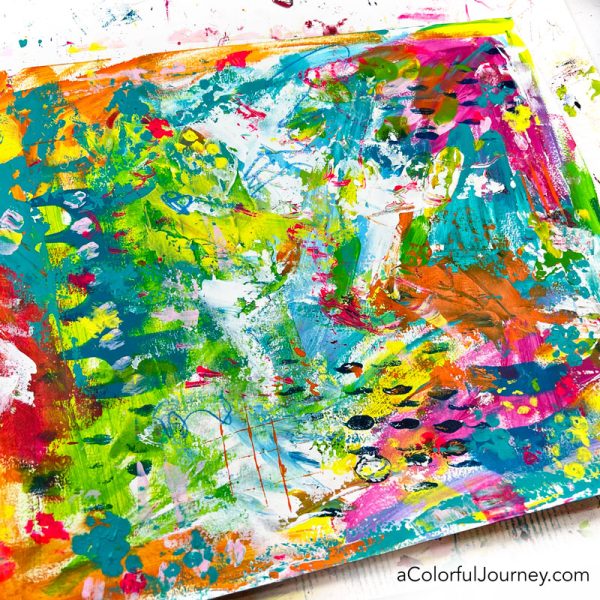 I could just wing it and slap the house masks down anywhere on this and hope it looks good. But I want to be sure I like how the houses will turn out. So that's where the stencil let's me cheat!
I audition different locations using the stencil, and when I find a spot where I like it, then I know exactly where to place the mask. No guessing because they fit together almost like puzzle pieces. Then remove the stencil and you're ready to paint.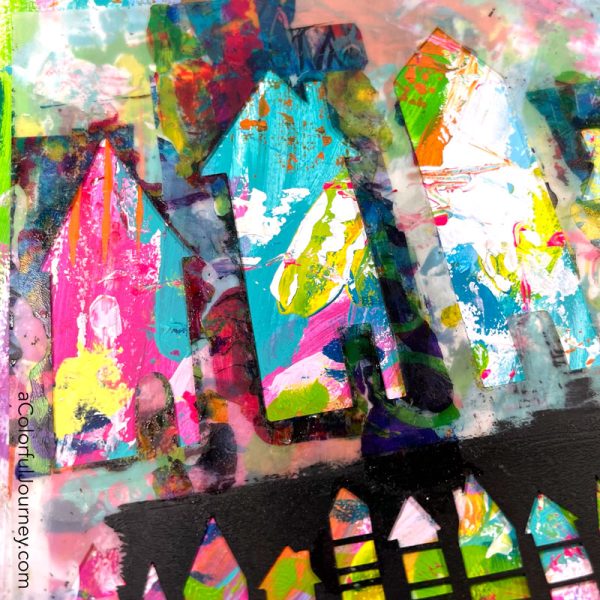 These house masks, which come in the Art House StencilClub collection, have windows. If you want to stencil the windows, just use it as it is. If you don't want the windows, simply cover them with a repositionable tape.
Commitment issues can lead to decision paralysis. I was frozen when it came to these windows during the design process. I wanted the windows for some techniques and not for others and I could find equal reasons to keep them as well as delete them. I won't even begin to tell you how long I spent on this decision!
So much time was spent sitting on that fence, I decided I had to find a reasonable way to have both options. So the windows are on the masks but are quickly covered up with washi tape or painters tape. Now these houses can do both kinds of techniques!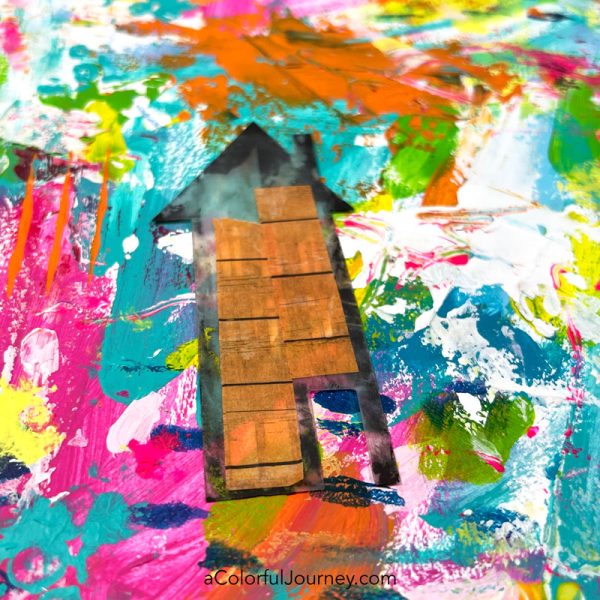 Using a cosmetic sponge the black paint goes around the mask. Once you've got all the paint on there you want, lift up the mask!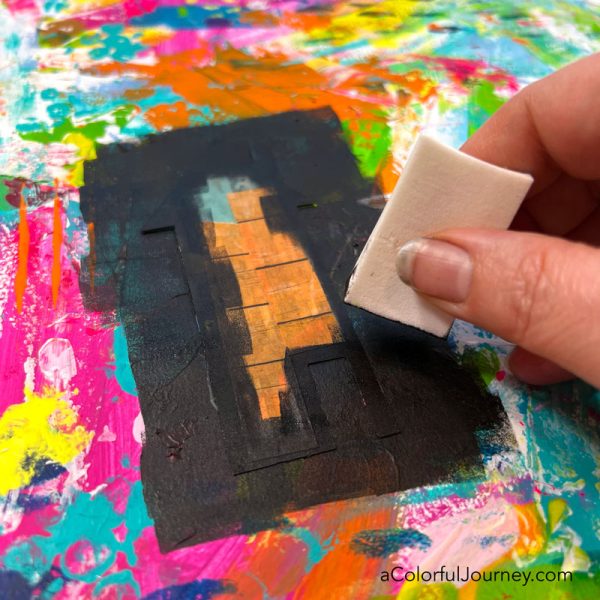 A little trick to keep the masks from moving is to make a little tape circle and put it on the back of the mask! You can see a little bit of it peeking out here from under the house.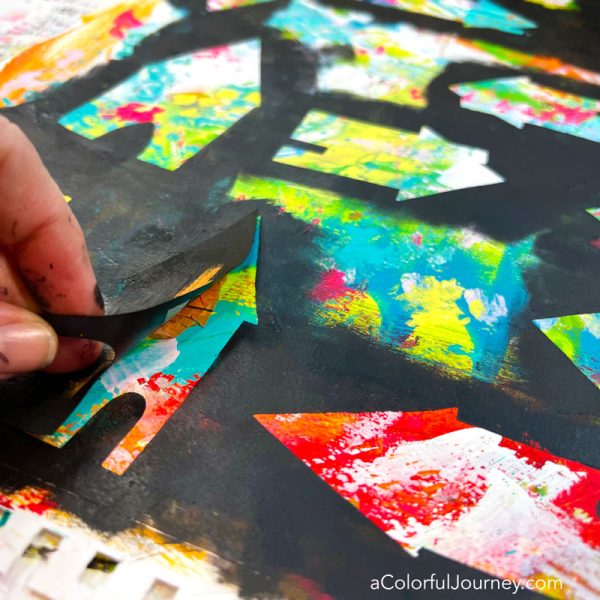 Playing Tetris prepared me for squeezing every useful bit of color out of this background. All that time making those little blocks fit together on a computer screen was helpful after all!
If you're using up every bit you can, like I did, it helps to turn the paper or the stencil to see how things look in different places.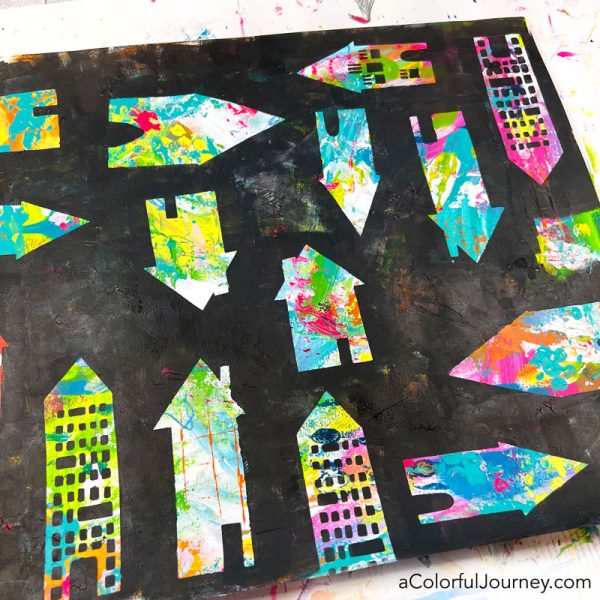 Once it's all painted, then use a pair of scissors and cut out the buildings to create a stash of fodder to use in your play. Use it in an art journal, on a card, in a collage, as an ATC, or any other way that calls to you!
One of these houses is not like the other. That's because there was a bit of an O.O.P.S. when I was cutting them out. It wasn't a mistake, it was an Outstanding Opportunity Presenting Suddenly that led me to cutting out the border of one differently. Now there are two options for cutting these out!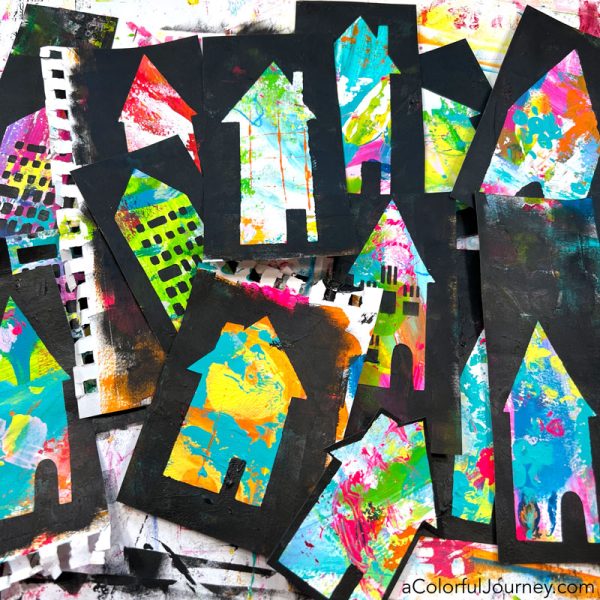 I picked three of them to create a focal image for an art journal page. Other ideas for a quick card, added to a scrapbook page, use for an ATC, in a collage, the possibilities are endless!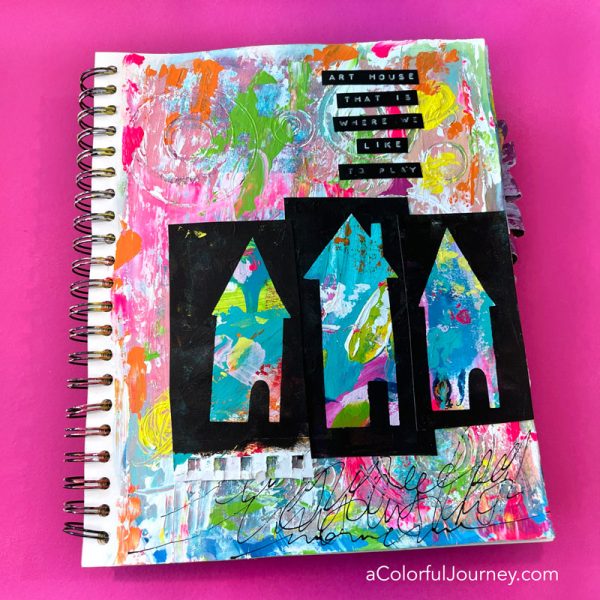 Want more play with stencils? I've got another technique video for you using the words as a mask from the Art House collection here!