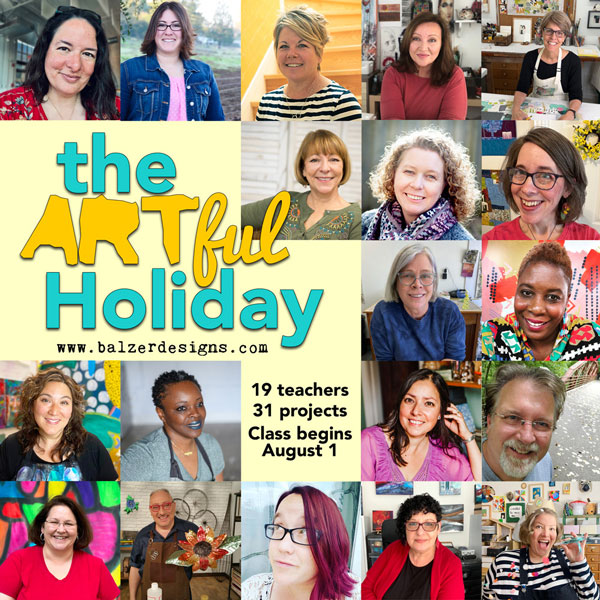 I used to take holidays for granted. I assumed we'd all get together just like we always had, the biggest challenge getting schedules to line up and setting times that worked for everyone. Then covid changed all that. Now that family and friend gatherings are happening again, I never ever want to take them for granted!
What that looks like will different for each of us and for me it means adding a handmade touch to the holidays and gatherings. So when Julie Fei-Fan Balzer invited me to be a teacher in her Artful Holiday workshop, it was a definite yes!
What is The Artful Holiday? It's a project based online workshop with 19 teachers and 31 projects. Each day in August, a new lesson is available to you. The videos are between 7-30 minutes each. You can watch it then or anytime after that because it's a self paced workshop with lifetime access. Plus there's something extra cool that Julie is doing in this workshop to spark your creativity!
Get the early bird discount and save 15% (code:EARLYBIRD) but it's only good until Aug 1st, 2022!
Each of the instructors brings their own style and approach creating a buffet for you of printmaking, collage, jewelry-making, paper arts, book arts, sewing, assemblage, and more!
Each Wednesday, Julie offers up a "mash-up" project. These are step-by-step video tutorials where she borrows techniques, materials, and ideas from the previous lessons and transform them into something totally new. For example…

The intention of these "mash-up" lessons is to spark your imagination and help you find new ways to use the techniques and ideas shared in this power packed workshop.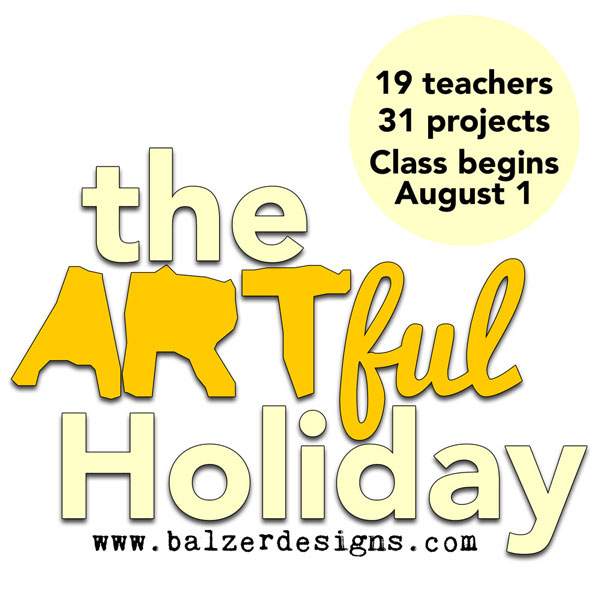 FAQ
You have lifetime access to all content. Watch anytime.
A new project tutorial will be released every day in August 2022. If you sign up after the start date of class, you will get immediate access to any lessons that have already been released.
Lessons are delivered via video, with several teachers also offering supporting PDF instructions and information.
Each lesson is like a blog post, with a comments section at the end where you can leave questions and comments for the instructor.
There is a general Facebook Group for Balzer Designs Students where you can share your work, if you wish. You can also share on social media with the hashtag #artfulholidayclass.
This workshop is an easy way to learn from a wide range of teachers and try out some techniques or areas of art-making that may be new to you.
Although this class is project based, I believe you will find yourself returning to all of the wonderful art making techniques over and over again, no matter what you make.
Videos range from 7-30 minutes long, depending on the complexity of the project.
You can watch and rewatch the videos, speed them up, and slow them down.
There are more than thirty step-by-step project tutorials. Hours of art instruction that is sure to inspire you!
If you're looking for inspiration for ways to add an artful touch to your holidays, check out all the details for The Artful Holiday!
Get the early bird discount and save 15% (code:EARLYBIRD) but it's only good until Aug 1st, 2022!