What can you do with all those gel prints you've made? That's a question I get asked a lot and in this video I'm sharing how I use them with stencils. This technique works with any prints you have, from ones you love to ones you don't! Adding the stenciling can really shift how they look!
I am over the moon honored to be this month's StencilClub guest designer over at StencilGirl Products! The Art House collection I designed is two 9×12 stencils and it includes the 5 house masks. You can get all the details on StencilClub here– later in this blog post I share why I chose those words to go with the art houses. Now let's get into seeing some of the ways these stencils can be used!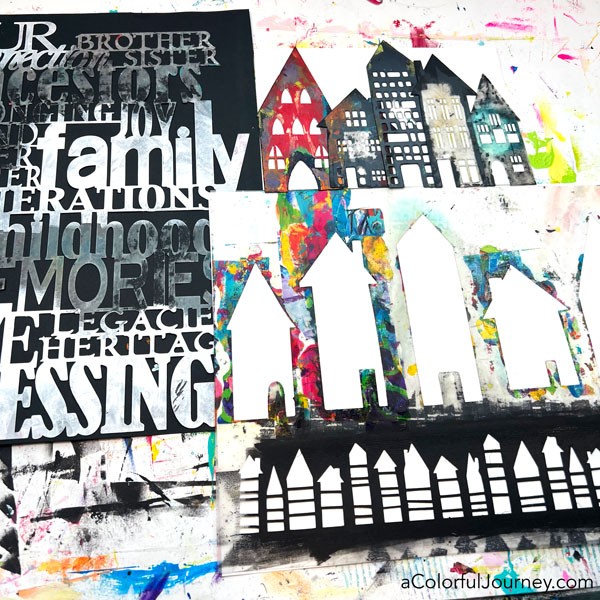 This is a simple, yet very effective technique. Put your word stencil on any gel print and pounce some white paint (or any color you want) on there. I'm using a white thick paint so that I don't have to be very careful and can still get crisp lines.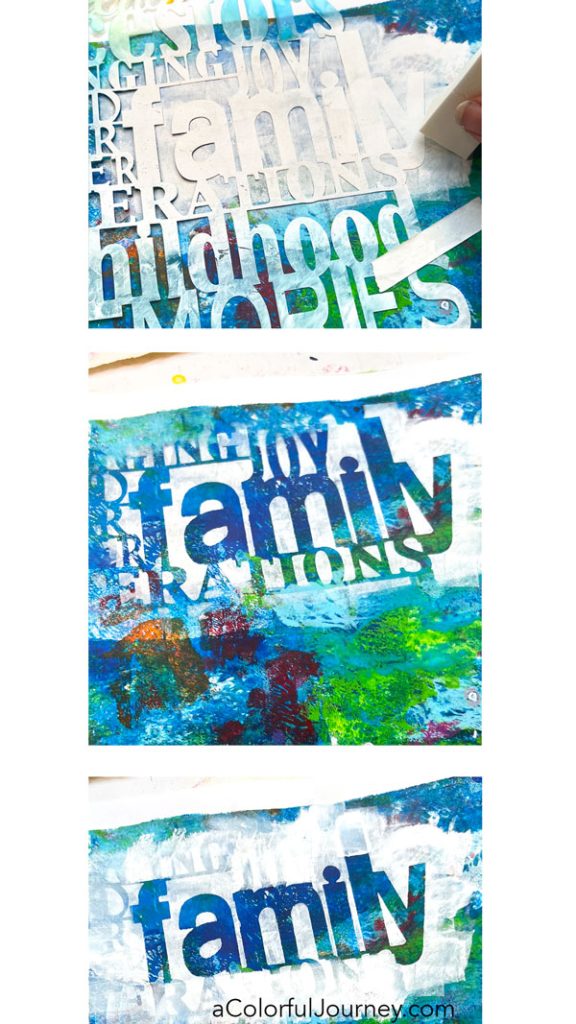 Once you've got the white paint on there, remove the stencil. You then have a choice. Leave it just as it is or block out the word. Using the same cosmetic sponge, pounce over the other words, leaving just your single chosen word visible. One perk of this that I love is the slight ghost look of the other words under the white paint.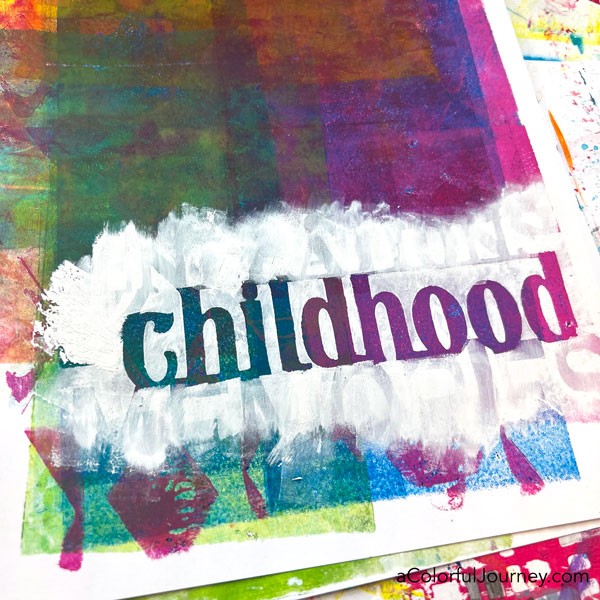 Rip, tear, or cut them out and now you have a stash of words at the ready!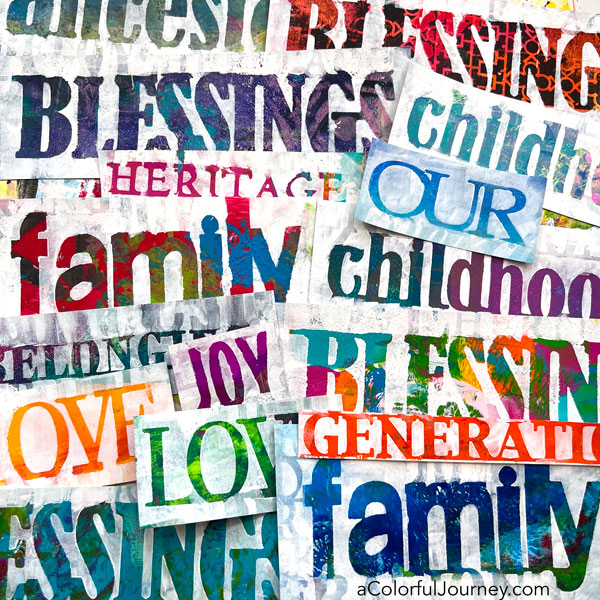 Why did I choose these words? After creating the houses and their masks, I wanted the second stencil to have words on it. But which words- there a whole lot of them to choose from! Who we are has a huge influence on what we create and I wanted to honor that with these words. The people who came before us. The connections we have to people right now. Family, both biological and chosen family. Those relationships have directly and indirectly influenced our creative journeys, our art houses.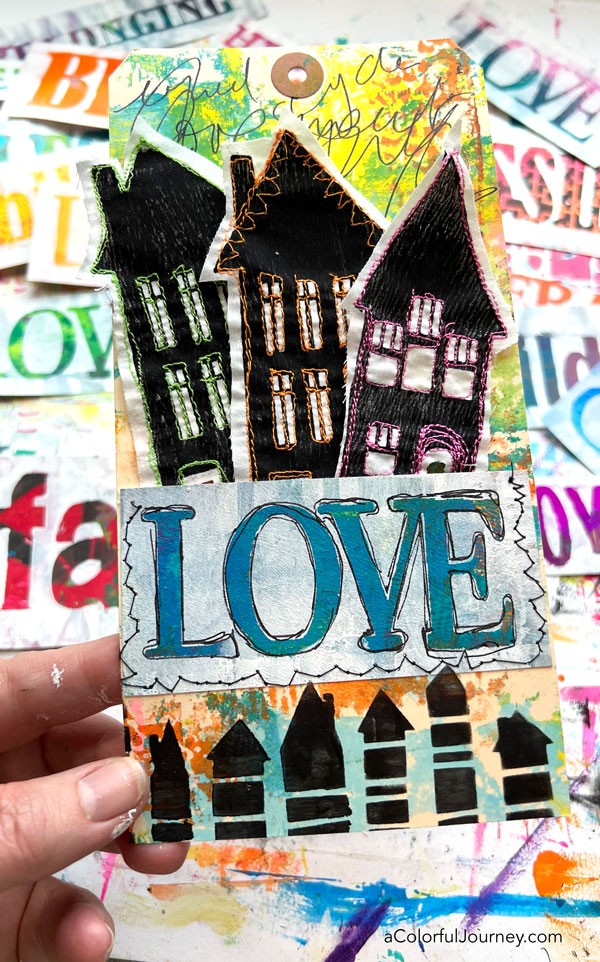 Once you've got these words, what can you do with them? Use them on a tag. Here it's doing double duty as the title and also as a pocket, sewn on three sides. Inside that pocket are three fabric houses stenciled and stitched.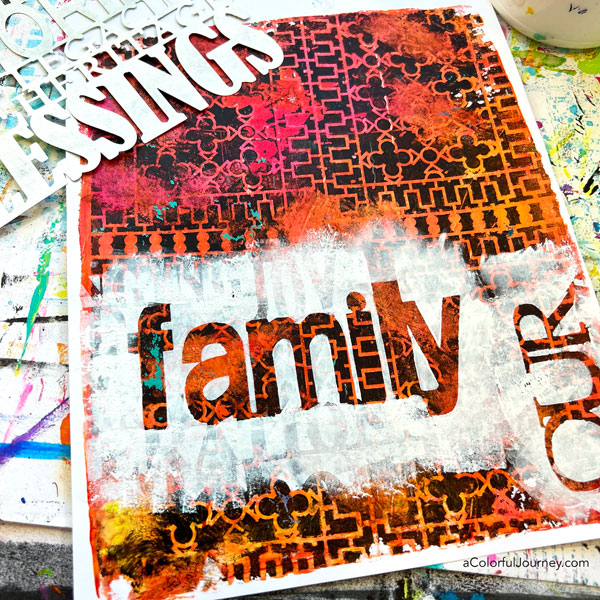 Creating a card with one of the words is fast! I simply attached it to a card blank and poof, it's ready to mail! Don't want to stitch it on? No problem, just grab a glue stick!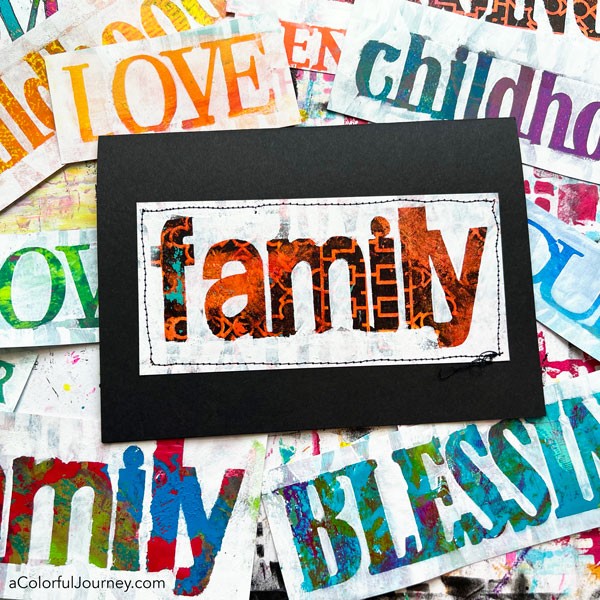 The greatest joy of designing stencils is seeing how others use them. That's the wonderful thing about stencils, they are a tool and we can each use it in our own style, in our own way. We are all inspirations to each other! So I am sitting on the edge of my seat, waiting for July 15, 2022 when these ship because that means soon after, I'll get to see how you are using these!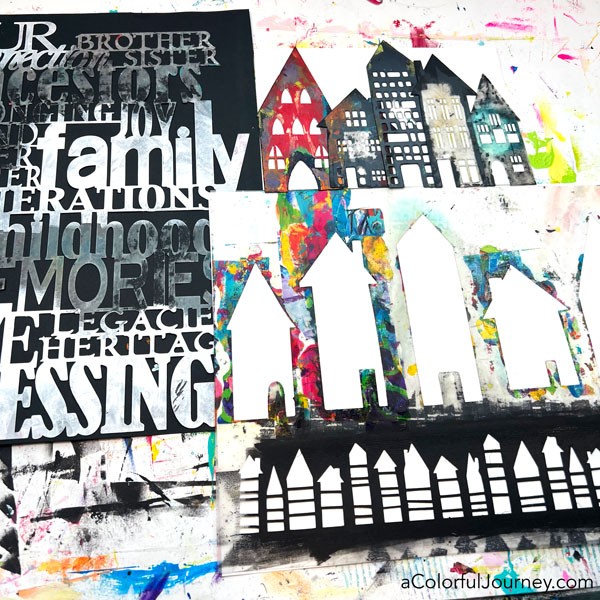 Details about what is included in StencilClub:
two 9×12″ exclusive club only stencils that ship on the 15th of the month
members only video provided by the designing artist. It's a class in itself! For my exclusive video, we're gel printing with these stencils!
downloadable pdf with basic instructions to go along with the video for that month
a SECRET Facebook group for members only! A place to share, inspire and talk all about stencils!
Plus, as a StencilClub member, you are eligible to purchase ANY past month for the membership price.
StencilClub members receive a loyalty coupon code each month good for 20% off stencils in the public collection. And it can be used more than once.
You can see all the club details over at StencilGirlProducts!