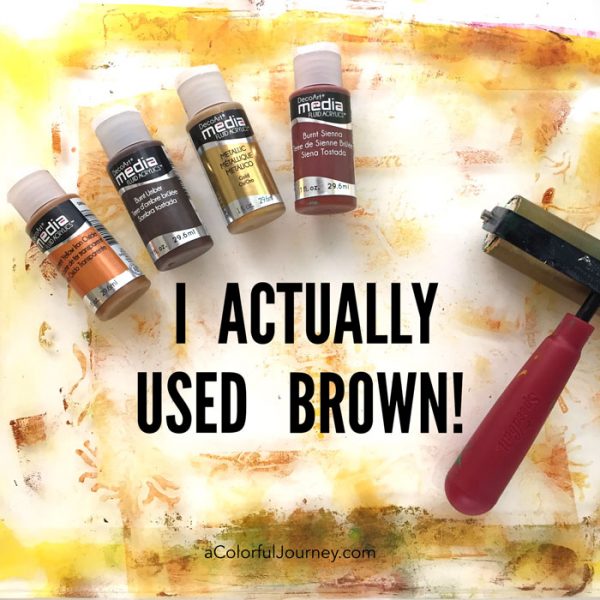 Brown.  I used brown.  Lots of brown.  Why?  Because No Expectations is the theme for this month's Let's Play videos.  Having no expectation is easier said than done but one way I can do that is by doing something I know will be ugly to me.  Hence the brown.
Technically, I still have an expectation, it is just a very low one or you could say the expectation is that it will be ugly.  Either way, the pressure is off if I don't have the pressure of creating something "good".
In the video, I'm making the prints and creating a quick card and matching envelope with the B word..brown.  A 5 letter B word no less! There is brown on everything…did I like it? Will I be using brown again? Watch to the end of the video to see…
Watch Using Browns on the Gel Plate on YouTube.
I'm using a 12×14 Gel Press printing plate and the Eucalyptus Blooms stencil by Jane LaFazio and some DecoArts Media fluid acrylics for my no expectations play.  I did several layers in the browns and then the call of the rainbow was just too strong for me.  I had to see what brown looked like with the brighter colors.
Kirsten Reed is always trying to convince me of the merits of brown- she loves that color!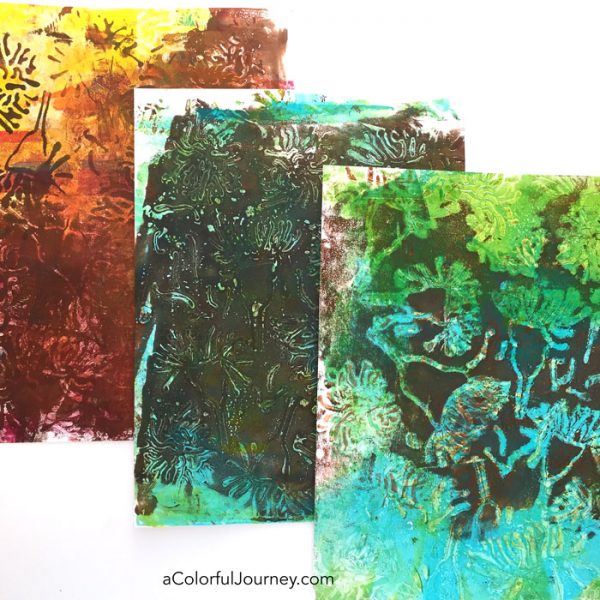 Using a gel print to make a card is quick and easy.  Just have to fold the paper, cut it down to the size of the envelope, and it is finished and ready to use!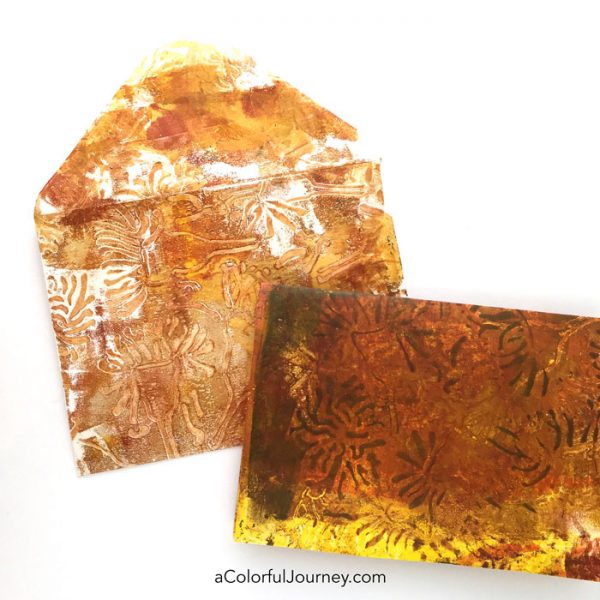 Now you've seen my play, let's see yours!  Share what you're creating with us all in the Facebook group and be inspired by what others are creating! And be sure to leave a comment here to get entered in the monthly $50 gift certificate giveaway!
What is Let's Play?  It's all about rediscovering the ability to play. Each month I share a specific strategy that helped me recapture the freedom and fun of play.  This month's theme is no expectations. You can see more of the Let's Play series here. Be sure to get entered in the $50 Dick Blick giveaway by leaving a comment.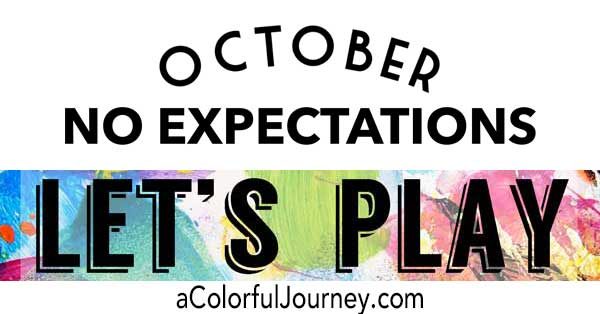 Want to see more Let's Play videos? You can find all the weekly posts here.
Sharing your play:   I, and a whole bunch of others, would love to see what you're creating!  We're sharing it in the Facebook group called A Colorful Place to Play. Why Facebook?  I've listened to your feedback about how and where you'd like to share your play instead of the link parties.
Monthly giveaways:  Leave comment on any (and all for more chances) of the weekly Let's Play blog posts to be entered and one winner each month will be chosen by random.org.  Want more chances to win a $50 gift certificate to DickBlick.com?  Pin any of the images from the page or share about it on Facebook- then come back and leave a comment telling me what you did and you can have more chances to win! Giveaway closes the Sunday, October 30th at 11 pm EST and the winner will announced on the blog the following Monday.
Congrats to Misty, last month's winner!