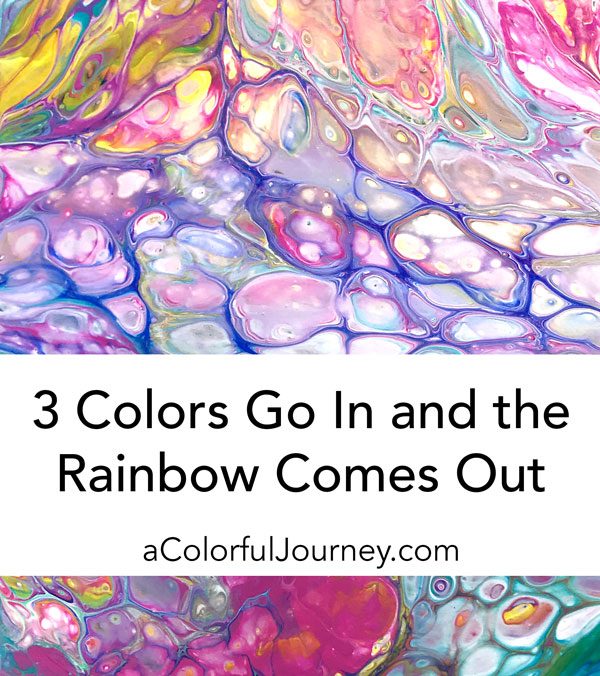 What happens when primary colors mix and mingle while making a flip pour?  Rainbow happiness! Just the 3 primary colors were added to the cup, along with white, and a whole lot more color appeared. Along with a whole bunch of cells.
Watch Rainbow Flip Pour from just the Primary Colors on YouTube.
To help you get started with paint pouring, I've created the free Paint Pouring Blueprint- get it here. Everything from set up to mixing to pouring is covered.
Just the 3 primary colors and white made this pour. A yellow, a magenta for the red, and shades of blue, plus good old stand by white paint were all the colors used. This isn't just paint in here, it's also Floetrol. If you'd like to see how to mix the paint and Floetrol together, check out this video.
To help make the cells extra wonderful, a drop or two or three was added to each jar of dimethicone.  It's used in cosmetics but makes wonderful cells. You can also use silicone oil, like used for treadmills, to do the same thing.

Once you have all the paint you wanted in the cup, put your canvas or wood panel on top and flip it over.  The suction will hold the cup in place so none of the paint will escape.
Lift up the cup and watch the rainbow appear but be sure to say Abracadabra before you lift the cup, after all, it's color magic about to happen there!
Here's what it looked like soon after the cup was lifted.  Way more color variation than what was added to the cup. But it wont' stay exactly like this. Gravity will pull on it and stretch parts out.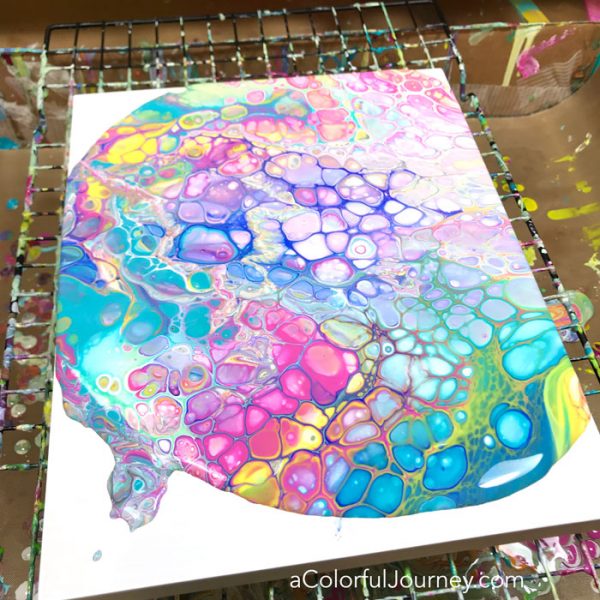 Here it is all dry, with all those glorious cells swimming about.  It's like there is a rainbow ocean flowing through it!
Want to see more paint pouring tutorials?  Click here for more rainbow fun!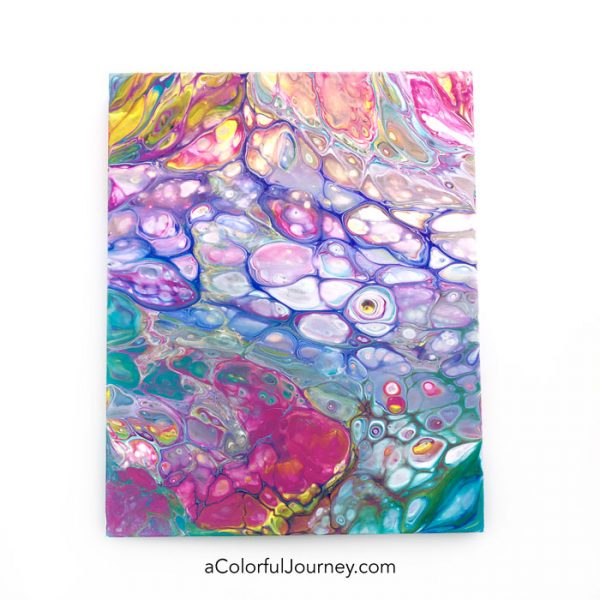 Here are the supplies used. Some of these links are affiliate links which means I get a small percentage. It doesn't cost you anything extra and it helps keep the free tutorials coming!
I used Dimethicone, but you can also use silicone so I put that on the list below for you too.  The Floetrol, by Flood, comes in several sizes, so you have options for that in the list too.