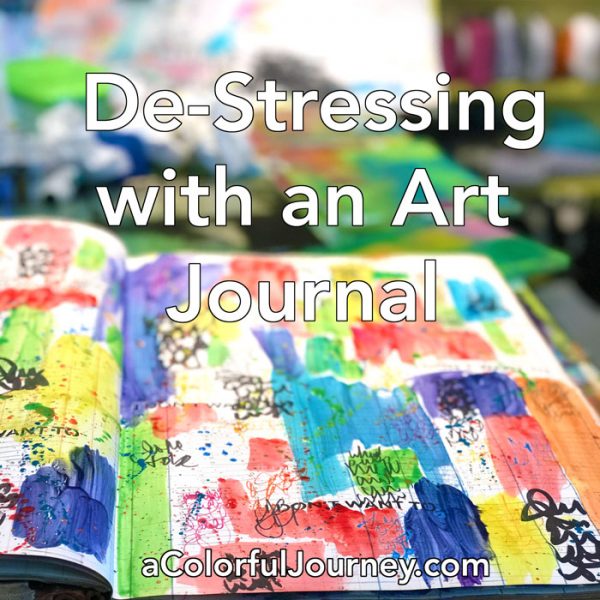 The to-do list felt never ending.  There wasn't enough time to get it all done.  Ever felt that way?  I was feeling overwhelmed so I turned to my art journal to help me, the 150 year giant tome of a art journal.  It's fitting that something so big will help me with a big to do list.
There is a part of my brain that tries to convince me that the best way to deal with my to do list is to buckle down and start on those items.  But I am so frazzled about it at the moment, that I will not be very focused or efficient.  The art play will actually help me get back to a more productive state, and make a happier person at the same time.
Watch De-stressing with an art journal  on YouTube.
Since an overwhelming to-do list created the need to art journal, it seemed fitting to cover the entire background in a list making stamp.  This is a self inking stamp so it was a speedy way to create the first layer.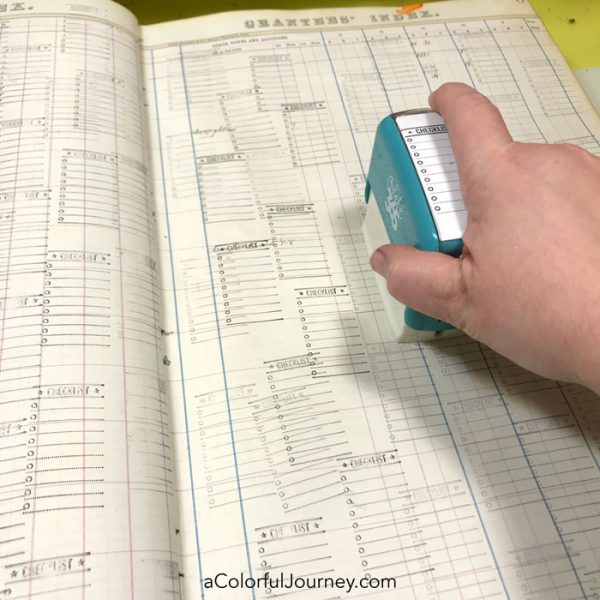 Getting thoughts and feelings out in a non-judgmental space allows the stress to start moving out of the body.  It's like the stress flows out the hand word by word.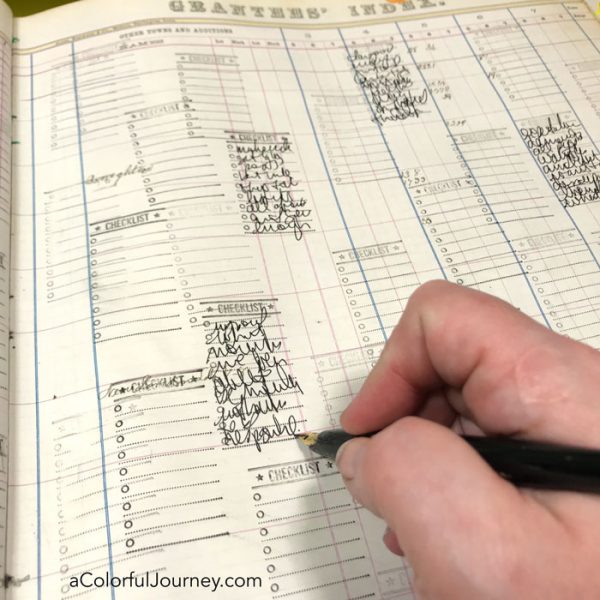 I was really stressed out so there were lots of words that needed to be released.  While using a fine tipped paint pen, there was a big O.O.P.S., an Outstanding Opportunity Presenting Suddenly.
Pens with fine tips like these get ruined very quickly when used on top of paint.  Since there wasn't any paint on this page, it seemed an ideal place to use them.  The catch is, I am a heavy writer who uses lots of pressure.  That is total operator error here, as it happens to me with any brand of this style of pen.
That glob of paint made me very happy so I wanted to do it some more.  The muse is laughing away as the more I tried to get the globs, the less I could make it happen.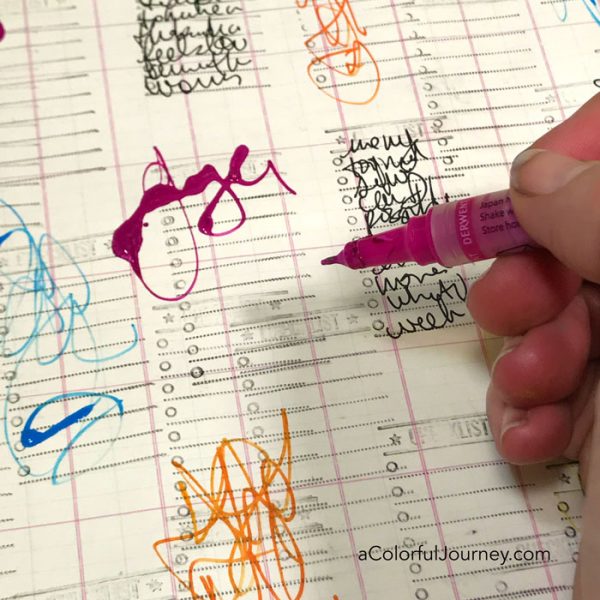 Apparently, the stress was more than I realized, so I needed to do even more journaling. This time it was a jumbo mega  Sharpie and a regular sharpie. While I was writing, there was a recurring phrase that kept running through my mind.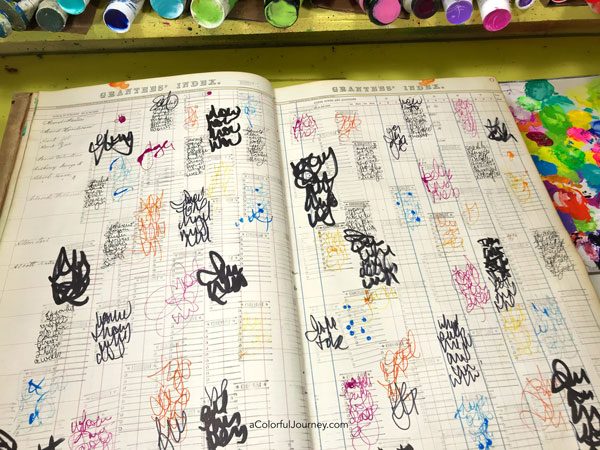 I don't want to do it. That big list of obligations, responsibilities, and laundry, I didn't want to do it.
The Teenage Angst stencil provided the perfect words for this page.  This stencil is 9 x12 inches with lots of phrases and for this particular stencil, I used scissors to cut the phrases apart.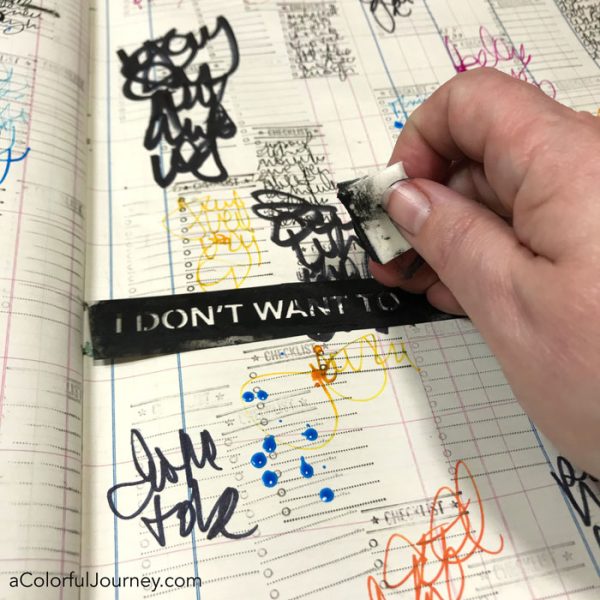 Using Pam Carriker's Fluid Matt sheer colours, the rainbow was added. Why these paints? Because they are sheer which means the background will be seen through them. They're also fluid, which means they are ideal for the next step.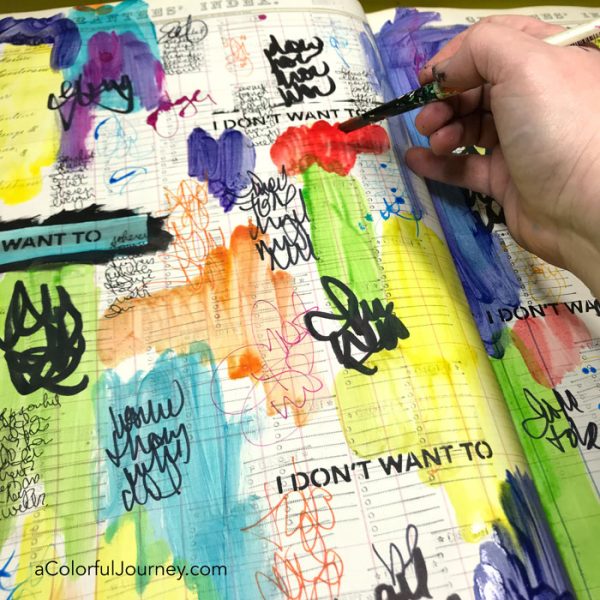 There is no equal to throwing paint and watching it splatter across the surface.  With every splat and thwap of paint, I felt more relaxed and alive.
You might have noticed the head of a paint brush that went flying in the video.  O.O.P.S.!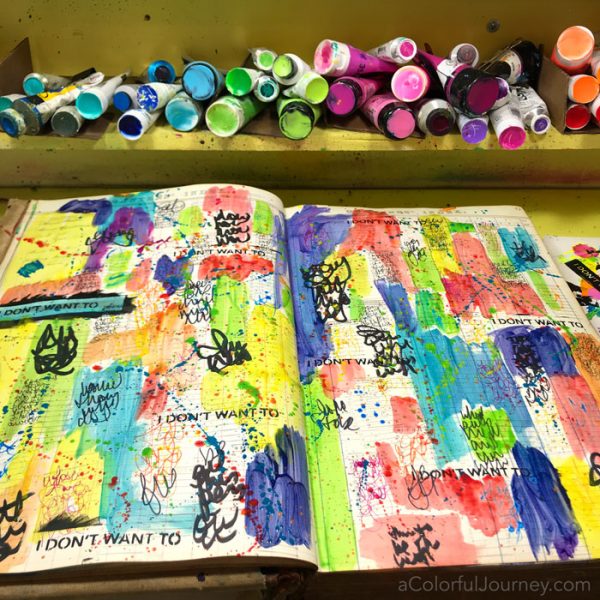 Now that I am done de-stressing, I will start tackling the to-do list.  Only now, I can focus again, feel human, and most importantly, that feeling of overwhelm has passed all thanks to some art journaling.
With all the wet paint on here, it needs some time to dry. So in my next blog post, I'll be sharing what I did with this colorful background. Get signed up for my newsletter to be sure you'll see what happens next.
Here are the supplies used. Some of these links are affiliate links which means I get a small percentage. It doesn't cost you anything extra and it helps keep the free tutorials coming!
What pens did I use? I'm not listing any specific brands of the paint pens because I don't want anyone to think the issue is with the pens.  That is user error.