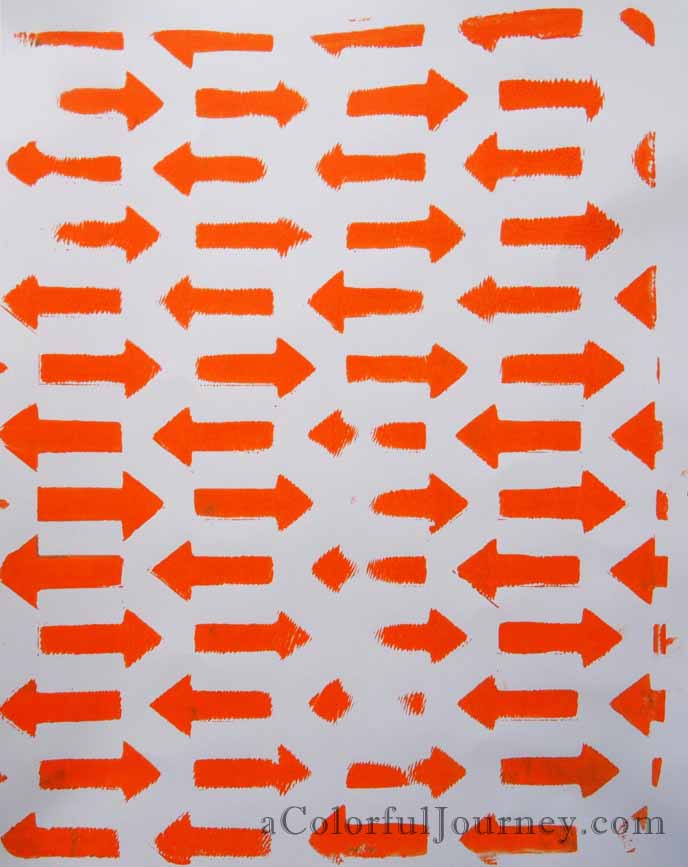 You can't fail with a Gelli Plate and I can prove it or I should say my husband can prove it!  The orange arrows- that is his very first print!  He is a wonderful human being but let's just say that his area of expertise is not art. This video chronicles his very first experiences with the Gelli Plate!  This video is only for those with a sense of humor…
You can't fail with a Gelli Plate!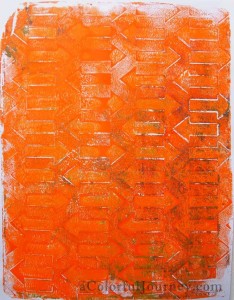 Too much paint?  Not a problem- he had lots of paint on there for his orange arrows.  All  that meant is he had a darker ghost, or 2nd print.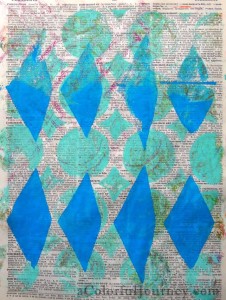 Don't have any stencils? No problem, cut some.  These diamonds took seconds.
What kind of paint to use?  Cheap craft paint or Golden? Any acrylic paint works!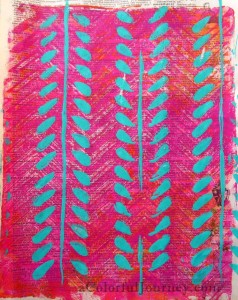 What if you make an ugly print?  Just add more layers.  This pink print changed dramatically once I added the turquoise vines!  As more and more layers get added to this it will continue to develop into the kind of print I love.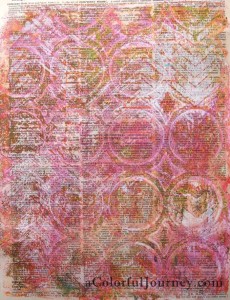 Be open to the fun of the Gelli Plate.  I didn't expect this print but am glad it showed up!
If he can get a Gelli Plate to work with his incredibly limited artistic experiences then imagine what you can print!  He did that with a nano second of instruction – imagine if he had  5 weeks of my videos filled with step-by-step instruction!
A sampling of some of what you will learn in this workshop:
how to get layers of color in just one single pull from the Gelli Plate
how to use homemade and purchased stencils
how to get texture on the Gelli Plate with found objects
how color theory applies to the Gelli printing (the polite way of saying how to avoid mud)
how to get subtle or bold effects when you want where you want
how to use more than just paint on the Gelli Plate
how to use rubber stamps on the Gelli Plate
building a composition using layers on the Gelli Plate
painting on the Gelli Plate
how to deal with the ugly prints
how to use the prints in a variety of mixed media projects
how to combine multiple techniques in one print
how to be free and experience all the joy in playing with the Gelli Plate!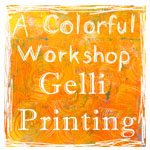 Class starts Monday, April 1st!  Hurry and get your $10 discount before the price goes up.  All the details are here.
Linking up to Paint Party Friday and Creative Every Day.