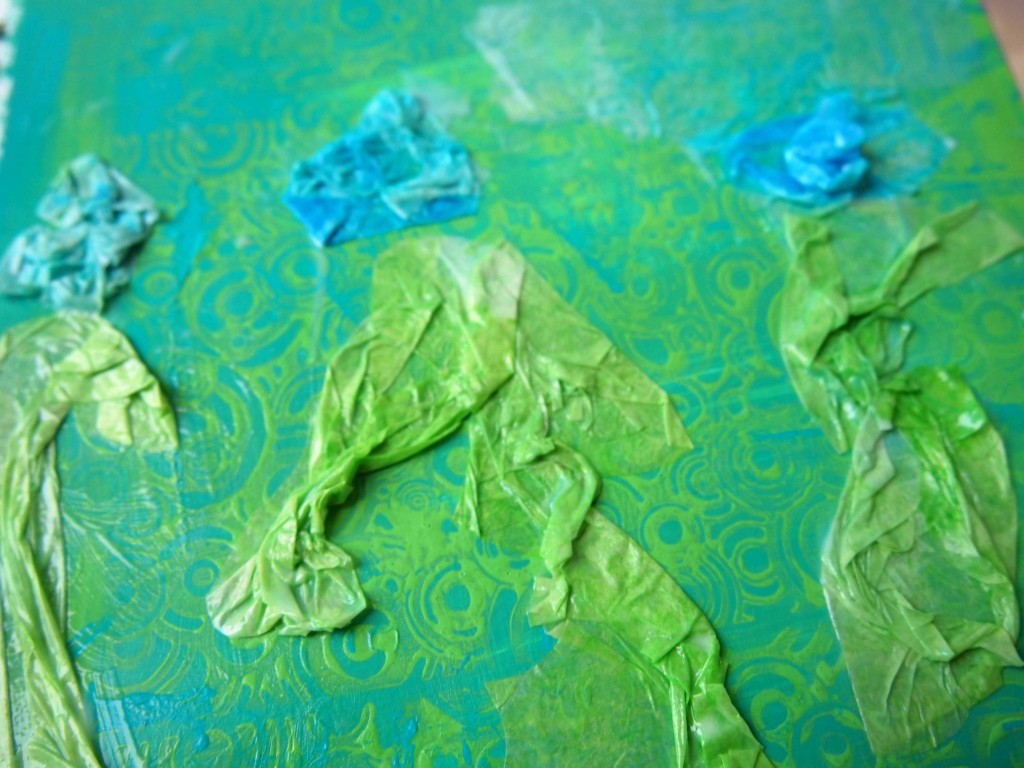 I've been out of town relaxing with troublemakers, I mean friends.   I have a huge stack of "should do" work after being gone, but I decided to play instead.  Better to take care of my creative soul than my laundry right?  As I was catching up on my internet friends, I found all sorts of inspiration.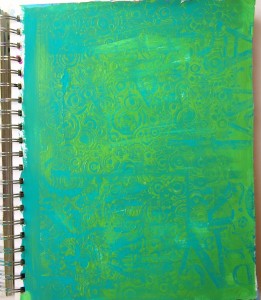 I bumped into the challenge the save an art journal page at The Art Journal Cafe. You know, that page you started and abandoned.  I found one of those pages from forever ago.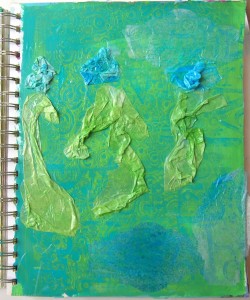 But how to save it?  Then I saw a texture challenge at Anything But A Card.  I used some old spray inked pieces of die cut deli paper.  Planned to just create texture by gluing them down but they slipped all around with the glue I used – then I started to see a shape in the squished paper. Started squishing more paper and made more little people.  Oh, does this mean there is something wrong with me if deli paper shapes talk to me?  Hope not…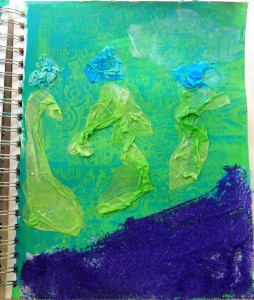 Then I saw over on Julie Balzer's blog that she was having a 2nd floor challenge with embossing powder.  I have way too much embossing powder- so I decided to use some of that.  I decided I wanted a sandy ground for my 3 ladies. I just smeared gel medium and sprinkled in purple UTEE.  One problem.  I couldn't use the heat gun to dry the gel medium since it would also melt the UTEE and I wanted the sandy look.  Had to let it air dry- okay, didn't let it dry, just worked around the wet glue…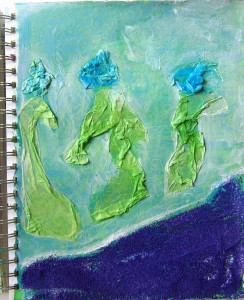 Some white ink smeared around to help the people stand out.  Not sure if it is the influence of the bouncy dance music playing in my studio – but these ladies look like they've got some moves.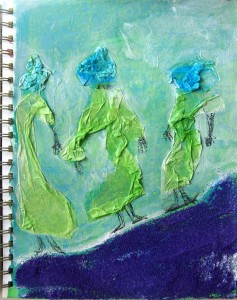 Decided to give my people hands and feet.  No shoes for on the beach so they're barefooted!
Had to make the women pop more so I used a touch of Twinkling H2O's to brighten them up.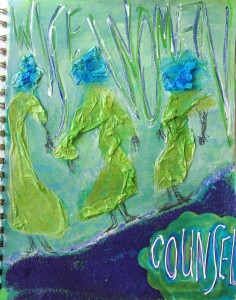 Added a bit of writing in layers of color that summed up how I felt about this page- Wise Women Counsel. These ladies were talking to me as I made this so I listened.  I don't think the gel medium under the embossing powder is anywhere close to dry yet…
If you have a moment stop by all these great challenges- you never know where your inspiration will come from!  It's only a short time until Fall Fearless and Fly,the challenge I am cohosting with Jessica Sporn, begins!