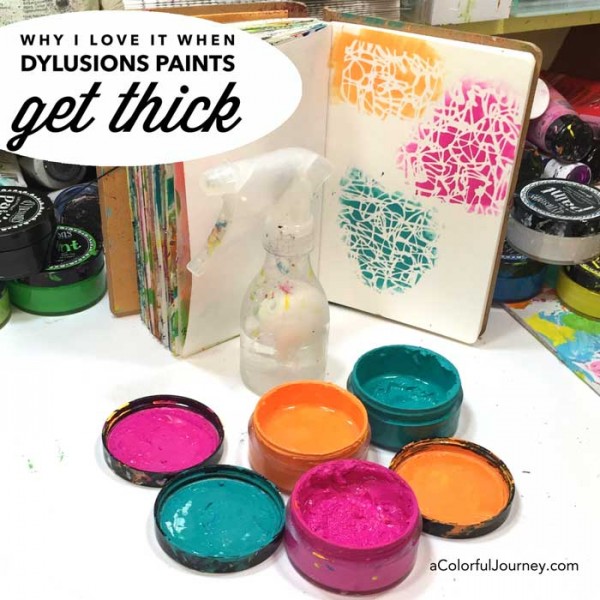 The colors I use most often of the Dylusions paints have become thicker right in the jar.  We can talk about all the possible reasons the water evaporates but the biggest one is I leave the lids off for extended periods of time.  I'm working on getting better about it…but if I never get better about it…my life will still feel complete.
Some of the water evaporating turned out to be an OOPS…an Outstanding Opportunity Presenting Suddenly.  I love the creamy feel of the paint when it is brand new but I like it thicker even more!  Why?  Because it makes my life much easier.
Thicker paint is easier to stencil with if you are in a hurry or just impatient like me.  I can get crisp lines on highly detailed stencils without having to be careful.  That's a big plus to me!
Watch Why I love it when dylusions paints getting thick on YouTube.
With those wide mouth jars, it is easy to reach in with a cosmetic sponge or brush and use up every last drop of paint so not a drop of pigment gets wasted like in the more traditional skinny tubes and jars.
It is just water evaporating so that means if I don't want it quite as thick, all I need to do is add water.  Even that is easy with the Dylusions.  All I do is hit it with a few squirts of water and screw on the lid when I am done to replace any water that has evaporated.  I don't even bother to mix it in because magically by the next day it is all absorbed.
Thanks Dyan for creating such a fun paint that works for all sorts of artful play!
Here are the supplies I used. Some of these links are affiliate links which means I get a small percentage. It doesn't cost you anything extra and you are helping me keep this blog and my videos ad free! Thank you- I don't like ads any more than you do!