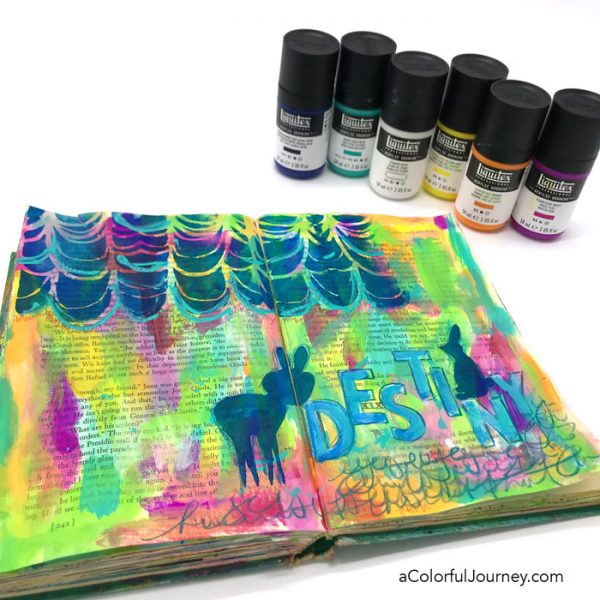 If watercolors and acrylic paint had a love child, it would be acrylic gouache.  It's like taking the best qualities of both and then putting them in the best bottle ever for mixed media play.
I'm putting this new paint from Liquitex through its paces as I make this art journal page.  I found out how colored pencils write on it, how well it stencils, how well it paints, and then there was the game changer that I figured out at the very end.  Hint- it has to do with using pens on it.
Watch What is Acrylic Gouache & How Do You Use It? on YouTube.
Acrylic gouache has some characteristics of watercolors so that means you can add water to it without quickly getting that watered down look. If you use it a full strength, the way it comes out of the bottle, it is more opaque.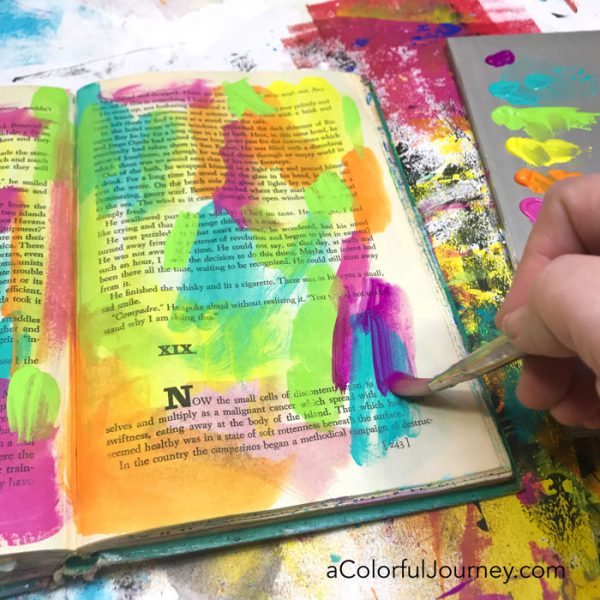 How does it work with stencils? Just a little drop of blue paint and a cosmetic sponge did all of this stenciling with Mary Beth Shaw's ATC stencil.
This paint dries quickly so that means when I used the stencil repeatedly, even flipping it over, there weren't any unexpected smears of paint.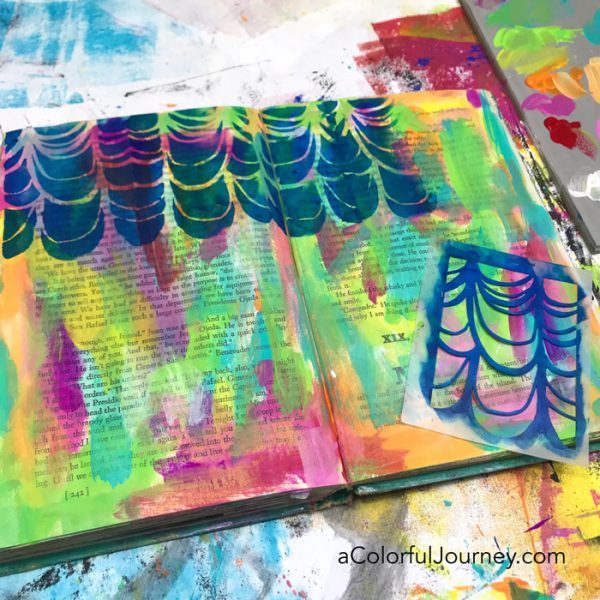 The shape of the bottle made me wonder if it would write and it did!  It's like a loose paint marker.  How hard you squeeze the bottle determines how much paint comes out.
And if you unscrew the top, it has a big opening so that you can get a brush in there and get every bit of paint out.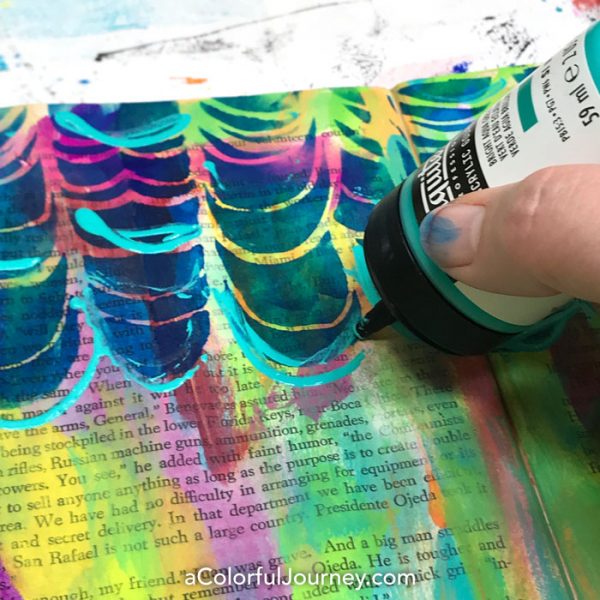 Will colored pencils write on it?  Yes!  I traced the word with a colored pencil using my Open Ended alphabet from StencilGirl. The pencil wrote easily over the paint.
To make coloring in the letters easy, use a brush that is just a little smaller than the letters, like a size 6 filbert.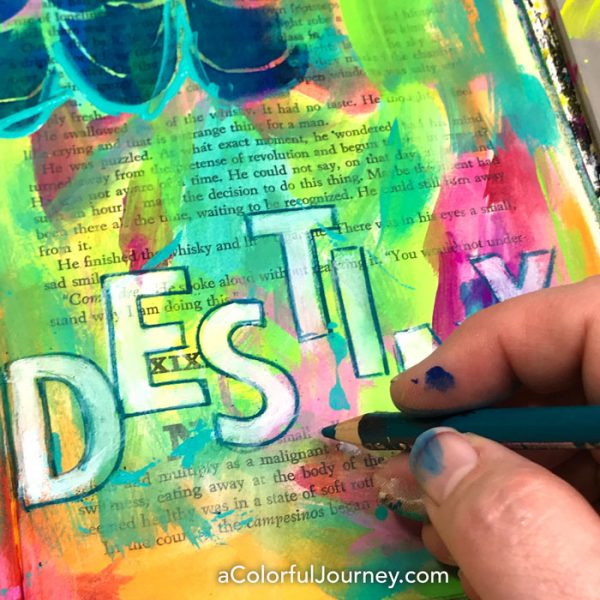 O.O.P.S. How I spaced the letters did not go as planned. I really wanted the D in Destiny to be farther to the left.  End of the world?  Nope.  Just an Outstanding Opportunity Presenting Suddenly.
Without this O.O.P.S., I never would have used the Figments of Imagination stencil and mask set.  One of the perks of having a set like this is you can audition where you want to put your creatures before committing with paint.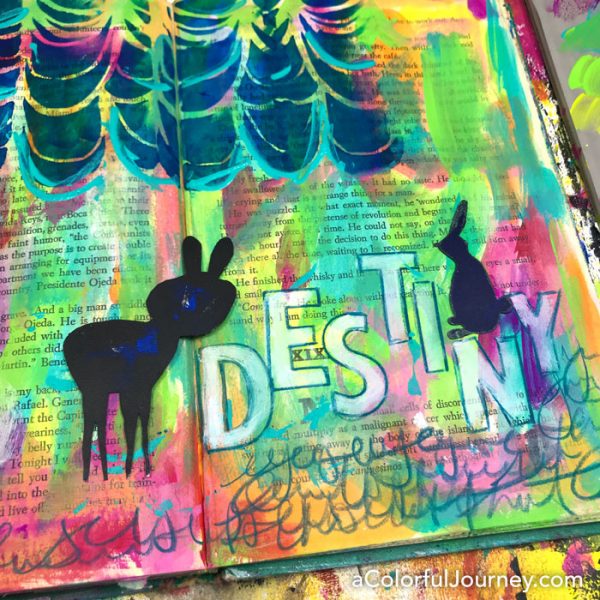 The big game changer for me was when I tried to write on it with a fine tip pen. Many a pen has come to an untimely end at my hand because of writing on dry paint.
Yes, the dry paint would clog up the fine tips. But one pen volunteered for the dangerous experiment to see if pens would work on this paint. That pen lived!  It worked!
But I didn't fully believe it, so I risked another pen, just to be sure. That pen lived too!  I haven't done a long-term study on this but I am willing to use my pens on the acrylic gouache because if these 2 super fine tipped Pitt pens can survive, then I bet any pen of mine can.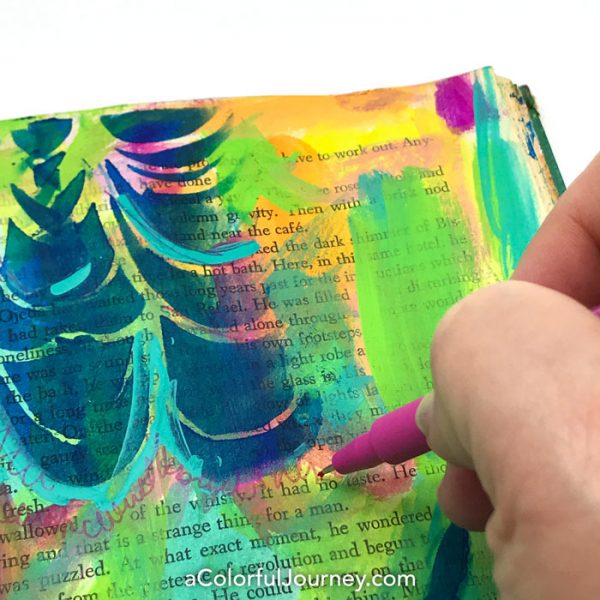 This paint can be opaque, can be more like a watercolor, colored pencil write on it, works with stencils, and even pens can write on it. The only thing it doesn't do is slice and dice.  Okay, maybe I have seen too many Ginsu knife infomercials.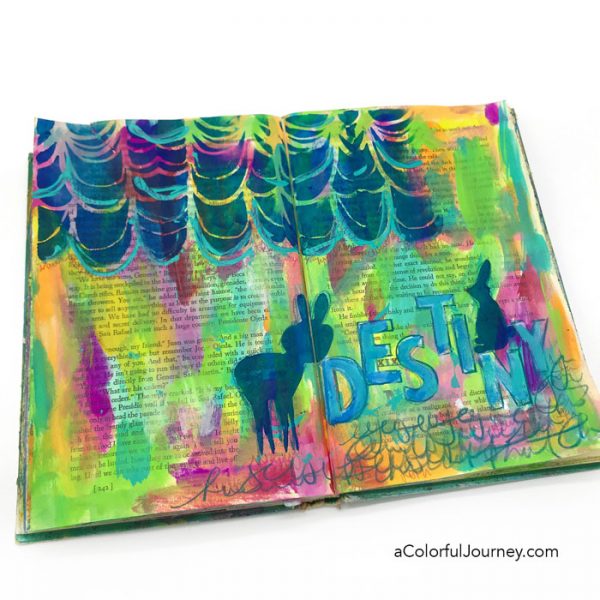 Here are the supplies used. Some of these links are affiliate links which means I get a small percentage. It doesn't cost you anything extra and it helps keep the free tutorials coming!
The pens used were Pitt pens.