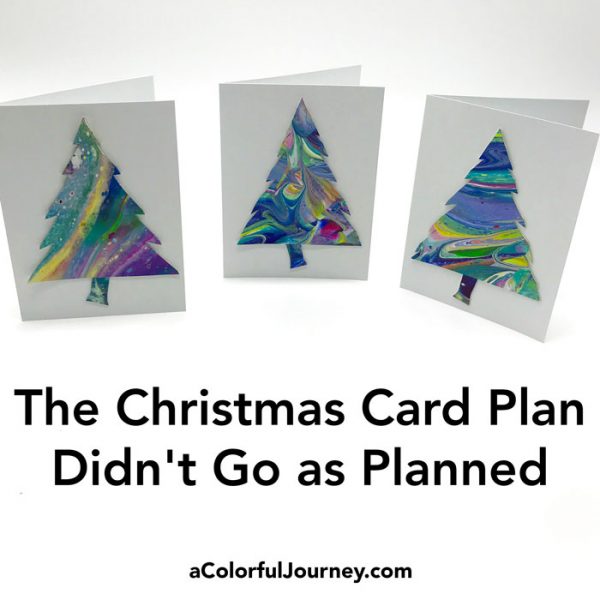 Handmade Christmas cards.  I wanted to send them this year, and I had a rock solid, easy to make, guaranteed to work plan in my head! Easy to cut, quick to make.
You know what that means- things definitely won't follow the plan!  And then there was the over thinking. Oh, was there over thinking! O.O.P.S.!
What made the colorful patterns on the trees? Paint poured canvases, after all, they can do far more than only be hung on your wall- they can be used to make things like cards!
Want to understand paint pouring and know exactly how to do it the easy way? Check out my online workshop Paint Pouring FUNdamentals.
Start by cutting the canvas off the frame using a craft knife.  The sharper the knife, the safer it actually is since dull knives take more effort to cut and hence are more likely to slip. Be safe and use a fresh blade. Okay, that's the public service announcement for this blog post.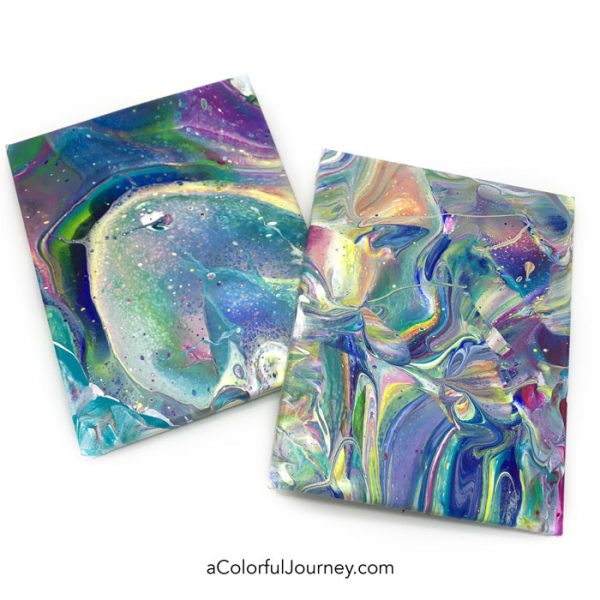 The plan was to cut a simple triangle shape to be a tree.  But as you can tell, that plan didn't last long.
I started adding more of a branch look to the edges, and in the video, you can see how one looked like a poop emoji before it became the Charlie Brown Christmas tree.
And yes, there was way too much thinking going on about the tree shapes. More than one pattern was attempted before I just decided to stop thinking and start cutting! Yup, that's in the video too.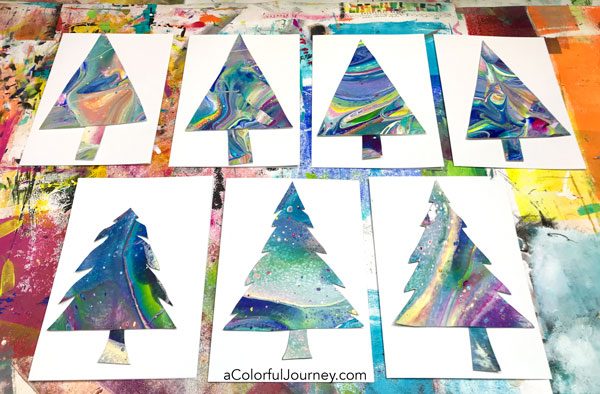 To attach them to the canvas, I usually use a glue stick. Except that I am totally out of glue sticks.  I don't like to use gel medium for this as it tends to warp the paper a little bit so I reached for the double-sided tape.
But not any tape, there is something special about the Crafty Power Tape that made it work better on the canvas.  The backing paper that you peel off is larger than the tape, so that means it is much easier to remove.  That's important when putting tape on canvas because any double-sided tape has a tough time sticking to canvas.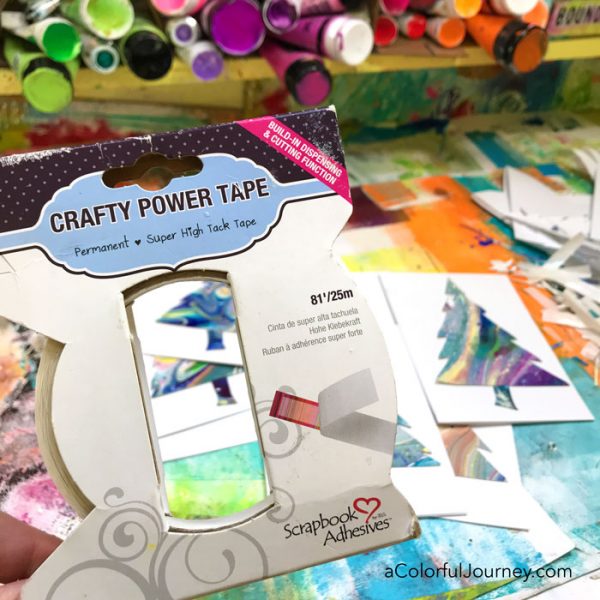 I have to laugh at myself because the O.O.P.S. tree, that Charlie Brown tree, has really grown on me and now might be my favorite!  Once again, a "mistake" takes me somewhere even better than I had planned!
If you're new to my play, an O.O.P.S. is an Outstanding Opportunity Presenting Suddenly. I make all sorts of OOPSies and you can see more of them here.