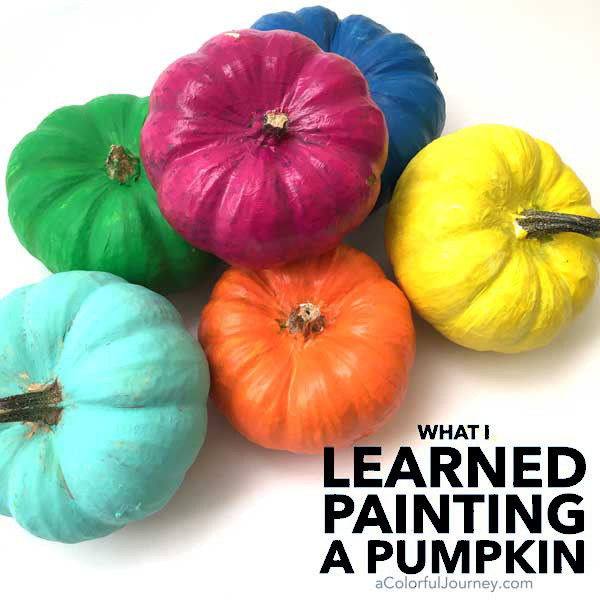 3 things I learned about painting pumpkins this season all came from Oopsies.  I had planned to paint each pumpkin a color of rainbow and add some details.  It did not go as planned at all!  In the video, you'll see how these happy pumpkins became drippy layers of color fun.
Watch  What I Learned Painting a Pumpkin on YouTube.
What were my 3 big a-ha moments while painting?
One…You don't  have to wash them for the paint to stick but if you're painting a gourd (these were just like little pumpkins)  or a pumpkin with speckles of greens and oranges on it you might want to put a layer of gesso to block the pattern.  Oops!  Paints stick really well to the pumpkin but the pattern kept bleeding through until I added a layer of gesso.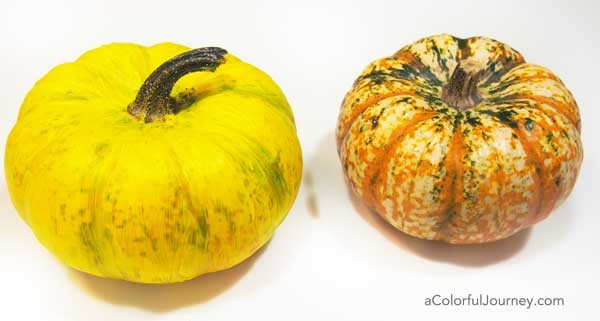 Two…don't paint the bottom. It makes a mess  if you aren't willing to let the tops and sides dry before you paint the bottom.  I wasn't willing to wait.  Bet you're shocked that I'm impatient.  Who is going to see the bottom any way?
Three… Spray inks are a blast with a pumpkin!  I had no patience for painting detailed pumpkins.  So what did I do?  I threw lots of runny color at them and because of their shape, the drips down the sides were mesmerizing.  It was incredibly addictive just grabbing spray inks and runny high flow paint as I made giant puddles of color.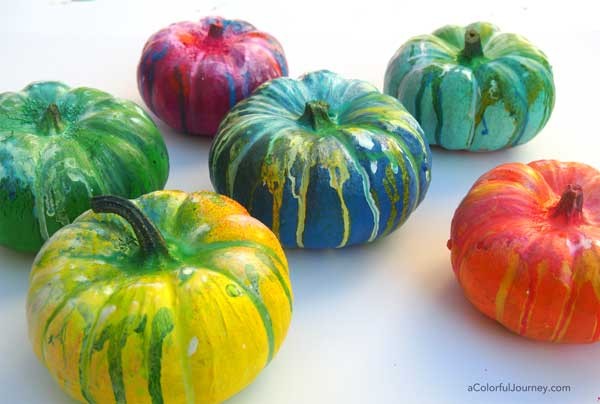 So glad I gave myself permission to play and make these rainbow pumpkins!
Here are the supplies I used. Some of these links are affiliate links which means I get a small percentage. It doesn't cost you anything extra and you are helping me keep this blog and my videos ad free! Thank you- I don't like ads any more than you do!