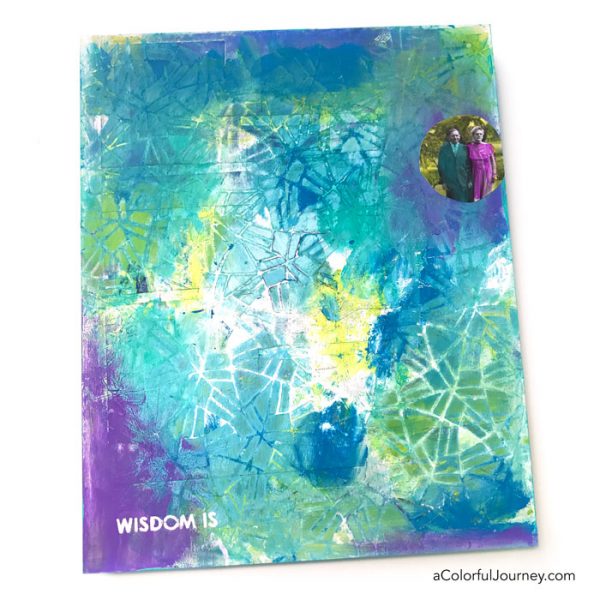 I had a plan and didn't follow it from the very first moment.  I had intended to just cover up part of a ho-hum layer, but in a flash, the whole thing was covered in gesso.  In fact, it seemed that every time I had a plan, I didn't follow it!
Watch Wet paint + a Stencil + a Baby Wipe on YouTube.
Once I had gesso'd the entire panel, my fingers ended up in the paint.  When finger painting, I do 2 things. I use a barrier hand cream and I make sure my paints are non toxic.
There's an article here explaining what symbol to look for on your paints here. Know your paints, take reasonable precautions and decide for you what you are comfortable doing.
Another plan that went awry, was the plan to just put a little pattern from the Triangular Pathways stencil on the background.  It brought me such joy to smear the baby wipe over the stencil in the wet paint, that I didn't want to stop. So I didn't!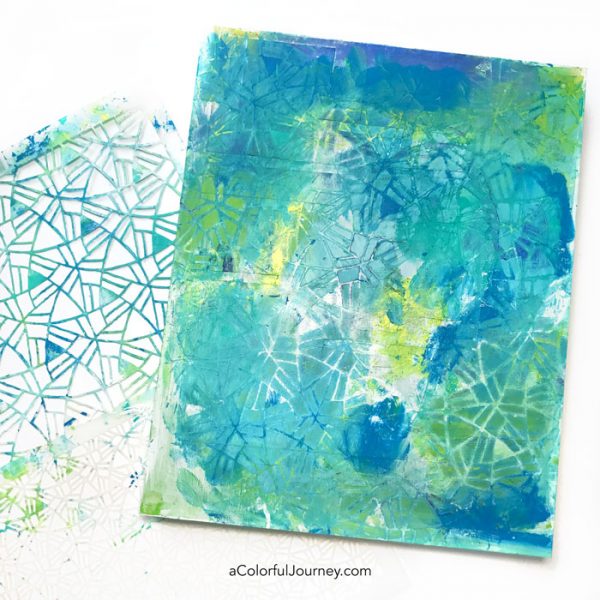 When I work on top of a piece from who-knows-when that was made with who-knows-what supplies sometimes colors unexpectedly bleed through.  The hint of purple at the top inspired me to ditch the planned deep turquoise for purple.
I had fallen in love with the background, so much so that the idea of covering it up was painful. But it needed something more.  So I compromised.  I decided to put something very small on it.
In a drawer, I found an O.O.P.S., an Outstanding Opportunity Presenting Suddenly, from another project.  The colorized vintage photo (that was too small for that project) was the exact size I needed for this one.
My play usually involves some scribble journaling, but not this time.  Another case of the plan going out the window.  I found the words, Wisdom Is, on my Wall of Words stencil.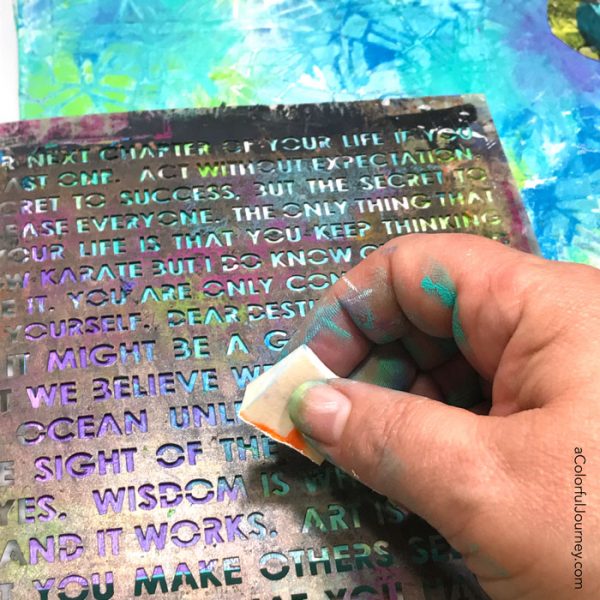 My love for the background guided my final decisions on this, to use a very small something on it and let the background shine.  Appropriately, this was not where I had planned to go!