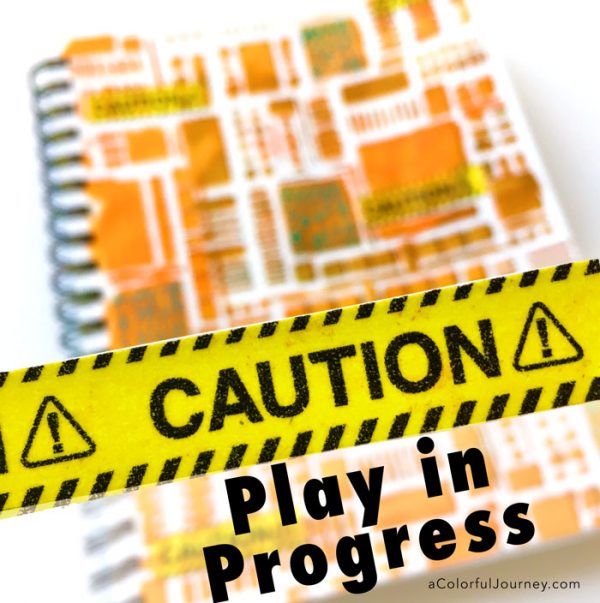 Why did I not use my usual bright rainbow colors that I had on my palette? It was because of an O.O.P.S., an Outstanding Opportunity Presenting Suddenly, that happened as I created a full page of pattern in my art journal with just one small stencil.
Watch How I use a small stencil to fill an entire art journal page on YouTube.
The fineliner video mentioned in play is here.
The bright orange paint became a rusty deeper orange thanks to a dirty stencil.  O.O.P.S.!  This completely shifted the color vibe.
Notice how the paint ran under the stencil in places and gave it a loose mixed media vibe?  That's because I did 2 things, I used plenty of paint and I stenciled in a side to side motion. If you prefer a crisper look when stenciling, then use a small amount of paint and pounce in a very up and down motion and the paint won't run under the stencil.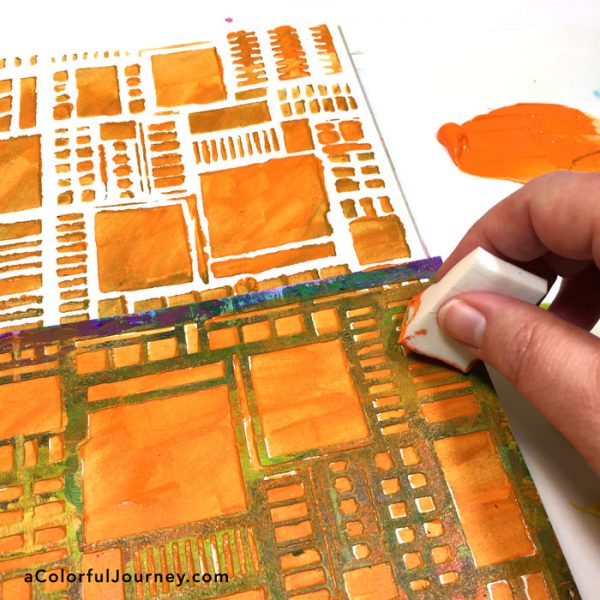 Size doesn't matter with stencils.  A smaller stencil can fill any size art journal page (or any other surface for that matter). I rotated the Open Buildings stencil as I moved it from one area to the next and didn't use equal parts as I filled in the page.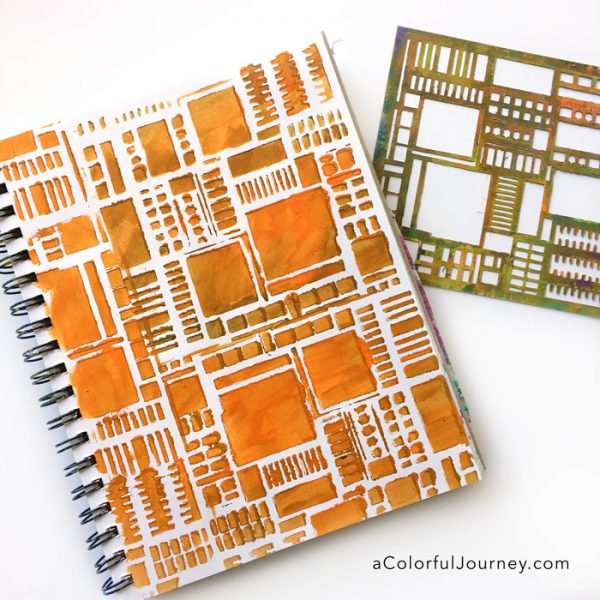 The open spaces were ideal for adding pattern and writing. Using a fineliner, I added 1's and 0's.  New to fineliners and how they work?  I have a video explaining more about them.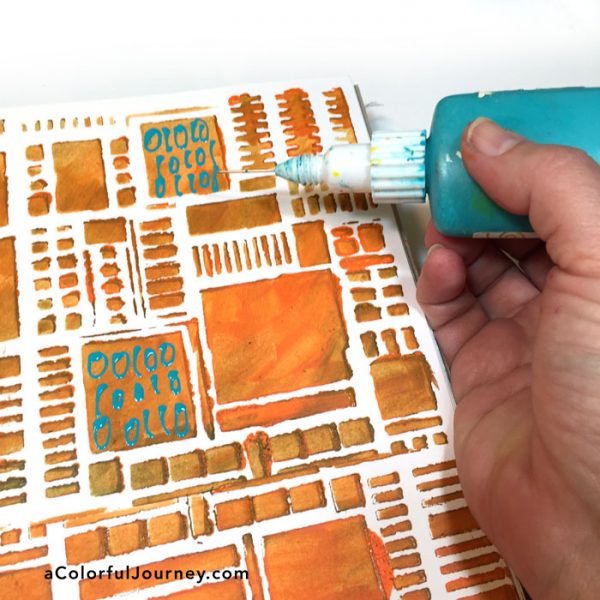 The Caution washi tape caught my eye and I thought it was a wonderfully silly to add caution to this page since there had been zero caution exercised while making it.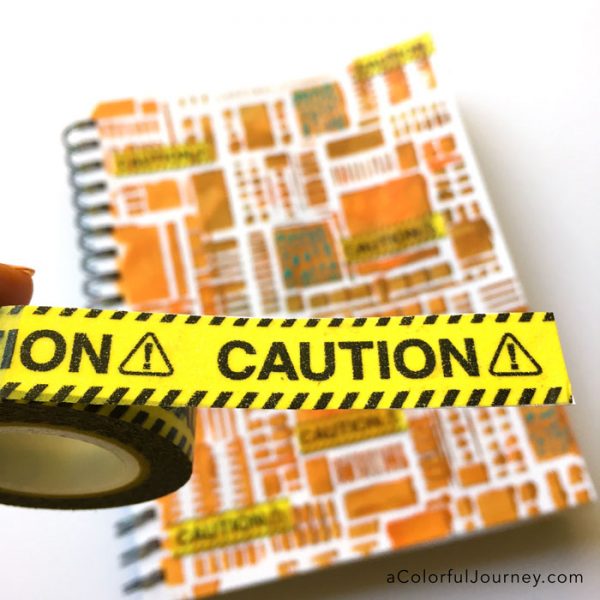 Writing on paint takes its toll on pens, even if the paint is dry. However, when I use a cheap office store pen, I don't worry too much. One catch with cheap ball point pens is the ink will often run if it gets wet so I tend to use it near the end of a page.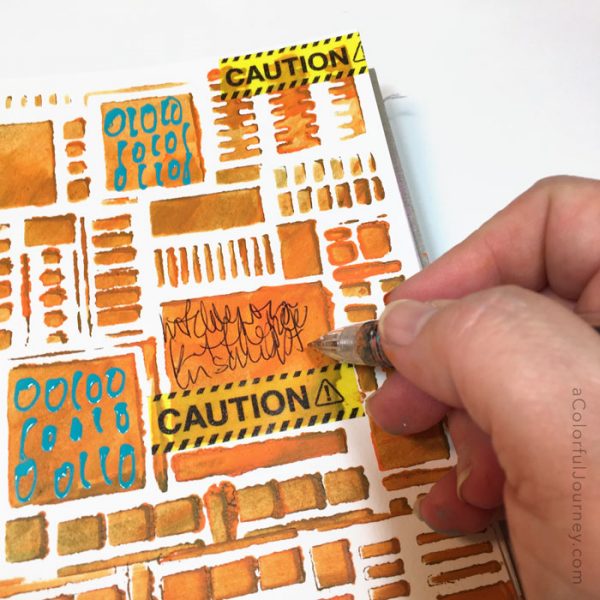 An OOPS started this page and I wanted to get that word on here.  Using a rolling alphabet stamp I added the word OOPS anywhere it could fit.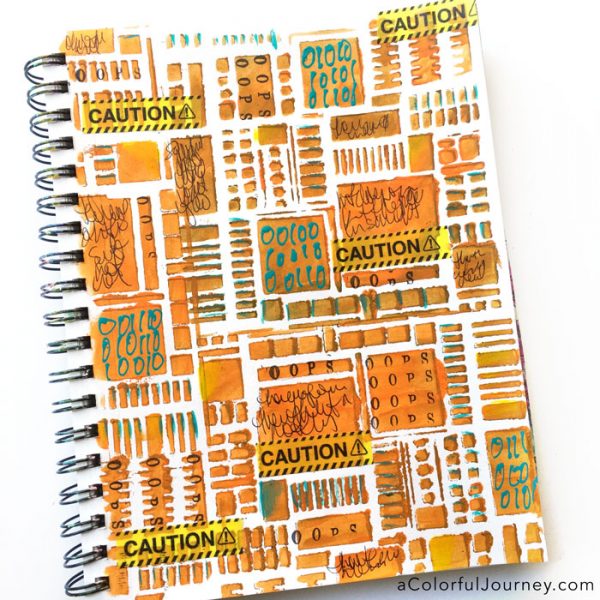 Thanks to the OOPS, I love where the play went, even if it wasn't where I expected it to go. This wasn't my first OOPS and it won't be my last!  You can see You can see more of my OOPSies here.