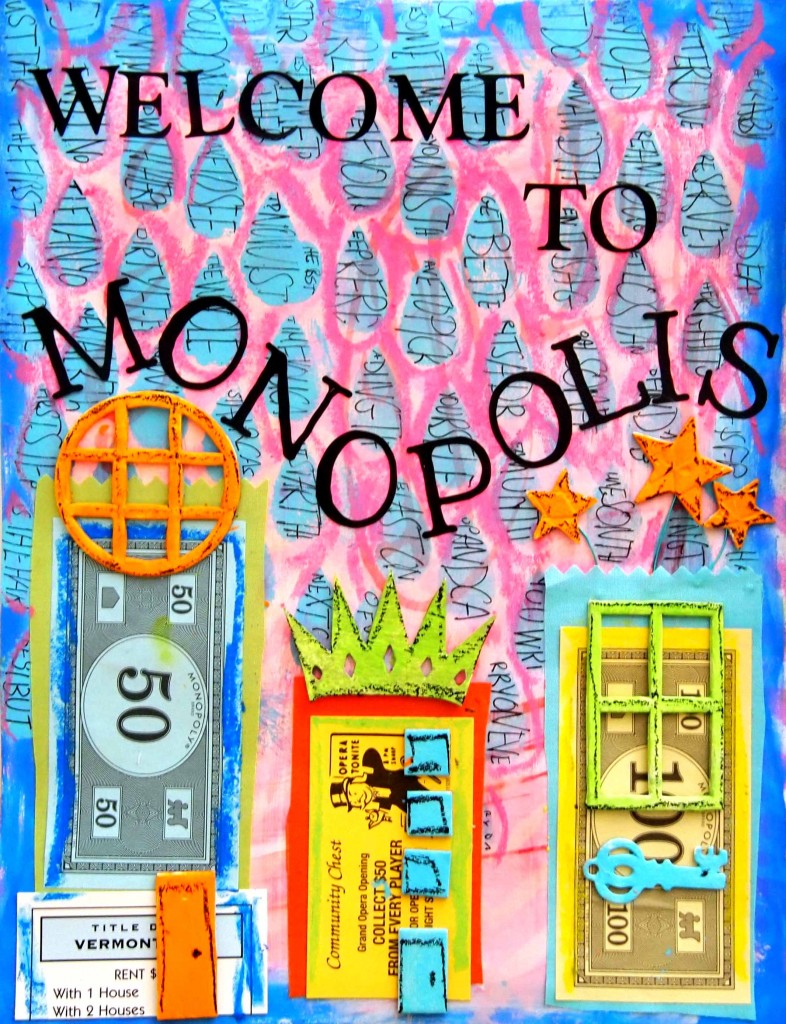 On Friday, I honored to be the guest poster on Julie Fei-Fan Balzer's blog for Art Journal Every Day.  I've had so many requests emailed to me about the other sides of the dice I decided to do another post about them.  How did I decide what to put on the dice?   The crazy thoughts that swirled around in my head when I was feeling uncreative guided me!
If you are interested in making dice like this I recommend you listen to the thoughts in your head to guide you as to what to put on your dice. How many dice do you need? Completely up to you.  Make as many or as few as you feel comfortable using.  If you don't have dice you can use slips of paper and keep each set in a different envelope.
If you read my last post, I have been stuck in my head, which does not translate to creativity for me. Above is today's roll. Below is what I made based on that roll.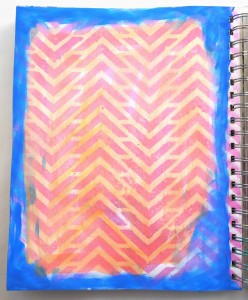 I had no idea what I was going to make with this roll, so I just grabbed any random background.  This one has Julie Balzer's Chevron stencil with Luminarte spray inks and acrylic paint.

One die was to push me to use supplies I have enjoyed but for some reason haven't been using lately.
Add reinkers/alcohol inks.  Add transparencies.  Add eyelets.  Add ribbon.  Use dresden trim. Use stitching.
I scribbled because I had no plan.  No idea where it was going…as it often happens when I do this, I will wish I hadn't done this step later but it will also push me to find a way to add another layer to get it to a place I like.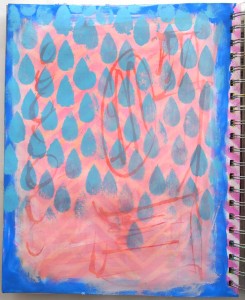 I added white paint which smeared the dye reinker and then blue acrylic paint with the rain stencil from Julie Balzer.  I was trying to hide the earlier scribble.

One die was to deal with my occasional guilt over supply hoarding.
Use stickers.  Use a bead.  Use rub-ons.  Use a scrap.  Use fabric. Use a charm.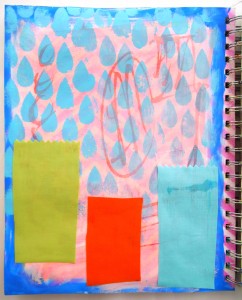 This is fabric from my stack of fabric swatch books.  I have way too many of these and it felt good to use some of the fabric.

I had a lot of hoarding issues, so there was another die or 2 to deal with my supply piles…
Use a photo slide mount.  Use tape.  Use  a ticket.  Use a magazine.  Use a feather.  Use chipboard.  Use tissue paper.  Use a game piece.  Use bead gel. Use modeling paste.  Use a napkin.  Use vintage ephemera.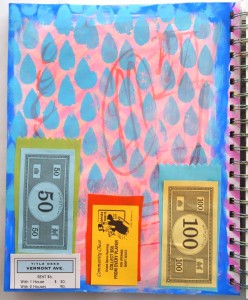 One die was to give me an element to add. 
Draw a pattern.  Draw a person.  Draw a grid.  Draw a building.  Draw a face. Doodle.
On this step I managed to cover 2 dice at once, chipboard and a building!  As an added bonus, I finally used some of my chipboard windows from Maya Road. I have loved them so much I have hoarded them for the "perfect" project.  Guess what, perfect never came along but I really like the windows here.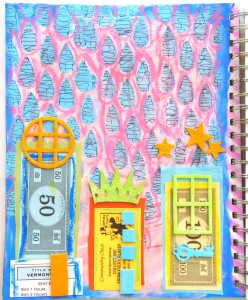 Journaling and writing gets me out of my head also.  I decided to write quotes from my Pinterest board, Words of Wisdom.  The ink scribbled in the beginning just hadn't faded far enough into the background so I used an oil pastel to trace around the raindrops.  Now it was pushed back far enough that I was happy.

One die was to limit me from going to my favorite supplies.  This helped to push me out of my usual routine.
No spray inks.  No text.  No paint.  No ephemera. No stencils.  No stamps.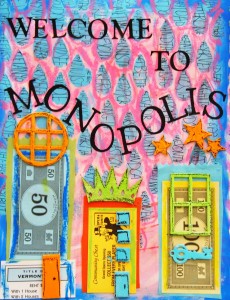 Rolling the dice got me out of my head and into my happy place.  If you ever find yourself stuck or stumbling, perhaps a roll of the dice can help you!
Want to see more creativity?  Stop on by and  check out all the great posts in the Fall Fearless and Fly challenge, Show Me What You've Got Wednesday,  Creative Every Day, and Art Journal Every Day!
There is still time to enter my giveaway!  I am thrilled to be giving this mixed media experimentation kit away! Different brands of spray inks, 2 of my favorite stencils, Twinkling H2O, red tinted liquid pencil,  Glam, and a gelato will go to one randomly selected newsletter subscriber.  Be sure to sign up at the top right of the page by Halloween for your chance to win!