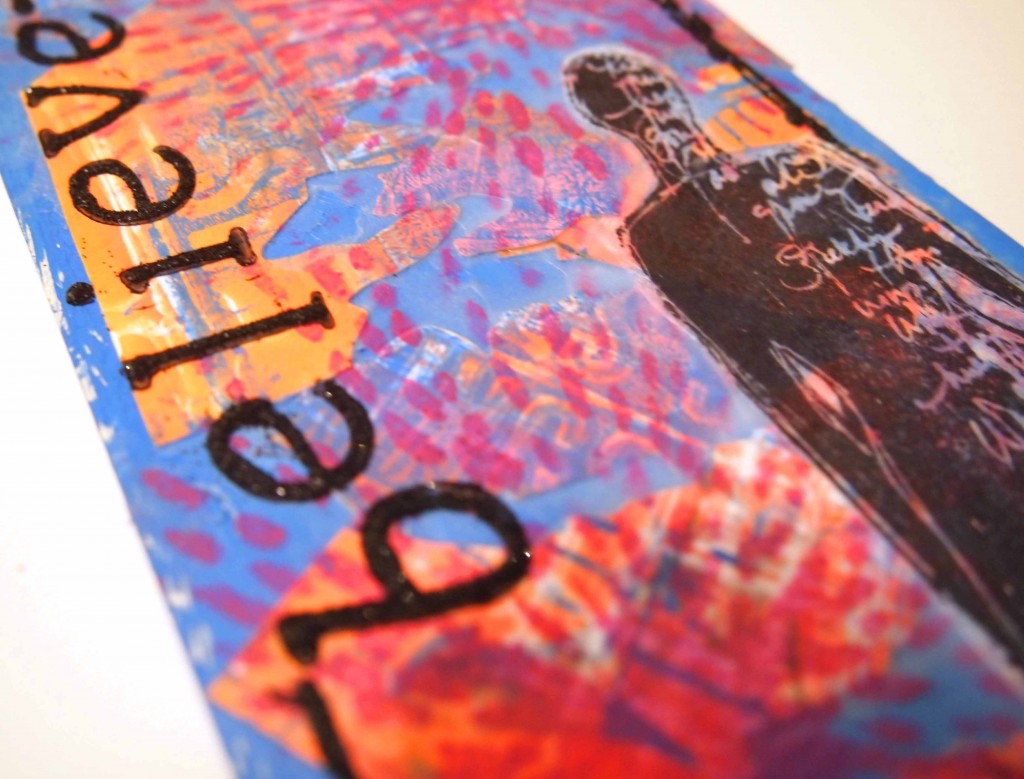 There is something to learn in every piece I create- especially the ones I struggle with.  I debated posting this one but since I was on a deadline – I posted it, fear and all with that knot in my stomach.  When I went to sleep I was in full doubt mode.  Ever been there?  When I woke up I realized that I had created all the stress that interfered with this piece because of my expectations.  I didn't let the art guide me.  My mind guided me and my mind is not where my creativity comes from.  Below is the post I wrote in the 11th hour…
It's time for another friendly arting adventure with my good friend, Maria McGuire.  Be sure to stop on by her blog and see what she's done for this challenge!   You can read all about the Artsy Fartsy Friendly Fun challenges here.
I was utterly and completely stuck for this  challenge.  No exaggeration!  This should have been an easy one for me- but it wasn't.  My Gelli Plate, any Julie Balzer Stencil, and bling- that's it.  That was the challenge Maria McGuire and I had planned.  Each time I went to the studio to work on it, I was distracted by other projects.   Before I knew it, it was evening and I had to get something together!
I have 6 other attempts scattered around the studio.  When I had completely given up and thrown in the towel then my muse decided to offer a spark.  I am sure she was having a tub of popcorn and watching the show of my meltdown…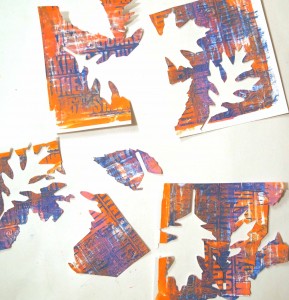 Scraps of a paper I printed using the Gelli Plate.  I had die cut leaves for one of the other attempts.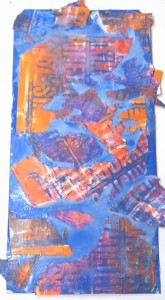 I used those scraps to build a textured background.  The blue paint was still damp when I used the gel medium – I was on a deadline!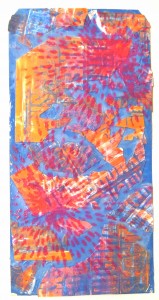 I added pink paint using one of Julie Balzer's stencils.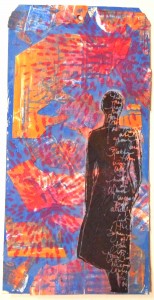 Stamping on that texture was going to be tough so I used Dina Wakley's stamp on tissue paper.  I used gel medium to glue the tissue down.
Stamped the word and drew a black frame around it.  I chose "believe" because I had to believe it was going to be finished in time!
The bling came in the form of black glitter.  I used a fine line glue to trace over all the black.  If it had been a sunny day, you'd see the glitter glinting and shining.  Since it was night time as I finished this, not sparkle shows.  Moonlight just doesn't have the same effect as sunshine on glitter…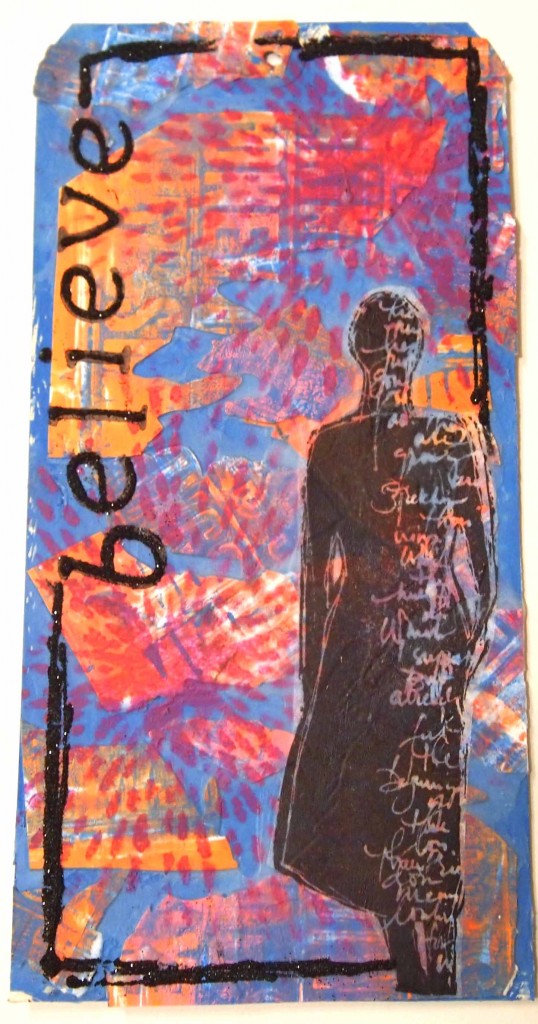 Now that I have finished this I am off to see what Maria made, the inspiration at Creative Every Day and Inspire Me Monday!