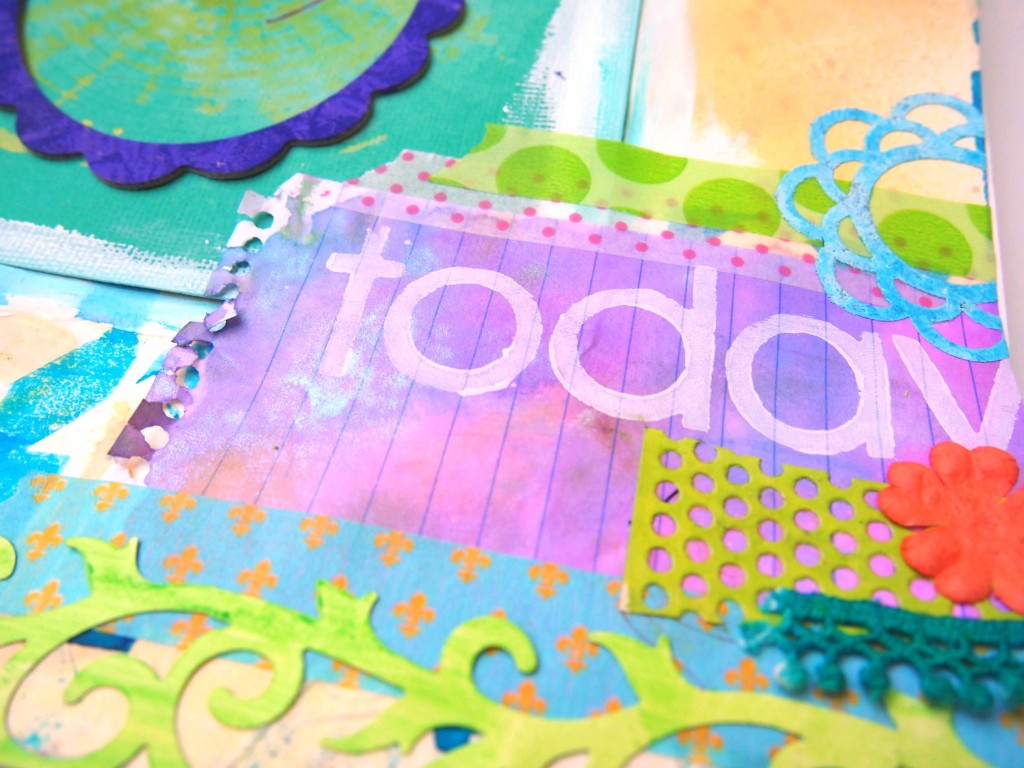 It has been an insane couple of weeks.  Big projects and deadlines in what felt like every aspect of my life.   Good things but stressful things.  I finally found some time to just play in the studio.  While making this page I was reminded over and over of how the support of kind friends made the stress storms so much easier to weather.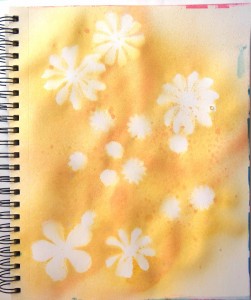 A couples of weeks ago, I used my journal as a table protector from spray ink.  Why waste the ink?   It protected most of the table but I must confess, not all of it.  "Someday that page will work as a background," I thought.  Today was the day.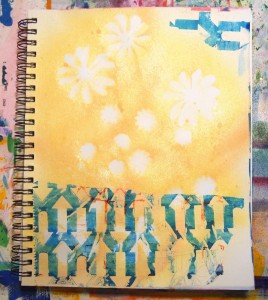 Glued down some deli paper I had experimented on with the chevron arrows stencil by Julie Balzer. No clue where I am going but this deli paper made me so happy I wouldn't put it away until I used it.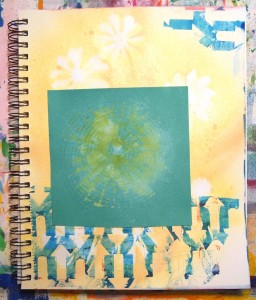 Another paper I refused to put away was this sample from playing around with Mister Huey's white color mist while at shopping with some of the those supportive and slightly crazy friends. I love what that white ink does!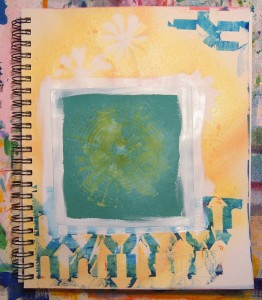 Once the paint was on my fingers I began to feel a  connection with this page.  The stress began to fade away. Such an uplifting feeling when my fingers get covered in paint!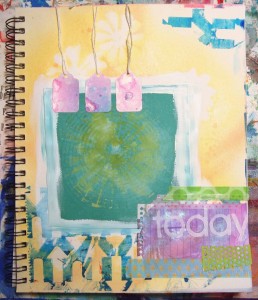 I started adding goodies from my "junk" box.  That box is filled with little odds and ends that I am usually too lazy to put away where they belong.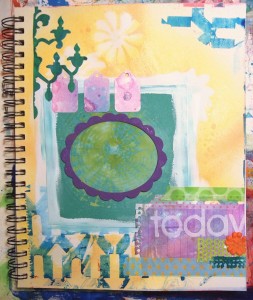 The grunge board frame just didn't seem quite right this way. Don't know why but I simply trusted that little voice in my head.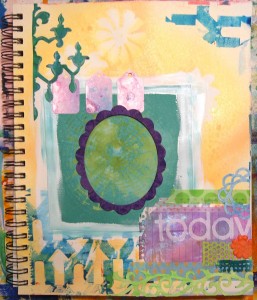 Once I turned it vertically it was happy.  Now what to put in the center so I can still see all that inky goodness?  I just don't want to cover it up. Perhaps a rub-on…
Panic, real heart stopping panic, began to set in.  Would I ruin it if I added writing to it????   After a deep breath or 2 or 3, I decided that adding my gratitude to my online and in person friends could only add strength to the page, just like they do for me.
I just rambled with a colored pencil about how valuable supportive friends are – thank you to every one of you!  Just writing about you washed away the yucky stress and left me feeling uplifted and peaceful.  Art makes my life better in so many ways!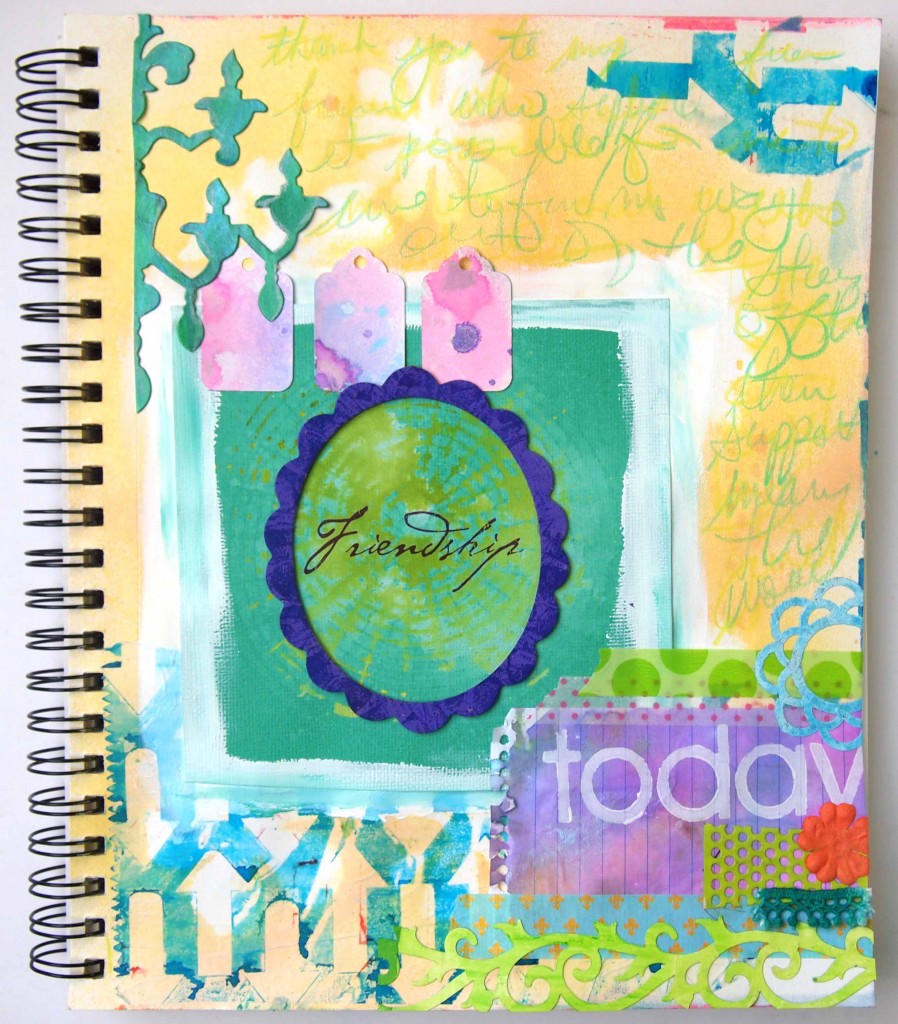 There is still time to enter my giveaway!  I am thrilled to be giving this mixed media experimentation kit away! Different brands of spray inks, 2 of my favorite stencils, Twinkling H2O, red tinted liquid pencil,  Glam, and a gelato will go to one randomly selected newsletter subscriber.  Be sure to sign up at the top right of the page by Halloween for your chance to win!  I will ship to where ever you are-art knows no boundaries…especially when I use spray inks…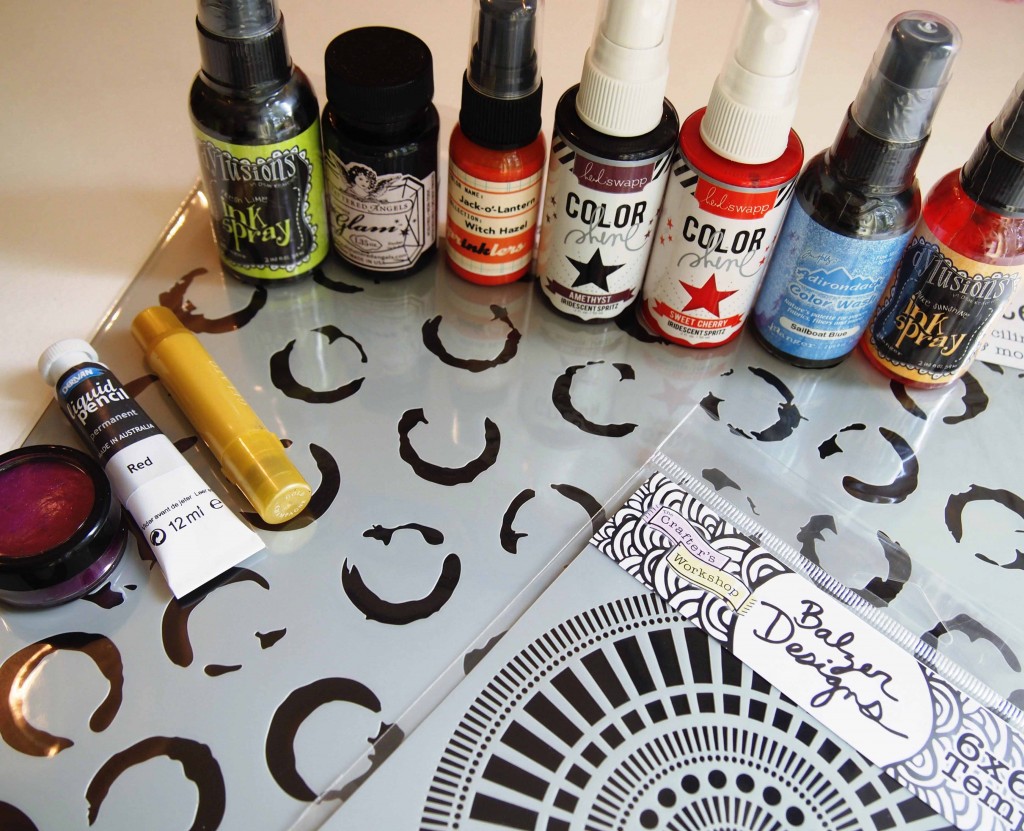 Want to see more creativity?  Check out Paint Party Friday, Creative Every Day, Art Journal Every Day and Fall Fearless and Fly, a challenge I am co-hosting with Jessica Sporn!