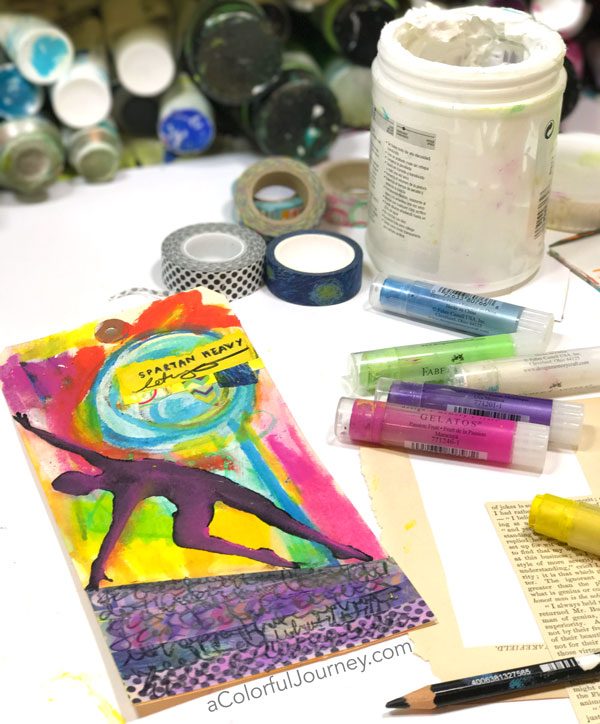 What can you do when the  inner supply hoarder flares up?  Force yourself to use something sacred.  I forced myself to "use up" my washi tape.  And by use up I mean use just a little of it.
Using the super special Van Gogh washi tape really freaked out that supply hoarder in me.  Could there actually be a part of me that thinks Vincent actually made that tape?
Next came the sacred supply that I cut up but didn't use.  Well, that sealed the deal to officially freak out my inner supply hoarder. And you'll see a stenciling OOPS in there too.
Watch Washi Tape & How to Freak out the Supply Hoarder in You on YouTube.
The play started with this tag, and the plan to turn this into a tree on a slopping hillside.  That plan didn't last long.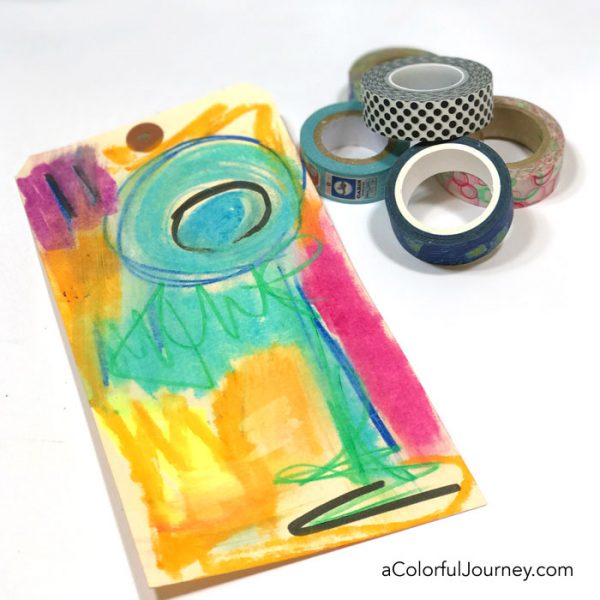 To make the hillside, I put the tape on a gel print.  Little bits of the print will peek through the tape.  I pushed my inner supply hoarder almost over the edge by using the sacred VanGogh Starry Night washi tape.
You'd think Vincent had autographed it for me the way I treasure it, even though it is really something from Amazon.  I can get more if it should I run out which probably won't happen until 2069 at the rate I am using it.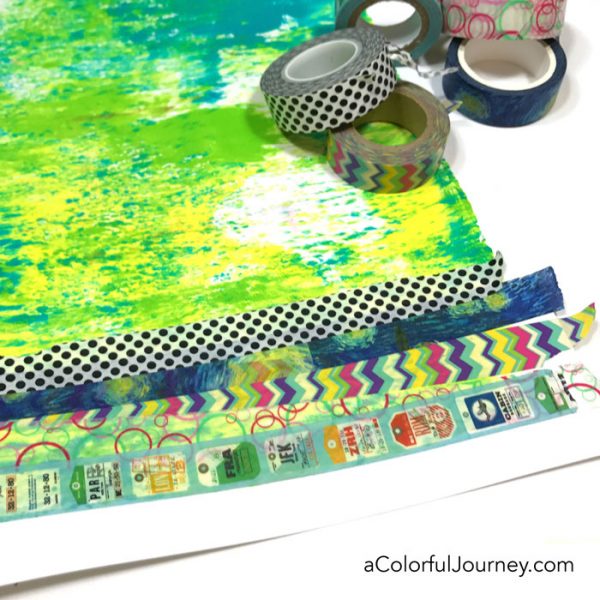 Making this into a tree on a hillside didn't work. Adding the book text didn't work. But it did drive that voice in my head extra crazy. Payback I say.   So I decided to add color and play around with Gelatos with zero idea of where it was headed.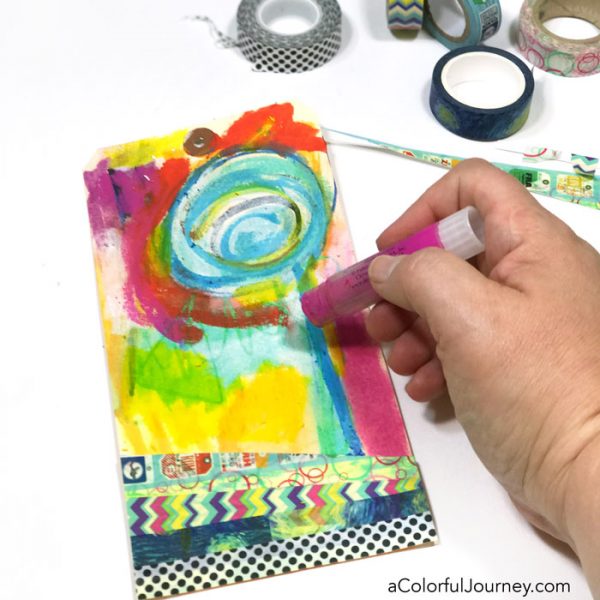 The silhouette mask on my counter jumped out at me, another sign that there are benefits to not being tidy.  When I placed him on the tag, he fit just right to be holding up that side.
One of the perks of having a stencil and mask set, and they come together, is how easy it is to line up where to stencil so I was sure of where it would be placed.
That O.O.P.S. on the foot though, well, nobody will know but you and me.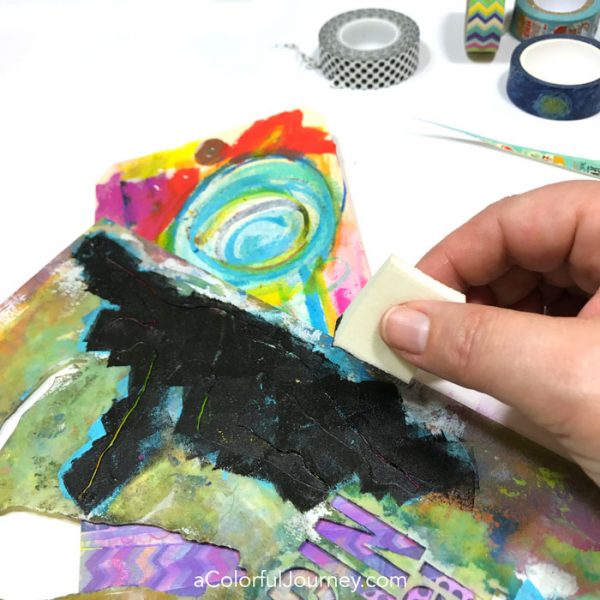 Did I choose these words or did they choose me?  They happened to be on a scrap pile.  These words reflected how an amped up supply hoarder can make things harder, and far less fun.  That is unless I'm being ornery and freak out that part of me.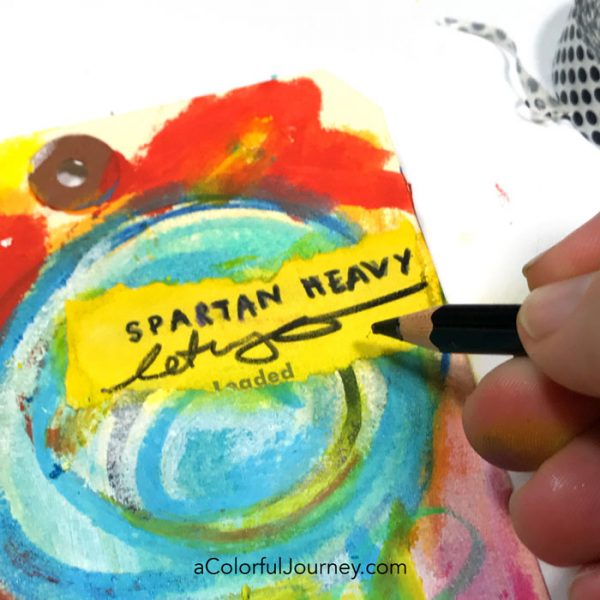 Dealing with a vocal supply hoarder can really get in the way of enjoying the play.  If you're ready to have more fun playing with your art supplies, check out the free workshop, Permission to Play.
I thought I was all done, had turned the camera off and then it caught my eye.  The scraps of washi tape from the beginning of the video.  And my inner supply hoarder actually let me use this treasure without a fight at all!
I have won this battle but that voice might come back but when it does, I'll be ready to freak her out all over again.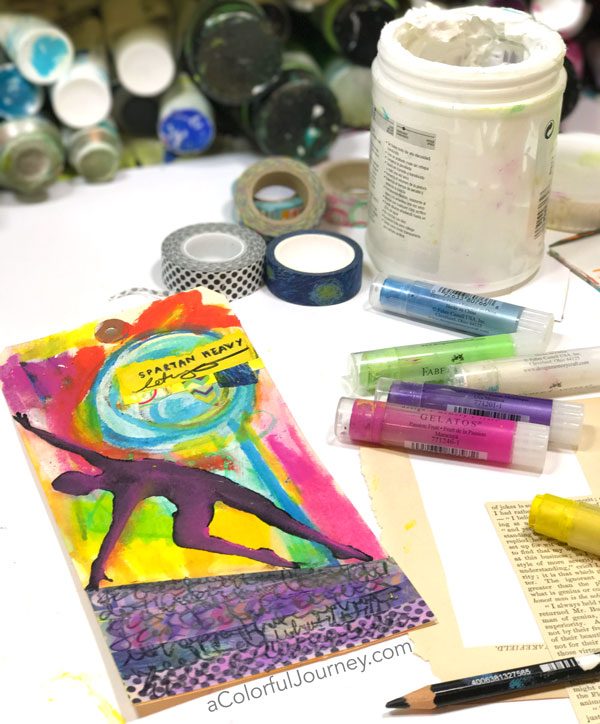 Here are the supplies used. Some of these links are affiliate links which means I get a small percentage. It doesn't cost you anything extra and it helps keep the free tutorials coming!