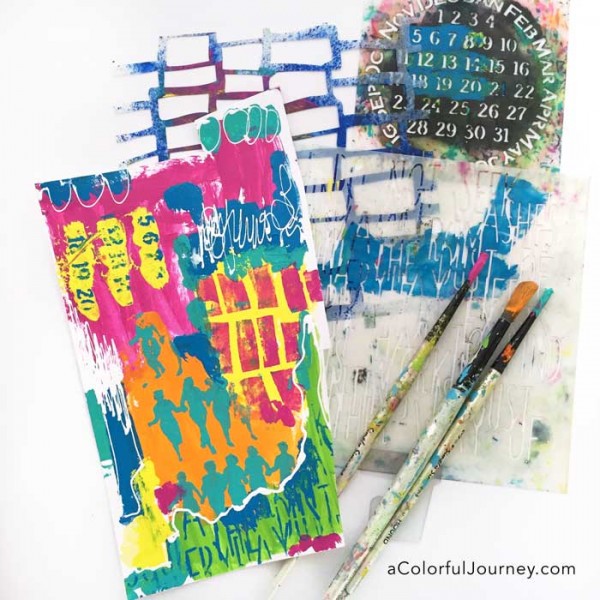 O.O.P.S.!  I put way too much paint on my palette for my last project.  Not a mistake.  Not a fail.  It won't be wasted because it is just an Outstanding Opportunity Presenting Suddenly for more play with stencils!
I even turned this one into a free Spark of Art-spiration…so you can play too!  You can have it sent to your inbox- just use the button at the end of this post.  If you are already signed up…this spark came to in the last newsletter- so you already have it ready to go!
Watch Stencil Play With Leftover Paints on YouTube.
Twist my arm to force me to play.  I grabbed a scrap of paper nearby and started randomly using up that paint.
Brick and Mortar by Mary Beth Shaw was calling to me. Since I'm using up paint, I was very generous with how much paint I used.  That increased the risk of paint running under the stencil and that is just what I wanted for this imperfect and messy play.
I wanted fine lines of blue on the green so my Picasso's Words stencil did just the trick.  One thing I love about stenciling is that you can work around irregular shapes quickly.  I could see where the green was so I only added the blue there.
In the video, you can see how this works with both a clean and a dirty stencil.  Shockingly, I actually had a clean stencil which doesn't happen very often!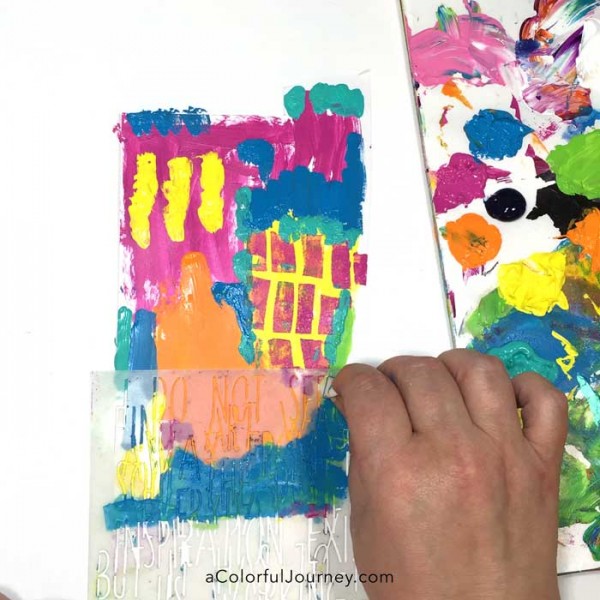 Those messy numbers were courtesy of using my Never Ending Calendar stencil on very wet paint.  You can actually see the suction of the super wet paint as I pull the stencil up in the video.
Since I refused to wait for anything to dry or use a heat gun to dry it, out came the fineliner for some writing.  If you're new to fineliners, I have a video here that explains them in depth.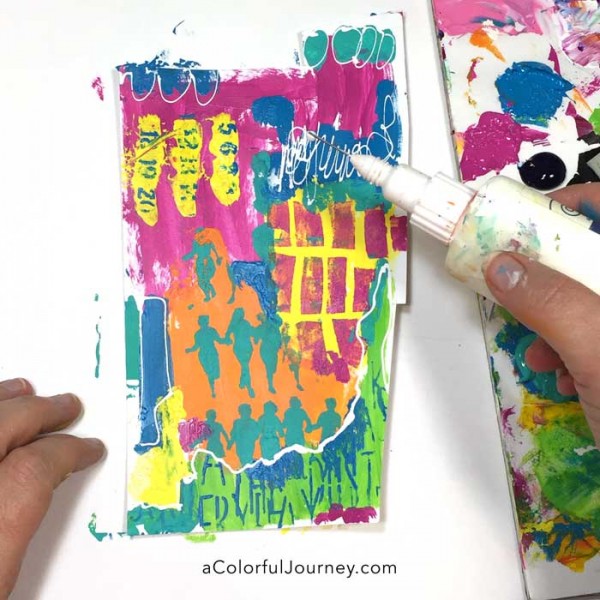 Would you like to add some pattern to this? I've turned the first stage of painting into a free downloadable Spark for you.  You can get it delivered to you here.
Yes, I want the free download!
Here are the supplies I used. Some of these links are affiliate links which means I get a small percentage. It doesn't cost you anything extra and you are helping me keep this blog and my videos ad free! Thank you- I don't like ads any more than you do!