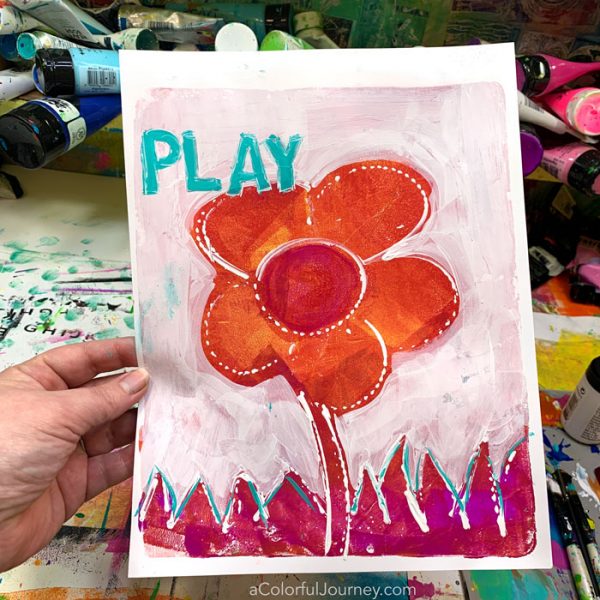 Play.  It isn't just for kids, it's for grown-ups too.  Kids jump right in to play – no warm-up needed.  Adults sometimes need a little help getting to that playful place. That's where my free Sparks of Art-spiration can help.
See how to use a Spark as a springboard for your play in the video and you can get the Spark that goes with this video here.  Then each week, you'll get a brand new Spark as well as creative encouragement in your inbox.
When I looked in the Spark I saw a flower.  The cool thing about Sparks is that it's like looking at clouds, everyone can see something different. I've even found that on different days, I'll see different things in the same Spark.
Since Sparks are downloadable, when you see another shape in it, you can print another and play again. That also takes away any pressure that it might be "ruined". If it is, you just print another!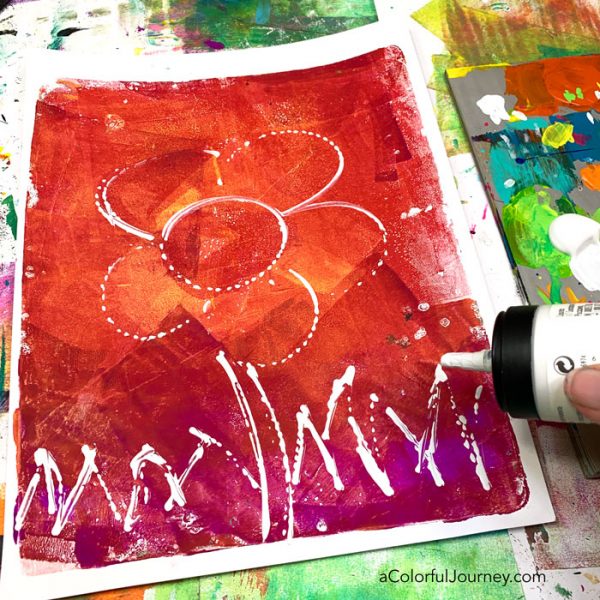 Is that grass shark fins or mountains? It certainly didn't look like blades of grass to me.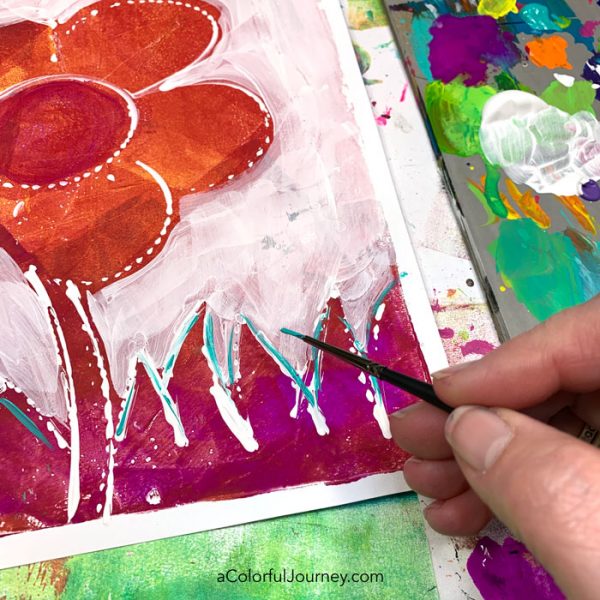 To get a bit of color that was translucent for the center of the flower, a bit of water was added to the acrylic gouache. Acrylic gouache will act like watercolor when you add water but when it dries it is permanent, meaning it won't reactivate any more the way a traditional gouache or watercolor does.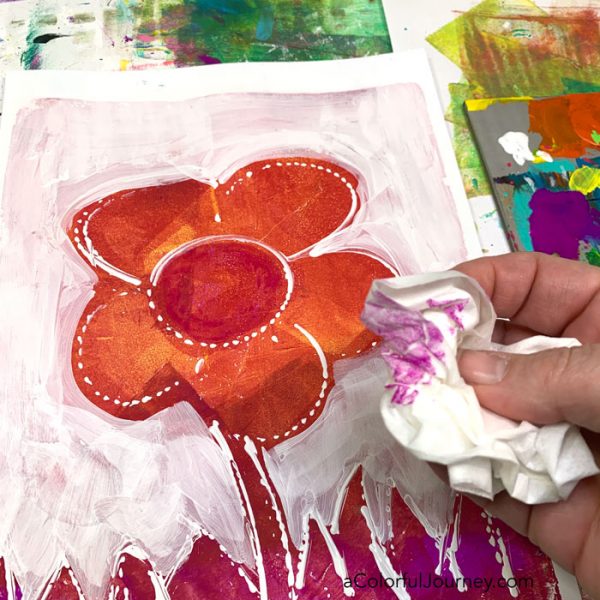 Did you notice that oddball flower petal when the white background was added?  Well, that was an O.O.P.S., an Outstanding Opportunity Presenting Suddenly.  Not a mistake, but an opportunity.
That horrifying petal had to be covered up. Okay, that might be a bit overdramatic, but I really didn't like it. So I used a word to hide it.
My Open Ended stencil from StencilGirl let me trace the letters to fill in with paint. I designed this stencil to help people like me who are impatient, hate to measure and struggle to make even titles.  Without the guide of the pencil lines, my letters would have been 4 different heights!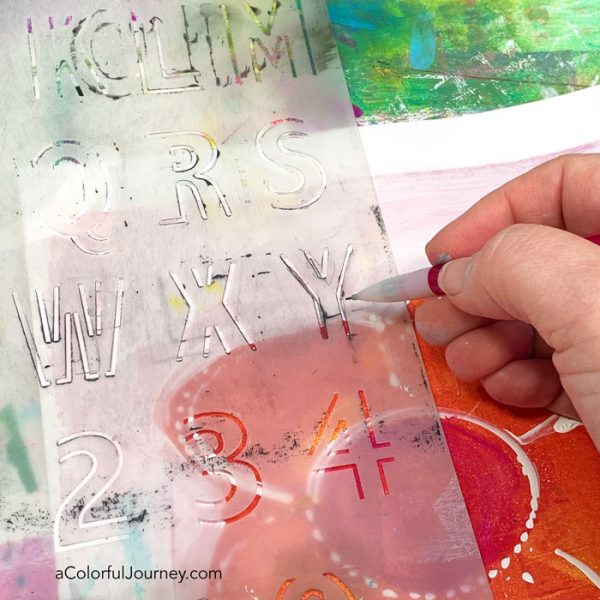 This is a do as I say not as I do kind of a thing.  Pens write really nicely on the acrylic gouache, but you do have to let the paint fully dry before you write on them.  That required more patience than I had, so I wrote on there before I "should have".
That's why I was wiping the pen tip off in the video. In case you're wondering, the pen did survive!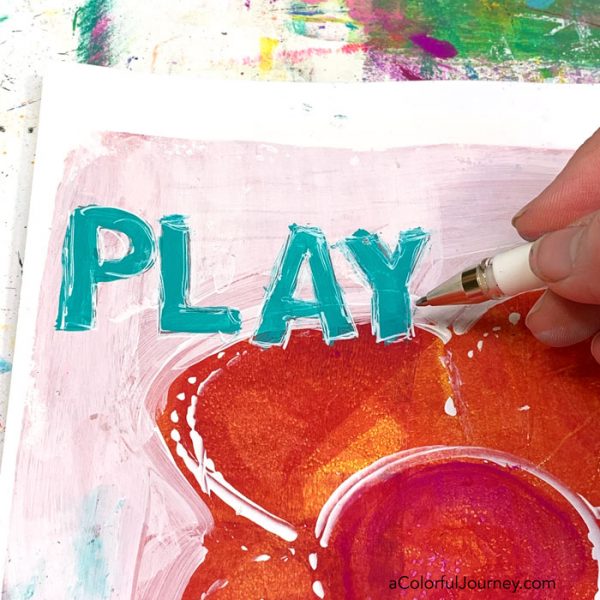 Now you know how to use a Spark of Art-spiration as a starting place for your play.  Download it from the email, print it out and then use any supplies you have on hand, after all the best ones are the ones within arm's reach!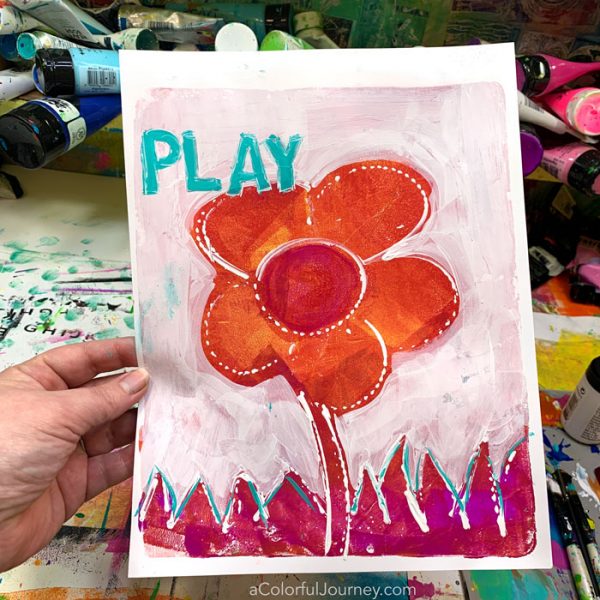 What's a Spark of Art-spiration? It is a springboard for your creative play that comes weekly in the newsletter.
How do you use a Spark?  Print out the Spark on a printer, any printer- ink jet or laser,  in whatever size you want and then play.  You have complete freedom to experiment, play, explore.
What if one gets "ruined"?  Simply print another. That means you can never run out of them so there is no pressure whatsoever as you play.  Of course, any time there is a "mistake" it is really just an O.O.P.S., an Outstanding Opportunity Presenting Suddenly.
How you can get a new Spark each week? Just click here to get signed up for the newsletter. When you get signed up, you'll get this Spark right now and you'll get a new one each week in the newsletter along with creative encouragement.
Here are the supplies used. Some of these links are affiliate links which means I get a small percentage. It doesn't cost you anything extra and it helps keep the free tutorials coming!