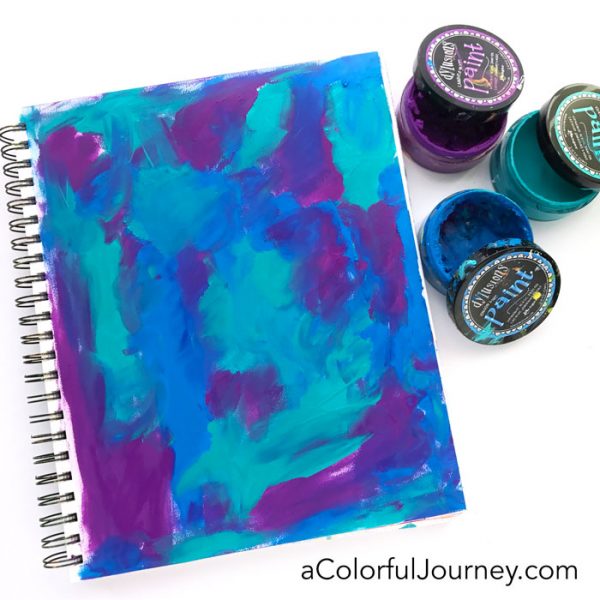 What used to get in my way and keep me from starting,  the most important step of play?  The left side of my brain, that control freak type A part of me.
Lefty starts with just a few questions like,  "What are you going to make?", "Will you have time to finish it now?", "Why do you think you get to have fun?", "Do you think it will be good enough?" and on and on.
Watch Finger Painting an Art Journal Background on YouTube.
All those questions used to stop me from starting to play but it doesn't any more.  I still have Lefty asking me questions but I handle it differently now.  I respond to those questions with a bit of attitude. Finger painting seems to really irritate my controlling left brain and yes, I chose this just to irritate Lefty on purpose.

What are you going to make?  Why do I have to make anything in particular? Why can't I just play around and have fun finger painting? If you want me to make something, I can finger paint the walls if you want. Didn't think so.

Will you have time to finish it now? Why can't I start it now and finish it whenever I darn well please?  Is this perishable? Is it unrefrigerated mayonnaise? Didn't think so.

Do you think it will be good enough? It's finger painting. Small children do it with ease and IT'S FINGER PAINTING.  Do you think a museum curator will be stopping by to evaluate it?  Didn't think so.
After a while, Lefty faces the reality that I am playing and the ridiculous questions slow down.
What fun I had with these peacock colors on my fingers. In the photo you can see how all 3 paints behaved a little differently even though they were all Dylusions paints.  This is because one was a fresh jar, one was almost out, and one was somewhere in between those two.  I adore when paints get thicker!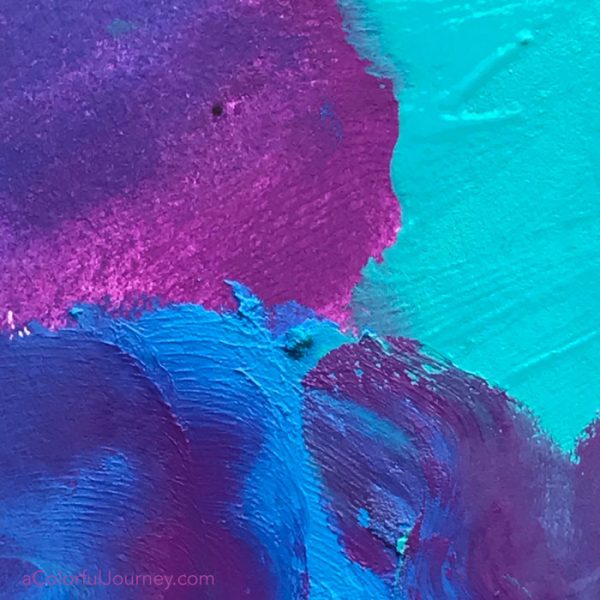 Now you've seen my play, let's see yours!  Share what you're creating with us all in the Facebook group and be inspired by what others are creating! And be sure to leave a comment here to get entered in the monthly $50 gift certificate giveaway!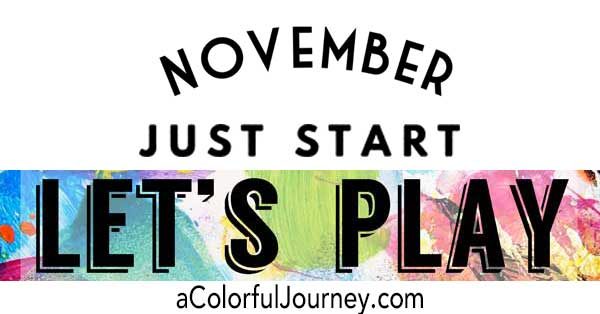 Want to see more Let's Play videos? You can find all the weekly posts here.
What is Let's Play? It's all about rediscovering the ability to play and each month I share a specific strategy that helped me recapture the freedom and fun of play. You can see more of the Let's Play series here. Be sure to get entered in the $50 Dick Blick giveaway by leaving a comment below.
Sharing your play:   I, and a whole bunch of others, would love to see what you're creating!  We're sharing it in the Facebook group called A Colorful Place to Play. Why Facebook?  I've listened to your feedback about how and where you'd like to share your play instead of the link parties.
Monthly giveaways:  Leave comment on any (and all for more chances) of the weekly Let's Play blog posts to be entered and one winner each month will be chosen by random.org.  Want more chances to win a $50 gift certificate to DickBlick.com?  Pin any of the images from the page or share about it on Facebook- then come back and leave a comment telling me what you did and you can have more chances to win! Giveaway closes the Sunday, December 4th at 11 pm EST and the winner will announced on the blog the following Monday.
Congrats to Ann, last month's winner!