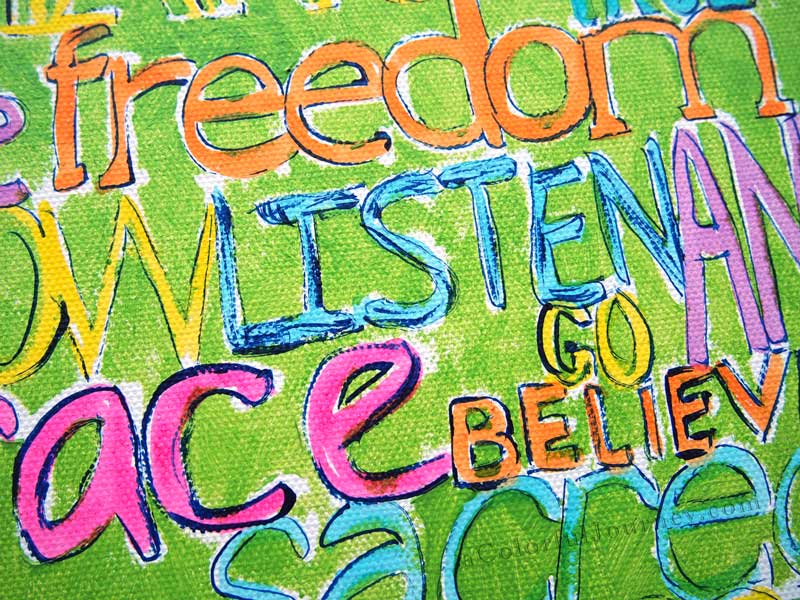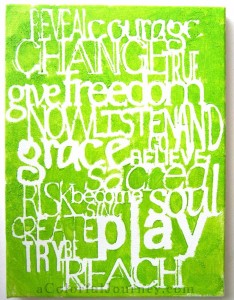 The stencil talked to me. It had a very important message that I needed to be reminded of at just the right time.
Too much leftover paint on the palette led me to some very fast and somewhat sloppy stenciling with the  Use Your Words stencil. Notice all the paint that ran under it.  I adore that because it every time I use a stencil it is unique – never exactly same.
Next I grabbed a variety markers and loosely colored in each word.  I forgot to grab a camera so you're going to have to imagine that step….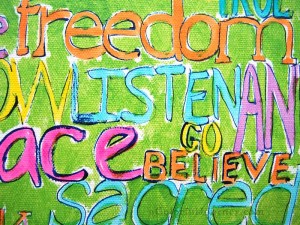 The words needed something more so I outlined them with a dark blue paint and a very fine brush.
And then it happened.  The brush was over loaded with paint and the Oops happened right on the L in "listen".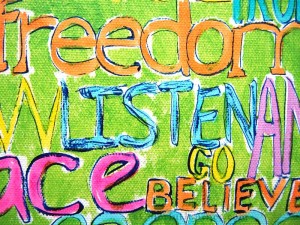 Well, an Oops is just an Outstanding Opportunity Presenting Suddenly so I went with it and added more paint to the other letters.
The painting was talking to me.  Reminding me to listen, to be present.  But it had more to say.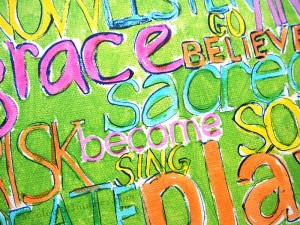 As I photographed the canvas for this post I found a word that was never outlined.  I have looked at this many times and never noticed that little word was without an outline.
Reminding me with an artistic whisper to become.  Become what?  Who knows but I will keep moving forward just as the painting moves forward.
This painting is a work in  progress, it has yet to become everything it will be.  Not sure where it is going, but that isn't important as long as I listen to the painting and let it guide me.  What messages has your muse been sending you lately?