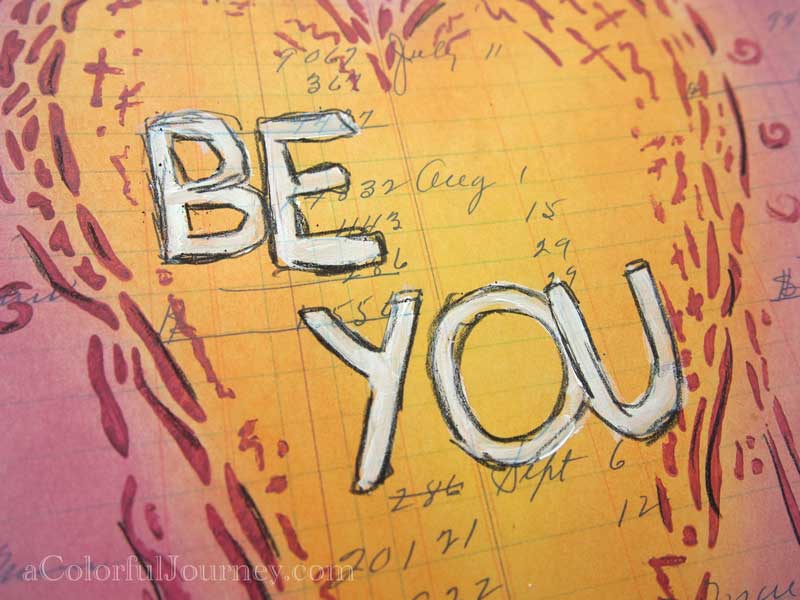 An art journal page doesn't have to happen all at once.  Truly, there are no rules when it comes to art journaling and play.  A few weeks ago I stenciled the heart with paint and let it be until I had a  stack of PanPastels out on my counter that were whispering to me.
I love playing with PanPastels because they are so forgiving.  That means no pressure to make it perfect since it is all blendable.  You'll see what I mean in the video…and you know there will be an Oops in there that turned out to be just what I needed…
Watch Using PanPastels with Stencils in an Art Journal on YouTube.
To seal the PanPastels so they don't smear, I use the Gelli Plate to apply a coat of gel medium.  You can see how I do that in February's Colorful Gelli Print Party.
Supplies Used
Heavy Bodied Titanium White Paint
Black Stabilo pencil 
A Valentine from me to you, reminding us both to be who we are.  We are all amazing and creative just as we are so let your creativity loose on the world!
Looking for a place to share your creativity with the world?  Stop on over to the Colorful Playground Google+ community.  Join me as we learn how to use Google+ together while sharing our artful play!  Here's a short video showing how to get around the community.
Watch a new art community for sharing creativity on Google+ on YouTube.