Watch Stretch your stencil by turning it on YouTube.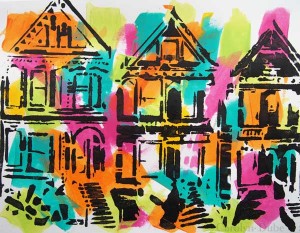 Stretch your stencil with a simple turn.  Just a quarter of a turn of a stencil can create unexpected bold patterns.
To show you the power of turning the stencil, I used the Trio of Houses stencil.  Of course, I can create the expected image of the three houses.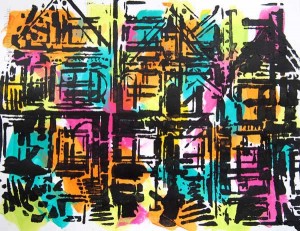 On the next layer, just a turn of the stencil creates a bold abstract pattern. The lines, the curves, and the shapes all become new elements when turned on its side.  Layering those elements creates a pattern that is perfect for collaging, art journaling, card making, and more.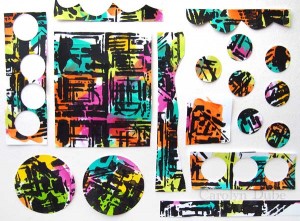 As a big sheet of paper, it is very busy.  Too busy for me to use as a solid piece of paper.  So I cut it into random shapes and added them to my stash of goodies for the next time I am creating.
Stop on by next week because I'll share an art journal page I made with this bold pattern.