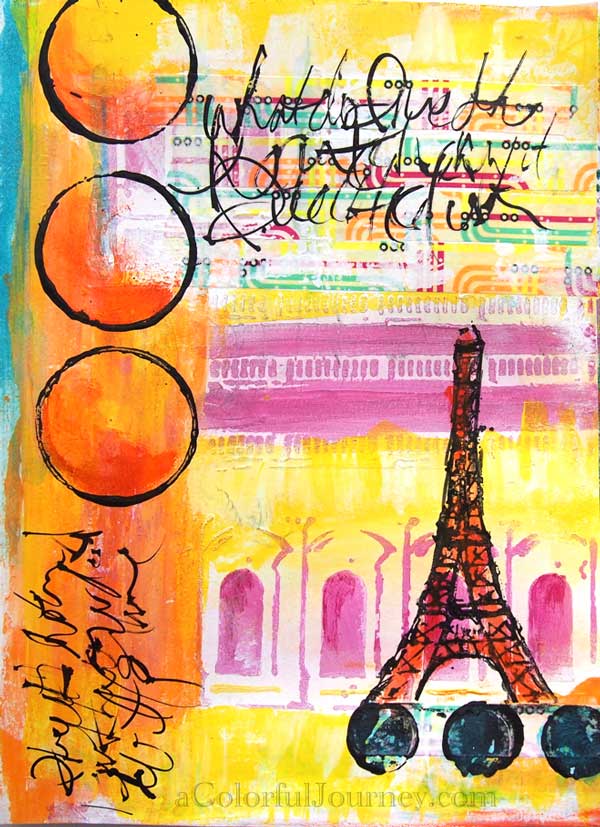 Do you ever suddenly feel disappointed with your art journaling? Perfect is what causes that to happen to me.  Perfect is a thief I invite in to rob me of my joys. Not only do I invite Perfect in…it seems I send out engraved invitations some days…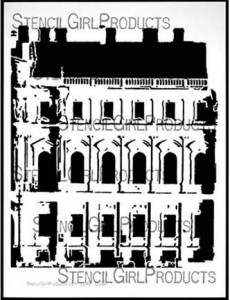 I started playing with my 1700s Stencil with only one goal, to use up some leftover paints from my palette.   The only pressure I felt was to use up that paint.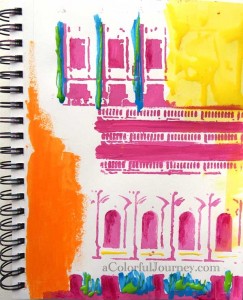 By pulling out parts of the stencil randomly here and there I created a new building to fit onto the page in a new way.  Then I added some color here and there.
I began to wonder if I was just making a big mess. Perfect was knocking on the door trying to get in and take the fun out of my play.
I didn't open the door for Perfect by reminding myself  I was just playing with no expectations.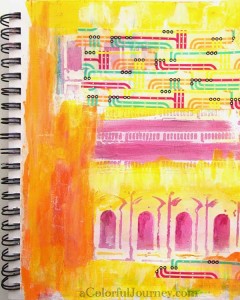 Added some subway map washi tape near the top  and more paint.
I got lost in the fun of playing with color.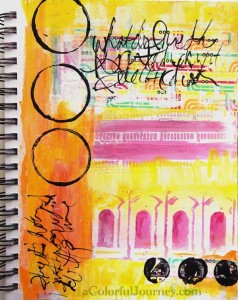 Sparked by the circles in the subway tape I put  black circles in threes.  A bit of Golden High Flow paint for some scribble writing.  Still just playing. Little did I know Perfect was still there,  lurking right outside my door…
 When the Thief Shows Up to Steal Your Joy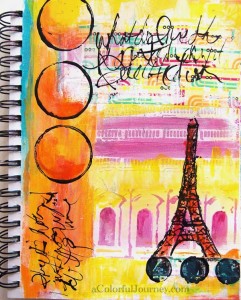 While adding an Eiffel Tower with a rubber stamp I suddenly became tentative.  Before I realized it, I was being critical.   Harshly critical.  I had rolled out the red carpet and invited Perfect right in…
The tightness, the hesitation, the fear I feel when Perfect is there is extremely uncomfortable.  That discomfort reminded me that if I invited Perfect in, I can send Perfect right back out!
How did I do it?  By asking that thief a few questions.  Who said this has to be perfect?   Who decides if it is perfect?  What makes perfect so perfect?
There is no answer that is remotely believable, plausible, or reasonable to those questions.  Perfect was escorted right back outside.
Does Perfect ever show up for you?  How  do you handle it?
Sharing with my friends at  Paint Party Friday, Creative Every Day, Inspire Me Monday, Make It Monday, and Mandarin Orange Monday.