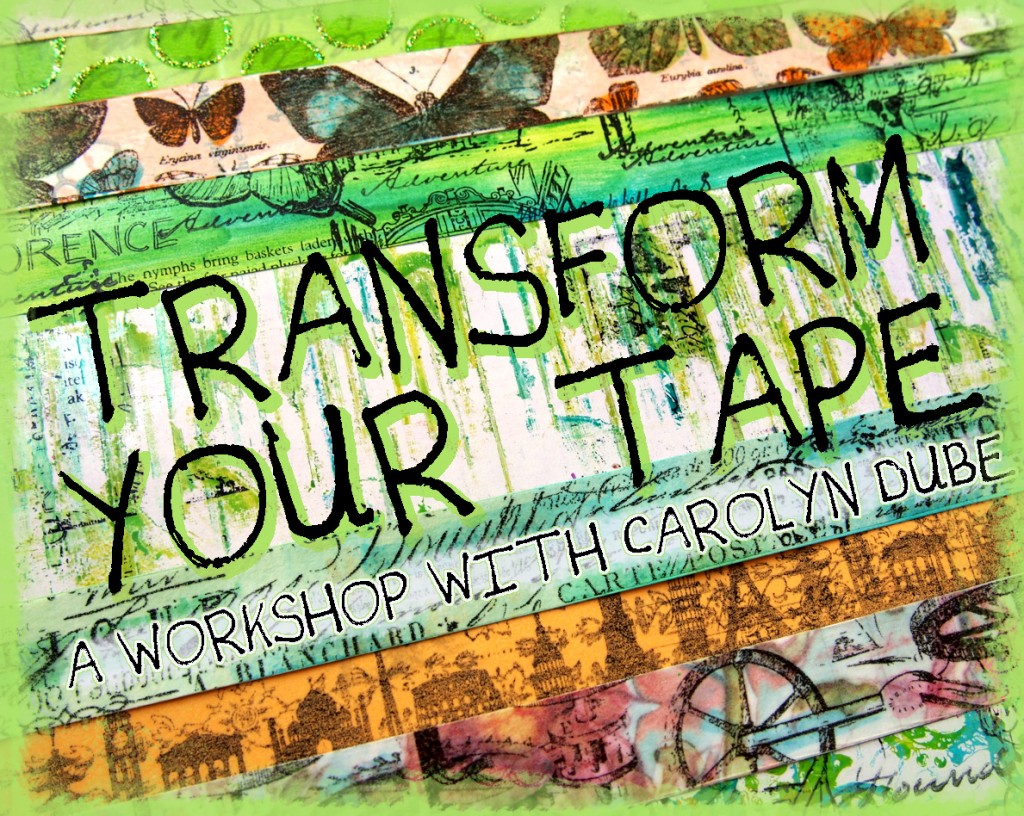 It's regularly $35 but until Sunday, September 15th it is just $30!
I had a drawerful of washi tapes that I rarely used. I was cleaning out my studio and I realized I bought them because I loved them but I wasn't using them.  Why?  They weren't exactly me so I decided to change that!
Now I am using that tape.  And I didn't stop there.  I eyed the packing tape on my shelf.  I started upcycling it.  That led to the artist tape ( like a white masking tape).  And then this workshop, Transform Your Tape!
There's a giveaway for a spot in this workshop!  Just leave a comment here before Sunday, Sept. 15th!  
In the videos I explain not only how to make these tapes but I'll explain why I make the choices I make.  I will show you my entire process, including my Oops and how I handle them.  You'll see when my tape hit that ugly stage and how that actually helped me turn that tape from the one I liked the least into my favorite of all time!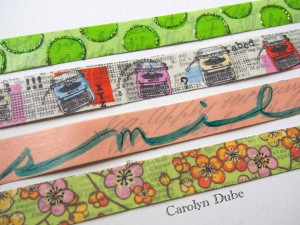 Clear packing tape will be turned into colorful works of art! You will work with patterned washi tape enhancing the pattern by adding layers of color and more pattern! Yes, more pattern!   You will take plain white tape and create rich colorful tape filled with images!  All in your favorite colors because you'll be customizing it just the way you want it!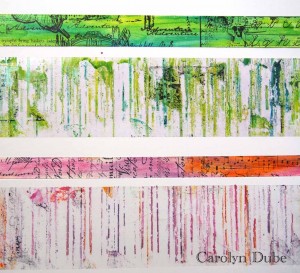 Who can do this?  Anyone! No prior skills are needed to get started! For all you experienced creatives, I will show you ways to use your existing supplies like you never imagined!
What you get:
Over 2 hours of video
9 videos showing how to alter and customize 3 different kinds of tapes: washi, artist tape, and packing tape.
A video with examples of how you can use your tapes in projects to spark your creativity
Full color pdf with instructions and photos for you to download
1 supply video that goes into detail about the supplies but you probably already have many or all of the supplies.
The classroom will be open at least a year (which means Sept. of 2014)
It's regularly $35 but until Sunday, September 15th it is just $30!
Register for class here!
The workshop goes live on Monday, Sept. 16th.  From that day on you will have immediate access to all the videos to watch at your leisure!  The workshop will be open for at least a year!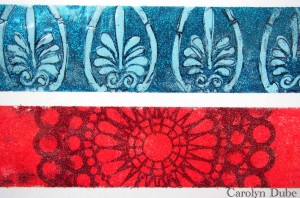 Supplies
The supplies needed for the entire workshop are listed below.  I encourage you to use what you have before buying!  Feel free to substitute items on my list with things you have or that you want to experiment with on your tape!
 Craft Sheet (I use Rangers but any good teflon sheet will work)
Artist Tape or Masking Tape
Washi Tapes
Clear packing tape
 Acrylic Inks (I used F and W both pearlescent and traditional)
Rubber Stamps
Permanent Ink Pad ( I used Ranger's Archival Ink Pad)
Acrylic paint and brushes
Rubber stamps
Stazon permanent inkpad (I use a re-inker and Ranger's Cut and Dry foam)
Rubbing alcohol
Tacky glue
Wax Paper
Copic Markers (or any alcohol based marker) in your favorite colors and a Copic blending pen.
Colored and patterned papers (I used purchased scrapbooking paper and papers I printed with the Gelli Plate)
Printed papers such as book text, your kid's old homework papers, handwritten text
Glitter glue (some brands work better than others- Stickles brand has worked well for me but it does vary based on the brand of washi tape)
Sequins
Glitter
Embossing powder
Xyron machine with an adhesive cartridge that you can run a strip of packing tape through or sheets of double sided adhesive
 Stencils (I used stencils from StencilGirl Products)