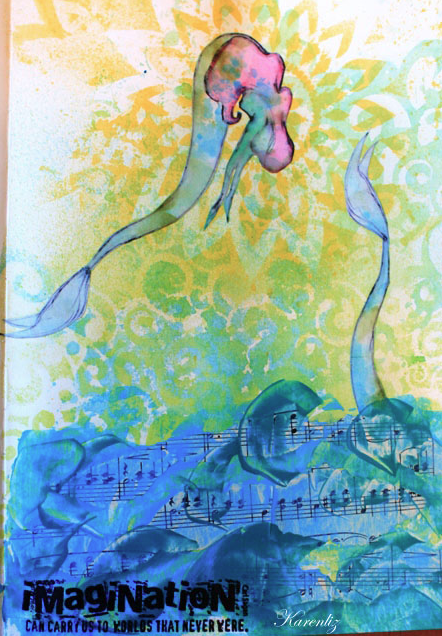 I am honored to share works sent to me by some of my newsletter readers using my free Sparks of Art-spiration. What is a Spark of Art-spiration?  It is a snippet of a larger work.  Something about the snippet sparks my creativity so I go with it.  I print out the spark in whatever size I feel like and then I play.  Since I can print it again and again in any size there is no fear of ruining it.  That gives me complete freedom to experiment, play, explore, and just have fun arting.
Karenliz has made magic with the mermaid above (drawn by my daughter).   She created more movement with the addition of the 2nd tail and gave this mermaid a colorful world to swim in with spray inks, stencils, and that fun pop of pink!  Clicking on the artists' names will take you to their full blog posts.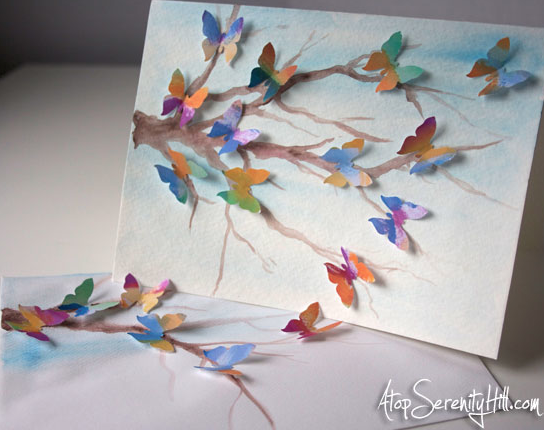 Consie created a stunning cluster of butterflies on her painted tree.  This card is elegant with the gentle branches giving the butterflies a place to rest.  The neutral background lets the colors on the butterflies sing!  You can see how she made it step-by-step by clicking on her name.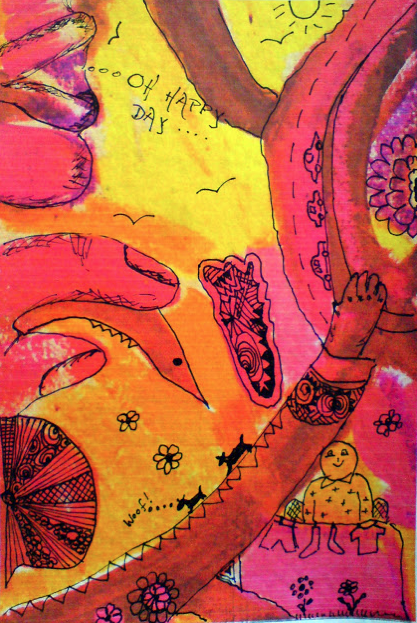 Valerie found all sorts of fun images in this Spark.  Love the hands reaching and how they are different sizes-that adds such a playful feeling to it for me! Cars zooming down the road, the sun shining- what a great world she found in this Spark with her pen!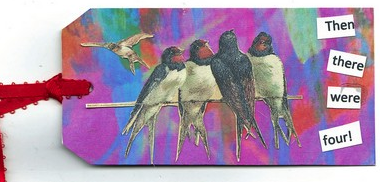 Vicki has created a colorful tag using a Spark for the background that takes flight with her birds!  Using only a portion of the Spark gives it a whole different look than if she'd used the entire Spark.
Want Sparks of Art-spiration delivered to your inbox about once a month in my free newsletter?  Just click here!  Have you been playing with a Spark? I'd love to see it – just send me an email at aColorfulJourney at gmail dot com!