Black is a paint color I rarely use on my Gelli Plate but every now and again I do.  So I cleaned off my brayer in my vintage journal like I do with the rainbow of colors I usually use.  And it sat. And sat.  Most of my other colors get lost or look muddy when put on top of black so I shied away from this page because whatever I did was not going to look good.  That was really a sneaky way the gremlins in my head said, "You will screw it up and it will be ugly."
Once I realized what those gremlins were up to, I had the perfect way to combat them- Oops!  I knew immediately that I would not make a single mistake with this because anything unexpected is just an Oops.  Not good or bad.  Just another layer that takes me another direction.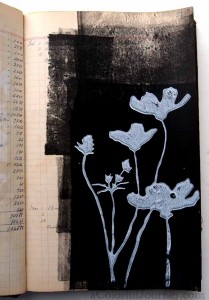 I needed something to show up against the black so I thought of white.  What if the white didn't work I thought. Well then it is just an Oops!  Turns out it did work!  I stamped a jumbo foam stamp by Donna Downey in white acrylic paint.  Now I had contrast.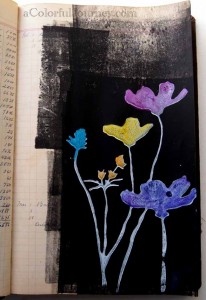 Now what do I color them? Twinkling H2O's!  They are translucent with a wonderful shimmer.
"Oh, that looks so boring with just one color on a flower.  You've screwed that up," grumbled the gremlins.  "Well, no I didn't!" I told the gremlins.  I knew it was just an Oops that it didn't turn out was well as I planned.
I grabbed more colors of Twinkling H2O's, blending colors together to give it more interest. Some orange to go on the edge of the pink flower.  Some blue to blend with the purple.  "But now the flowers look like they were slapped on the black, like they don't belong there," the gremlins grumbled.  Oops.  It is just an Oops you silly gremlins.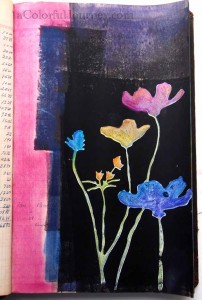 PanPastels.  I hadn't thought about these before now but thanks to the pesky gremlins I saw the Oops of not adding more paint colors as just an Oops and found the next step.  PanPastels cover a large area quickly so all that pink took less than 5 seconds!  I used blue along part of the black and purple along the other to give hints of more colors.  Now my flowers look like they belong there.   Take that gremlins!
I had to have some words on here so a Stabilo pencil along the stems.  The Stabilo pencil is one of my favorite ways to write over dark colors since it will write over slick surfaces with ease.
By the time I finished this bouquet, the gremlins were barely a whisper in my mind.  Do you ever have gremlins in your head that keep you from attempting something creative?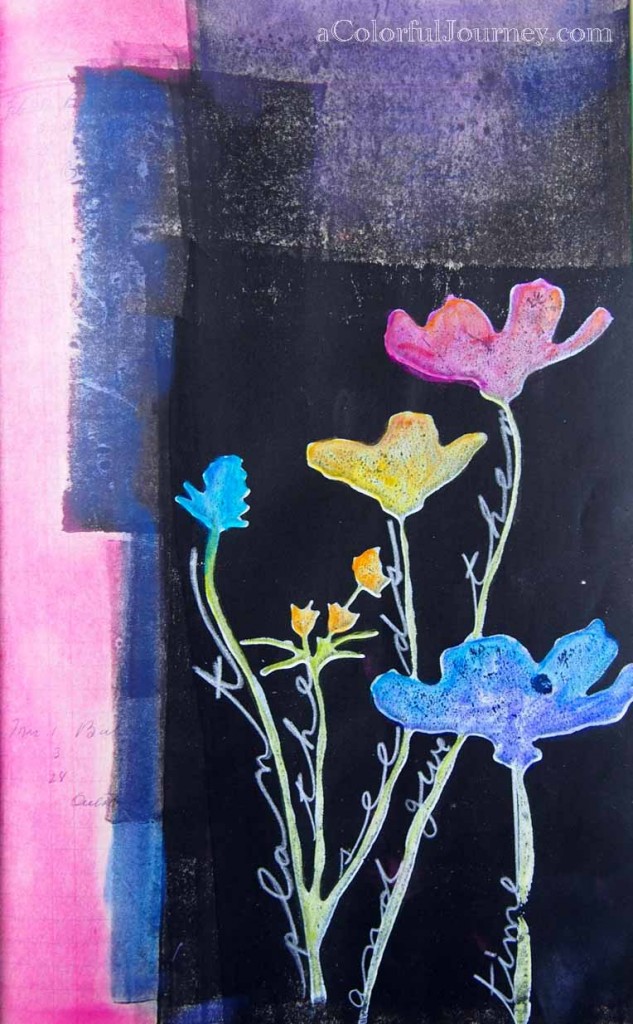 Products Used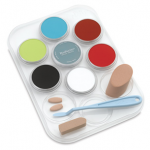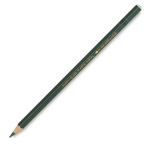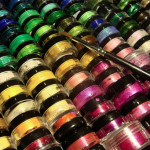 PanPastels        Stabilo Pencil           H2O's
Linking up with Inspire Me Monday, Make it Monday, Artful Times (blooming),  Simon Says Stamp (flowers), and Creative Everyday.