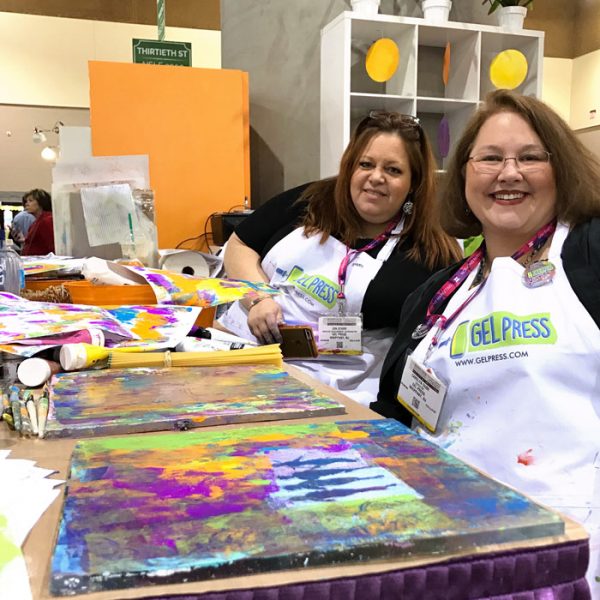 What happens at CHA doesn't stay at CHA!  I had this grand plan of sharing photos all weekend long and of visiting all the booths.  After all CHA looks like one big party on social media…which it is, but not disco lights and loud music.
The party was all about finding creative fun people around every corner.  Every single corner!  There was lots of work to be done (booth set ups and take downs don't happen on their own) so rather than miss any of the fun I chose to skip sleep more than I have in years.  Also learned that I'm not 21 anymore…
The days of CHA were spent demoing, teaching mini workshops, and make and takes in the Gel Press booth. I was given tubs of paint, stacks of Gel Press printing plates, and a bunch of people eager to play.  My happy place.
Here are just some photos of the fun people in the booth- and below are videos of some of the demos.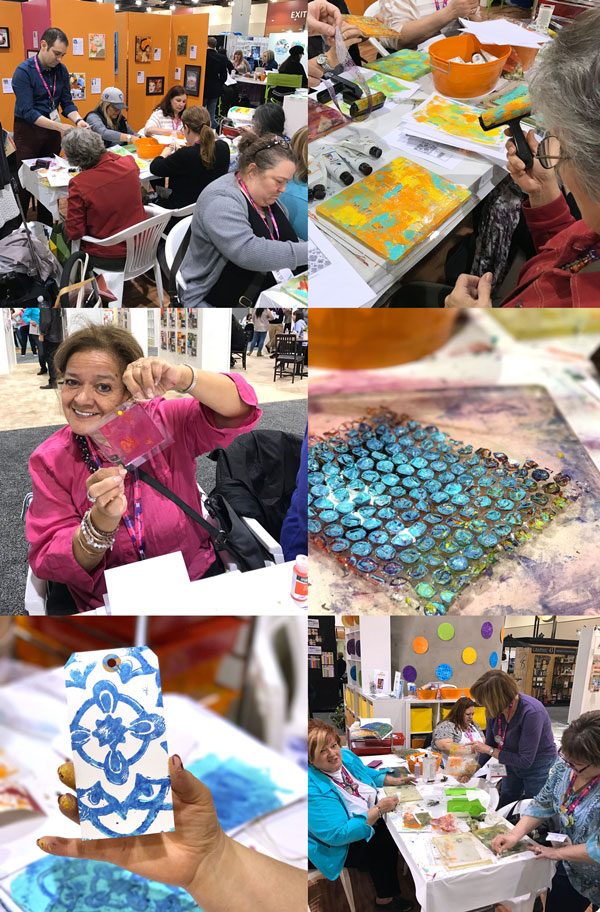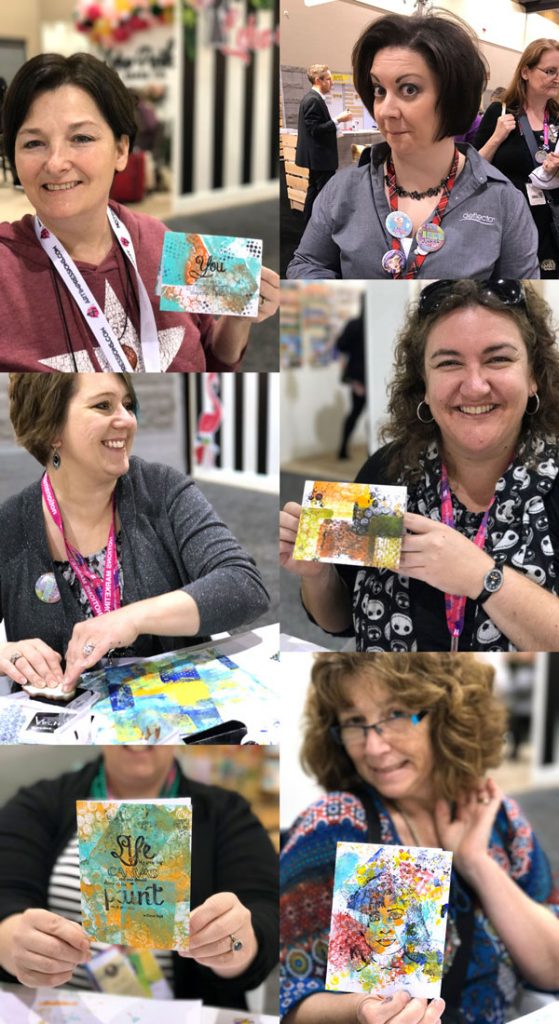 Thanks to Craft Test Dummies, who stopped by for some play as I was demoing, you can get a feel for what I was playing with and yes, my luggage was checked going and coming home.  TSA doesn't seem to know what to make of arty people who travel with paint, cake spinners, and pasta.
Watch on YouTube.
Watch on YouTube.
Watch on YouTube.
Live broadcasts were happening all over the place as I walked around the floor.  Here's Marjie Kemper talking with Leandra Franich of Paper Artsy.  It is quite a strange feeling that when you walk around the corner in some booths you are photobombing someones video…and yes, did that.  OOPS!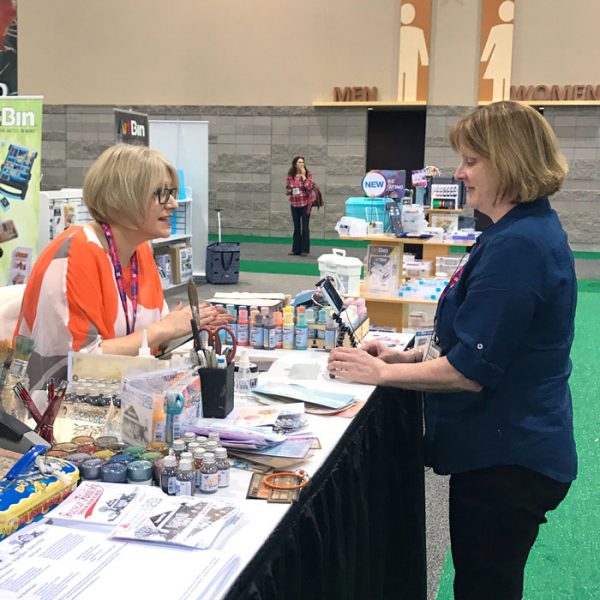 A huge treat to me was demoing right next to Mary Beth Shaw and not just because of all the laughter and excitement over packing tape!  We have such different styles so it was a hoot seeing people react to the different looks you can get with a Gel Press Plate.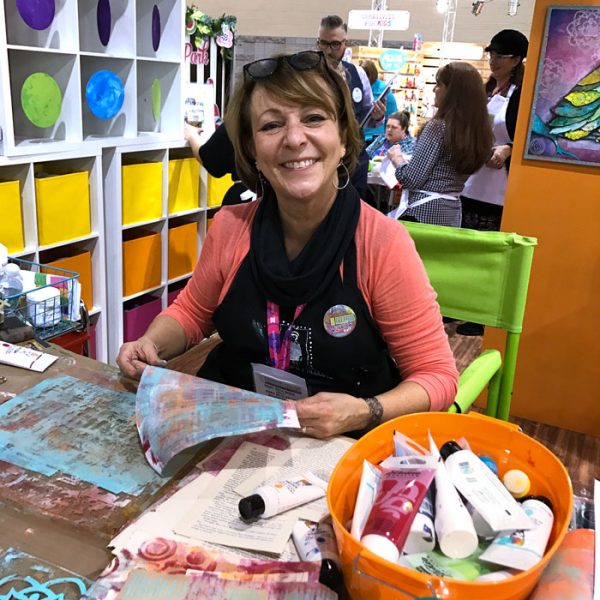 There were all sorts of new products at the show and they let me out of the booth unsupervised to browse around.  In my excitement of looking I forgot to take nearly as many photos as I should have.
I was absolutely captivated by the Color Fizz at Faber Castell.  It is like a bath bomb for your art journal! Rae Missigman was demoing it and I couldn't stop watching the colors fizz and mingle!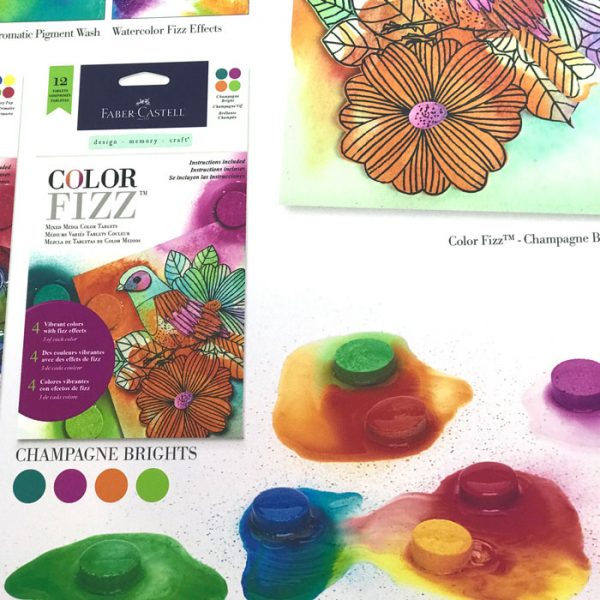 Loved seeing Scotty- Eileen Hull's fun trailer that she hits the road with on the Paper Trail.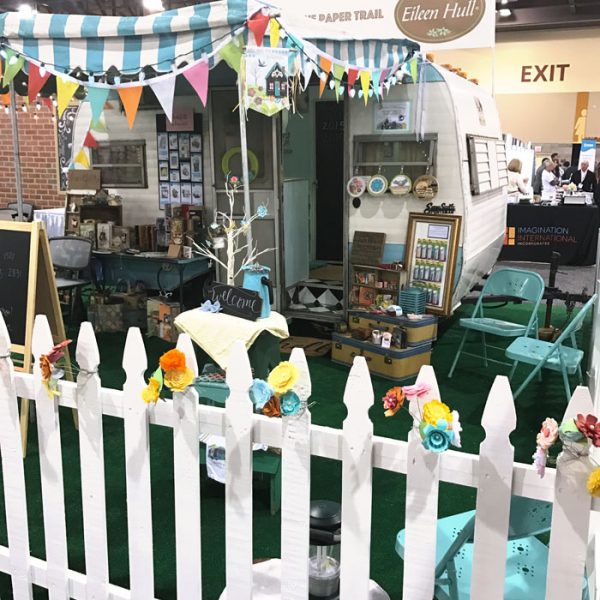 The rainbow was everywhere!  It was so wonderfully distracting as I walked through booths.  From the Plaid Color Shift painted vases, to the folded papers at Bazzill, the plants that matched the cricles at Gel Press, the hands on rainbow with Dina Wakley's scribble sticks, a rainbow display of the basics and the rain at Darice, the rainbow of canvas as Tattered Angels, Jennifer McGuire's rainbow tag at Ranger, and the best sign in the world from Rustoleum.

After I came back from visiting this gorgeous booth, I think my Gel Press friends watched me a little more closely.  There was a glimmer in my eye as I talked about how much these white spaces were calling to me for a touch of color.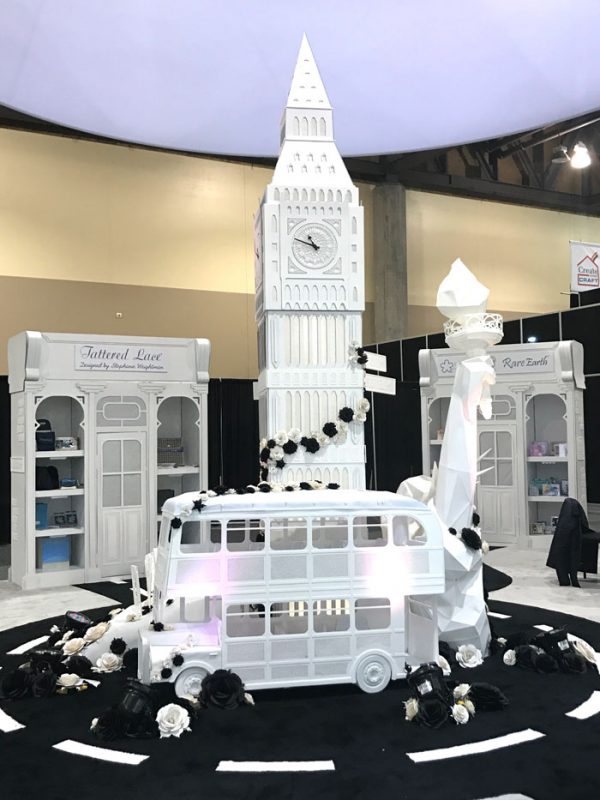 For all the rainbow colors, the new products, the most wonderful part of CHA was the people.  Thank you to everyone who stopped by and to the Gel Press booth who helped make my first CHA so much fun!  (That's you Jen Starr, Donna Salazar, Cheryl Boglioli, Sally Lynn MacDonald, and Laurie Karian- you all put up with my crazy so well!)