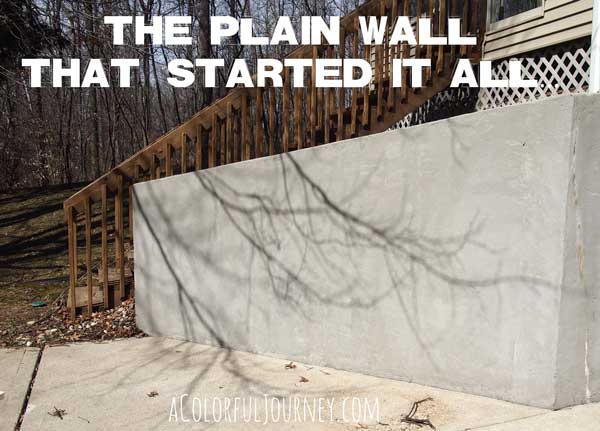 As I stood in front of a plain and boring wall, my inner teenager hijacked my thoughts.   Total rebellion against the gray cement.  This wall needed some color and did it ever get some color!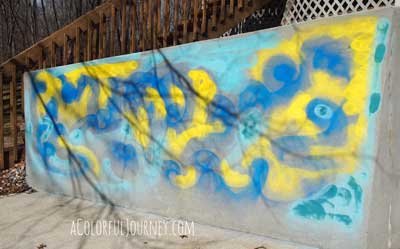 That first round of color was empowering.  The second and third were exhilarating.  I couldn't have stopped if I had tried at this point.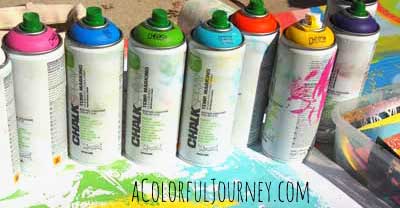 Now before you think I am a wild rebel, I must confess.  This is chalk spray paint that is temporary.  Within a couple of weeks or so I expect it will wash off with the spring rains.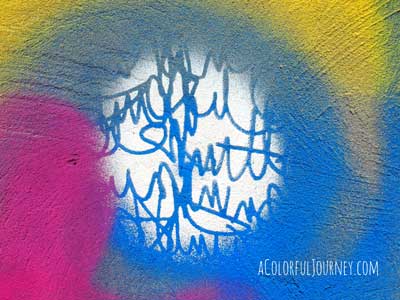 Graffiti and stencils go together like peanut butter and jelly.   Turns out that you can geta a high level of detail  on cement with the spray paint.
I started the wall with the impulsiveness of a teenager so absolutely no thought to cleaning.
There was bit of a build up by the time I was finished with the stencil but since it is temporary, a little water and an easy scrub to get it all off.  Although, next time I will bring out the tray of water to pop the stencils into right away just to make clean up go faster.
I am clearly no Banksy…but I did have so much fun!
All around the wall are some of Sue Pelletier's Loose Women.  They pop up here and there loaded with the perfect attitude for spray painting a wall!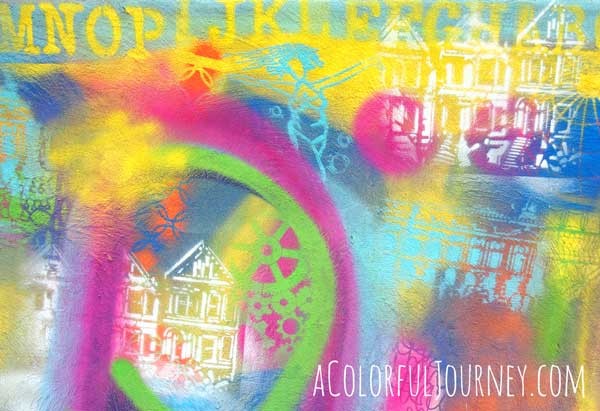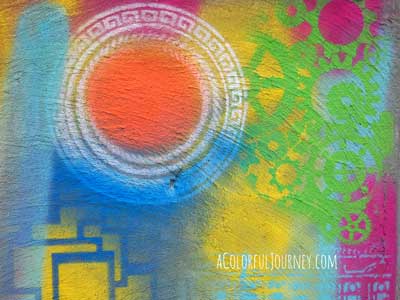 The Sci Fi nerd in me had too much fun with Maria McGuire's Greek Medallion stencil turning it into a Stargate…So I just had to grab my favorite globe stencil by Mary Nasser and add that in there too since Stargate was all about traveling from world  to world…
Here's where I left the wall.  Not the end mind you, I will be adding more and more to this  on the next sunny spring day.
I'll keep you posted on what happens with this as it starts to wash away in my newsletter.  No signed up yet?  No problem – just click here and there is even a free treat waiting for you!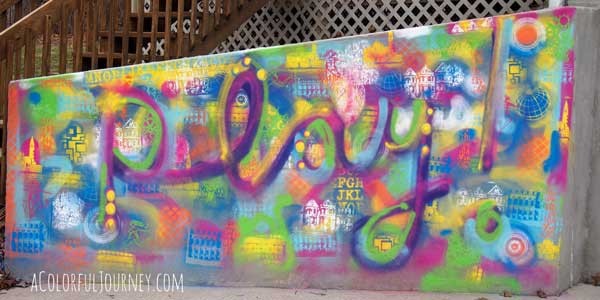 Stencils Used