This is not a major feat of engineering in my art journal…it can't be since there was no measuring involved!  But it sure is fun to flip those birds back and forth in an interactive art journal page!  They're double sided and I am having a blast flipping the birds from side to side…
The birds are stenciled on both sides – and it was so easy to do with a stencil!  Why did I not think of this sooner?  If I had thought about this back in my scrapbooking days when the kids were younger, there would have been so many many interactive pages!
Check out the video to see how easy it is to do this! And no fancy measuring required!
Watch Using a Stencil to Easily Make an Interactive Art Journal on YouTube.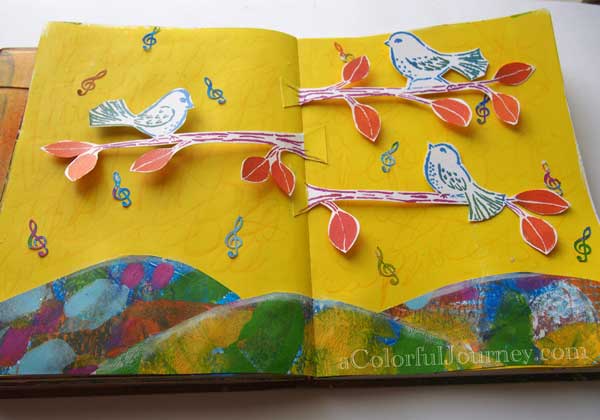 Supplies Used
White Posca Marker
Gelli Prints made on a Gelli Plate
Vintage Treble Clef Punch
Colored Pencil
Sharing with my friends at Paint Party Friday, Creative Every Day, and Art Journal Every Day and Inspire Me Monday.