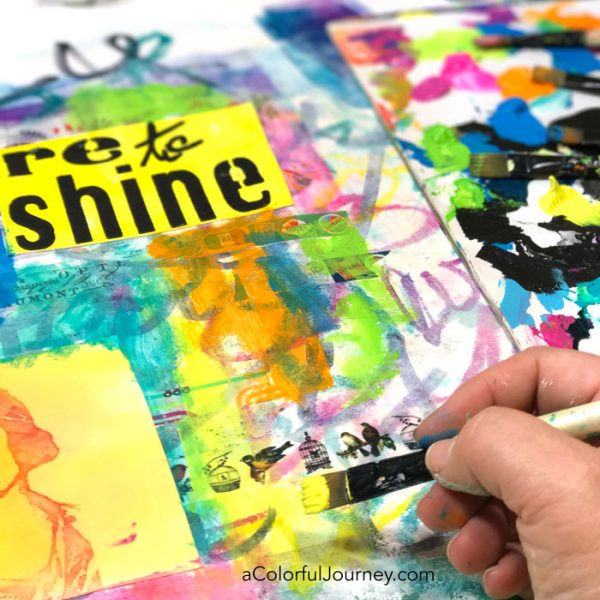 The perfectionist in my head had been hounding me all day. Every decision required justification in triplicate.  It was smothering me and it was getting old.  My inner teenager had enough and a few choice words to put that negative critical voice back in its place.
Watch Shutting up perfectionist voices mixed media style on YouTube.
Scribble swearing like a sailor in Sharpie was courtesy of my mouthy inner teenager.  But, that wasn't enough to get it out so I swore in Gelatos too.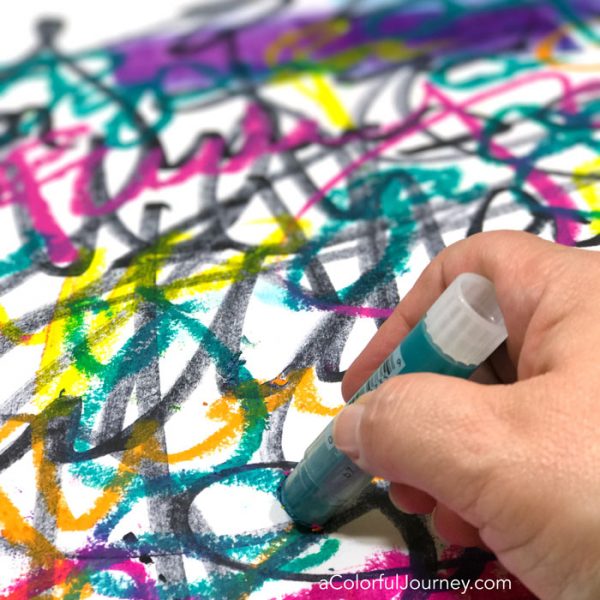 The Gel Press printing plate was next. It felt so good to smack those negative perfectionist thoughts.  But the perfectionist in my head didn't respond well to this treatment.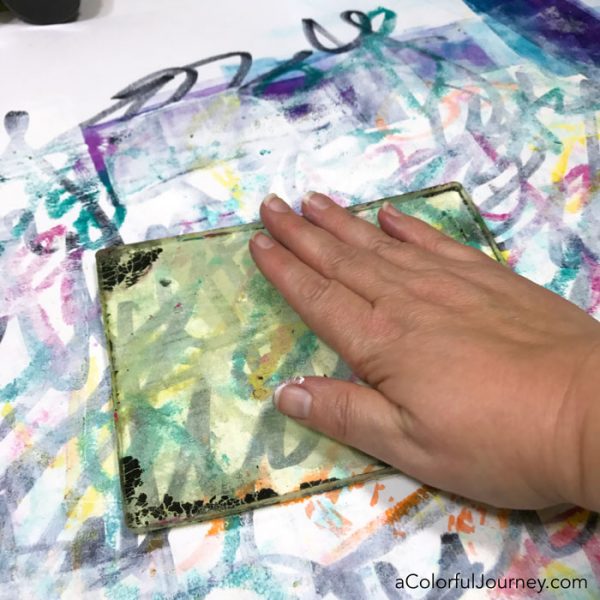 The gloves were off.  I was now just doing things to piss the perfectionist off.  I grabbed washi tapes and randomly stuck them down.  Those random patterns didn't match the colors or theme or anything. I was "wasting" the sacred washi tape.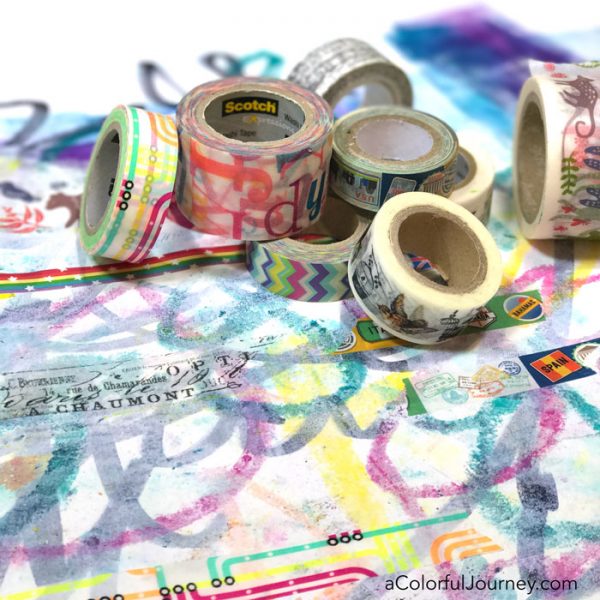 Now I was really going to finish off that perfectionist.  I grabbed 3 saved (meaning hoarded) scraps from other play.  Ignoring the protests from inside my head, I glued them down.  Take that perfectionist!  HA! I WIN!   And yes, it had become like an MMA fight between us!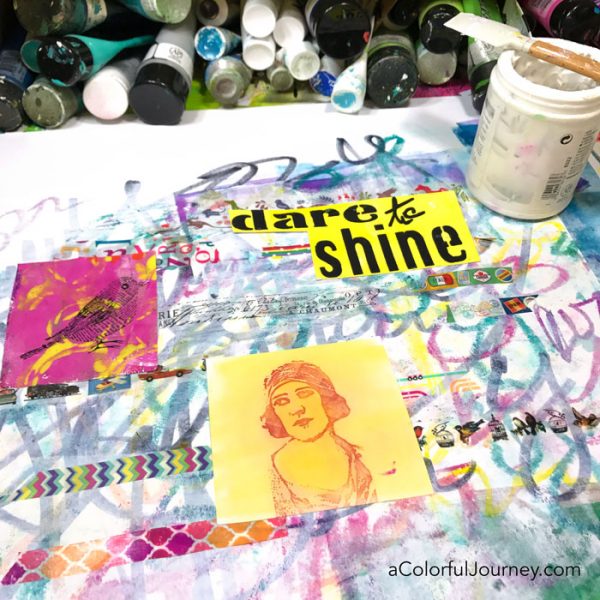 The play had won the fight, and now I could just get into the color, the play, the fun.  That perfectionist voice was whimpering in the corner and I had 8 brushes in paint.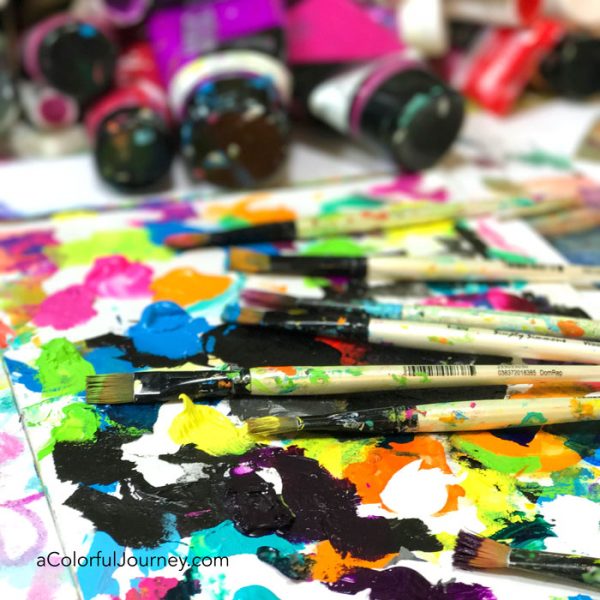 One of the perks of stenciling is that you can pick and choose what parts you want to use so I clustered just 3 of the stars on the stencil.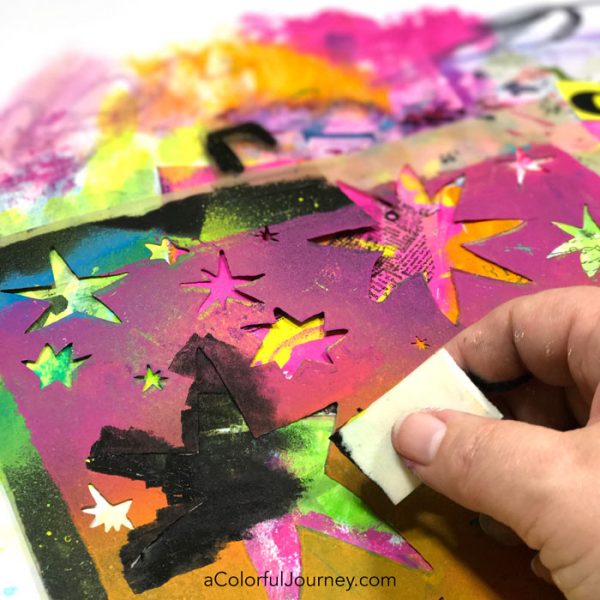 I felt the rush of rebellion slathering paint on the Darkroom Door rubber stamp knowing that this would irritate my inner perfectionist.  After all, there was "too much" paint in some areas and not enough on others.  I'm living dangerously here!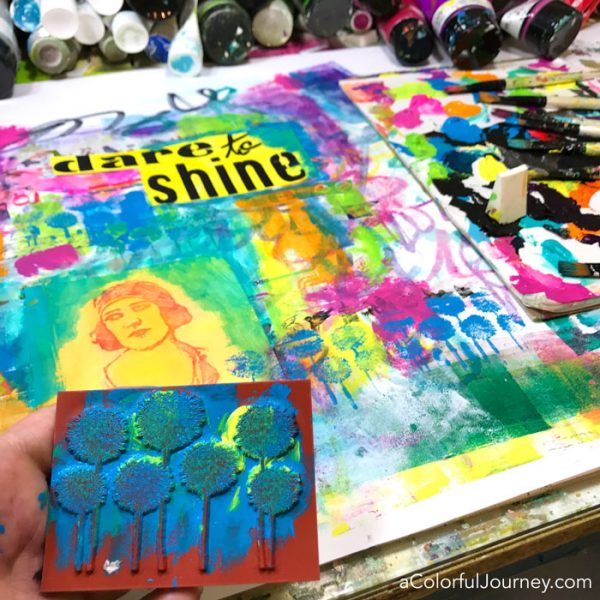 Don't tell that perfectionist, but she may have had a point about the words.  They didn't quite work as they were but since I didn't have that voice pummeling me with judgement, I could just look at that as an O.O.P.S., an Outstanding Opportunity Presenting Suddenly and keep on playing.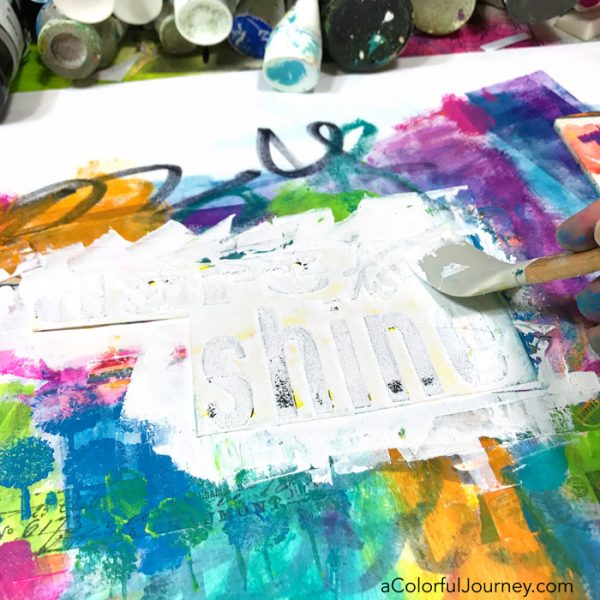 Why did I do my scribble writing with the Fineliner since it was just one O.O.P.S. after another?  Because I had wet paint everywhere and wet paint destroys traditional pens.  If you're new to fineliners and how they work, check out this video.
I am so grateful to my inner teenager for her help quieting down that perfectionist so I could play!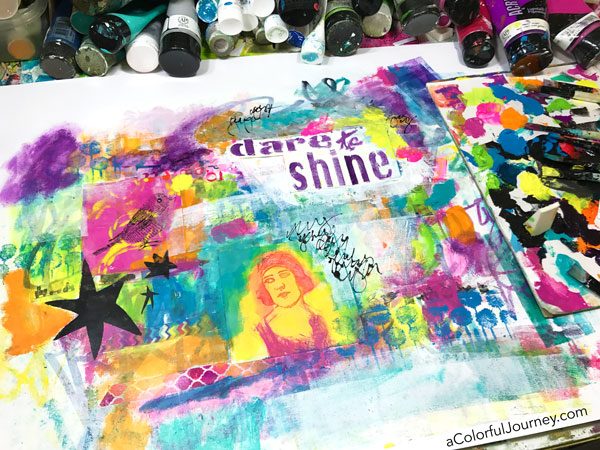 Here are the supplies I used. Some of these links are affiliate links which means I get a small percentage. It doesn't cost you anything extra and it helps keep the free tutorials coming!