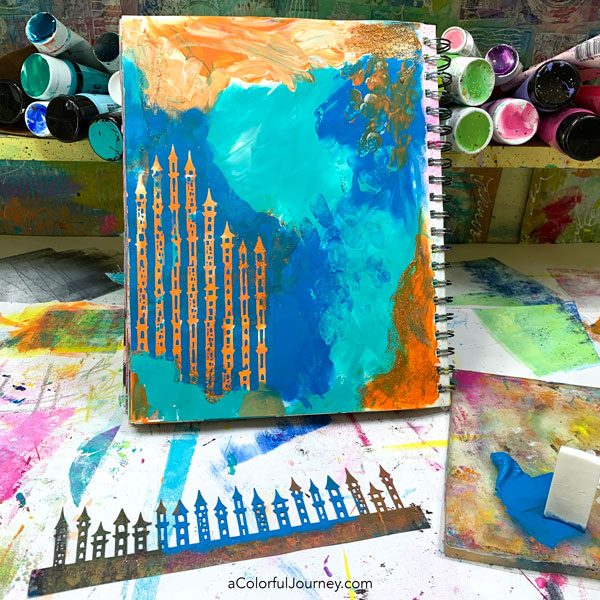 One of great things about stencils is the flexibility to create a variety of looks. One of the ways you can do this is by "stretching" a stencil – taking something short and making it tall.
Today's play began with a background in my journal. This was made many moons ago and you can see the video of it here.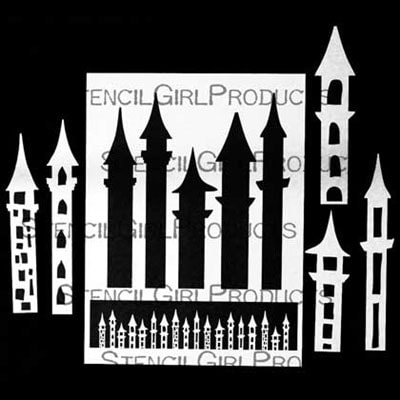 This technique allows you to easily fill in an area of any size or shape. You begin by stenciling the towers, then sliding the stencil down part way, as seen in the photo below, then stencil again. The more you repeat it, the longer or taller your towers.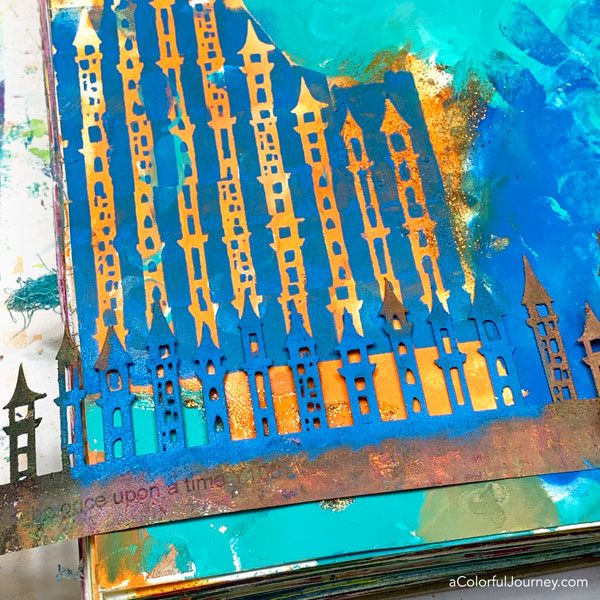 I'm an impatient stenciler so when I want crisper lines, there are 2 key things I do.
First, I use a heavy body or thick paint. Thicker stuff doesn't run under a stencil as easily as a thinner paint. Second, I stencil in an up and down motion. Well, mostly. Sometimes I don't because I'm rushing.
In the video, you see where my O.O.P.S. happened when I mixed up the towers. It was definitely an Outstanding Opportunity Presenting Suddenly! The windows change part way through and it wasn't planned, but wow I loved it and the variety it added!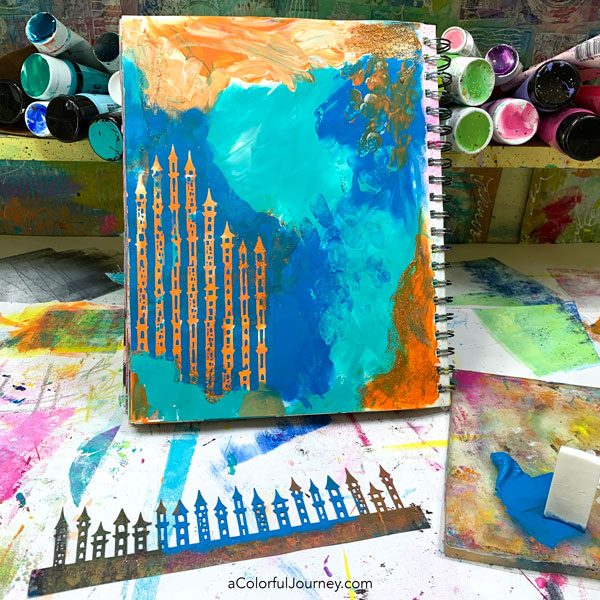 The next layer of the page was terrifying for me. Not because the technique was difficult. Because I was using a treasured, hoarded supply. Dresden. It's just foiled paper that's embossed but it feels like platinum or diamonds to me.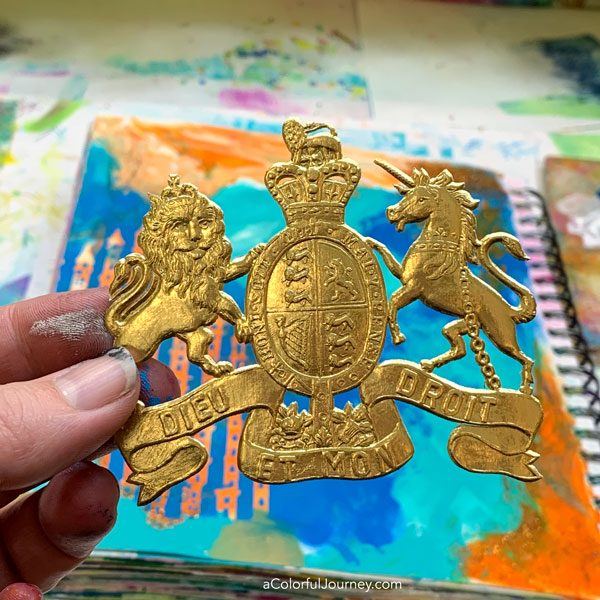 Dresden is usually in gold or silver, but a different color was needed here. So Aqua Inks to the rescue! This is a watercolor ink so that allowed the shine of the gold to peek through the orange.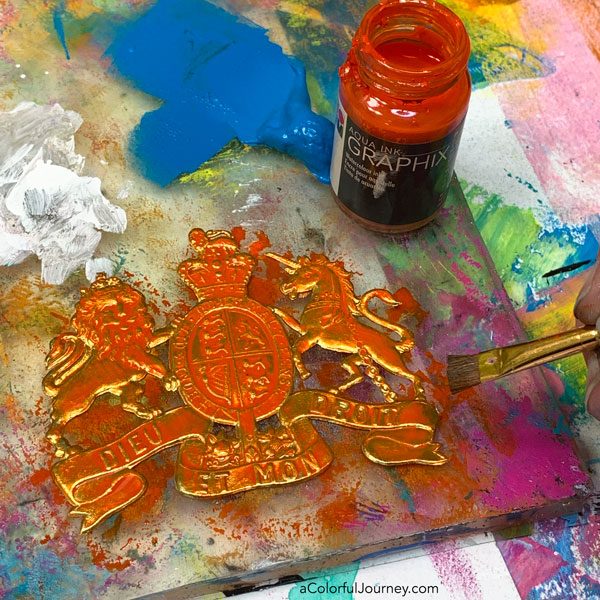 The white pen didn't write consistently on this page and it wasn't the pens fault. It has to do with the paint on the page. The more matte a paint, the more easily a pen, any pen, will write on it.
Glossy paints or glues make it tougher for pens to write consistently on them.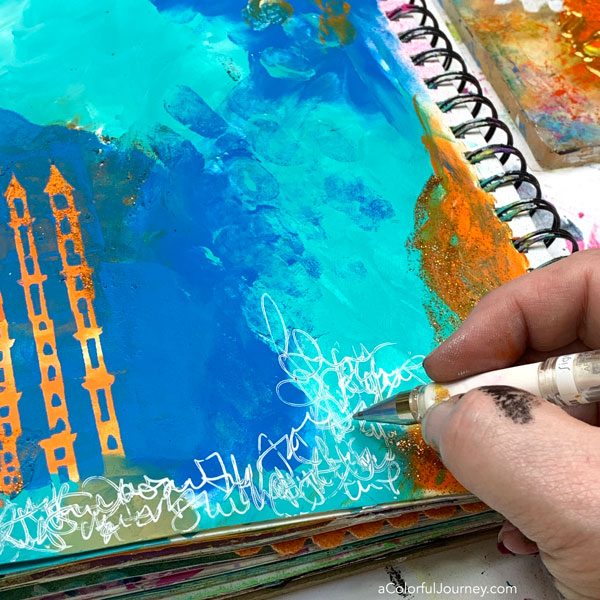 So next time you're playing and want to fill in an area with patterns or shapes, try stretching a stencil!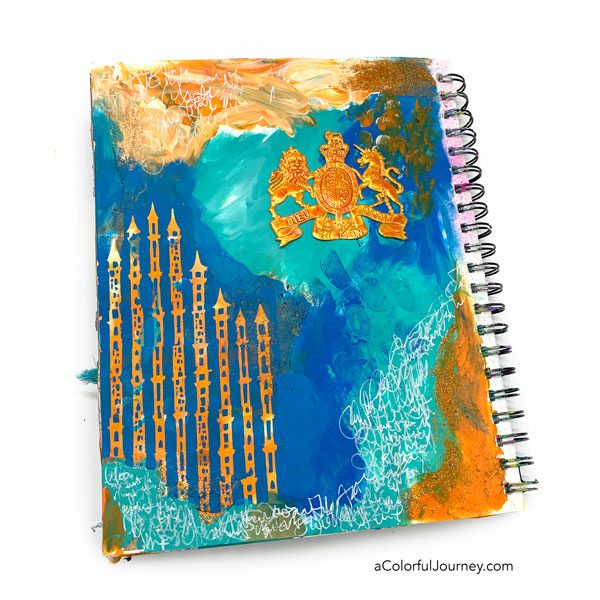 Here are the supplies used. Some of these links are affiliate links which means I get a small percentage. For example, I'm an Amazon Associate & I earn from qualifying purchases. It doesn't cost you anything extra and it helps keep the free tutorials coming!
No idea where or when I bought that Dresden shape, been collecting for years lol.