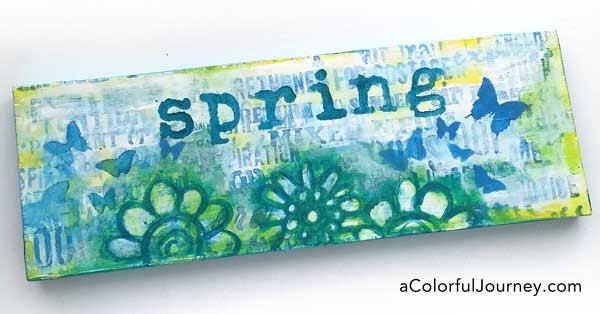 My muse was in an A-Team kind of mood today, minus the explosions and exotic locations.  That 80's tv show followed a formula which I loved so it shouldn't surprise me that it showed up in my studio as I made this mixed media sign.
Here's how most episodes of the show went:
There was a problem.
The team had a plan to solve the problem.
Something went wrong with the plan and gave the impression they were about to fail in their mission. It usually involved some kind of explosive car chase.
Then somehow, the team pulls together, miracles happen, usually with more exploding cars, and in the end the good guys win and the problem is solved.
Finally, Hannibal Smith delivered his signature line, "I love it when a plan comes together."
In the video there were no car chases and nothing went kaboom as my muse followed the formula BUT there are all sorts of stenciling techniques like how I space the letters without measuring, how to use Inka Gold with stencils, stenciling over wet paint, and more!
Watch How to stencil a wooden sign mixed media style on YouTube.
In the video I mention the free workshop Permission to Play.  Click here to join in the mixed media fun!
So here's how my "episode" went…
Problem to be solved?  I had a piece of wood from the garage.  I wanted to play but didn't know what to make.
My plan was to make a postal/mail art themed sign.  That's why I grabbed my Mixed Media Mail stencil for the background.  I had visions of envelopes and postage stamps and air mail.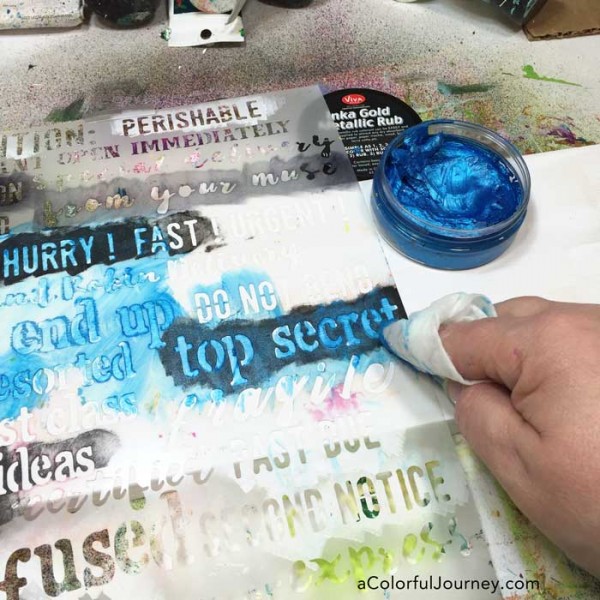 What went wrong with the plan? The color.  This is when my original plan fell apart…instead of mail art I was thinking flowers.  It seemed impossible to take this background with postal words all over it and turn it into flowers.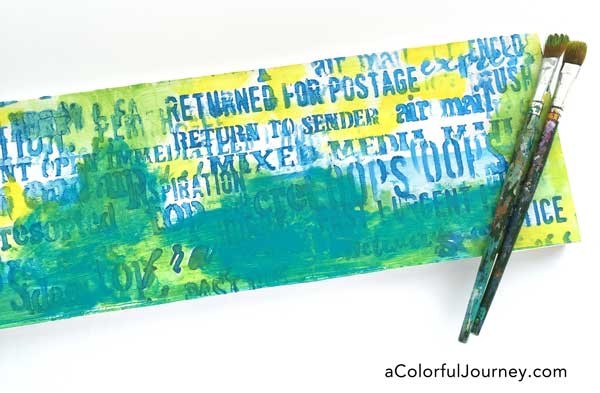 How the muse pulled it all together Using the Playful Bloom and Imaginary Bloom masks by Rae Missigman with some butterflies from my Butterfly Journeys stencil and Inka Gold, this was starting to look springy.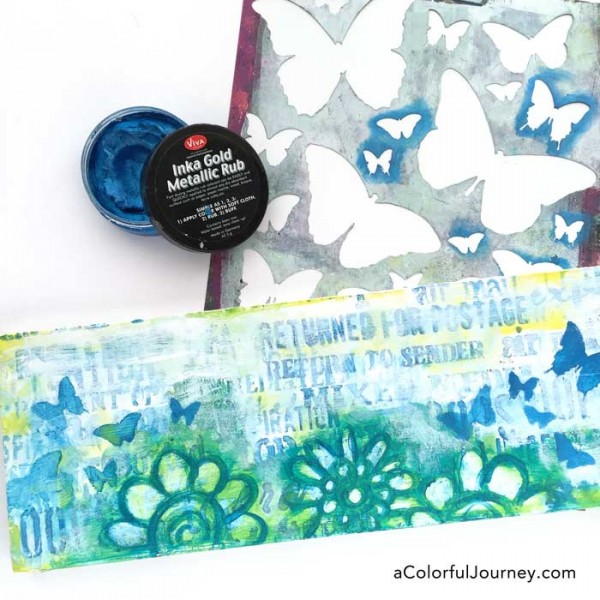 A title added with 3D Stamping Paint and my Vintage Typewriter stencil finished this off.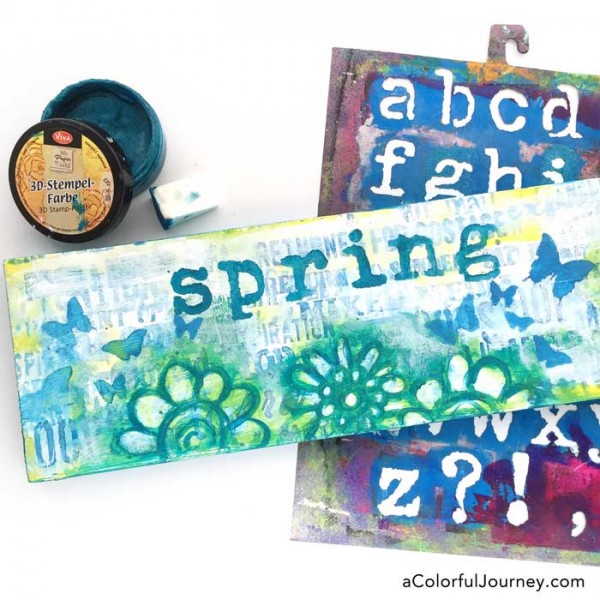 So how am I going to hang this?  I'm taking the easy way out and using some Command Picture hanging strips.  Seconds to attach, and can easily be removed from the wall.
In the immortal words of Hannibal Smith, I love it when a plan comes together!
Here are the supplies I used. Some of these links are affiliate links which means I get a small percentage. It doesn't cost you anything extra and you are helping me keep this blog and my videos ad free! Thank you- I don't like ads any more than you do!