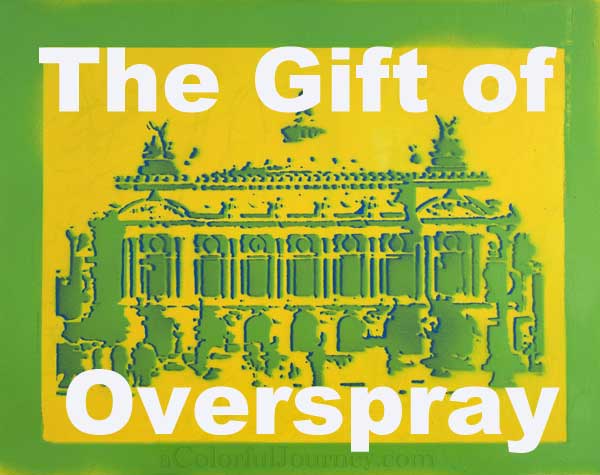 It's summertime here.  Kids think of the pool.  I think of spray painting outside. As I brought my Liquitex spray paints out to the picnic table, I knew there was going to be an Oops.  There always is with me.  The Oops today was a gift that let me see overspray in a new way.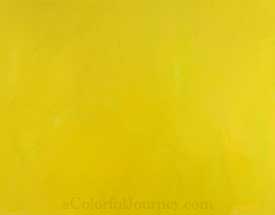 I covered over an old canvas that never went anywhere with  Cadmium Yellow Light Hue spray paint.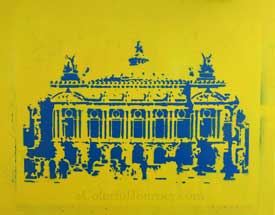 Cerulean Blue Hue spray paint and the Opera House stencil created the next layer.  But there was an Oops…
Notice that messy edge where the spray paint went over the stencil?  I spent about a nano second scolding myself for not putting down a piece of paper to mask it and prevent it.  Then I remembered, it is just an Oops.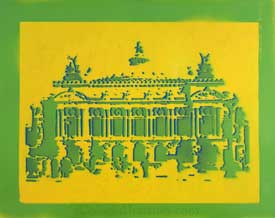 This top layer of Vivid Lime Green let some of the blue peek through creating more depth without any hard work.
How'd I do it?  I put the stencil exactly on top of the image already spray painted.  Then shifted it a hair to one side and sprayed.
The Gift in the Oversprayed Oops
Remember that overspray Oops with the blue?   That overspray encouraged me to just cover the edges  while I adding the green Opera House layer. The actual stencil created the frame as well as the image.
That got me thinking about overspray and how else I could use it to my advantage.
Here's a work in progress from later in the day.  It uses the overspray from the Opera House stencil to create a subtle touch to the composition.  Gives me a feeling of the sunshine coming from the Chevron Doily stencil.
Once again…the Oops gives me a gift.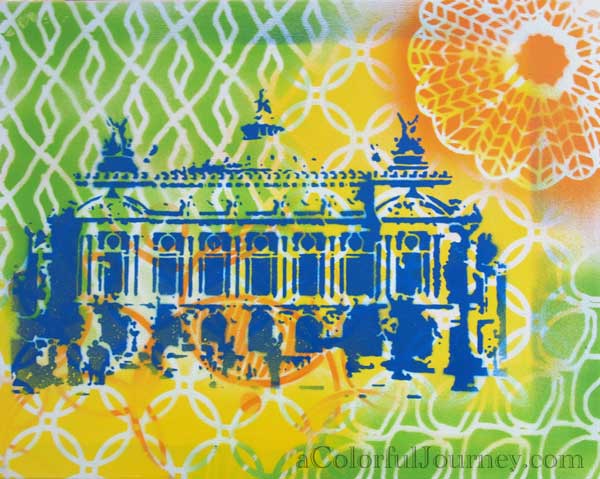 Supplies Used